New York Times statement from editor Bill KellerPrint This | Email This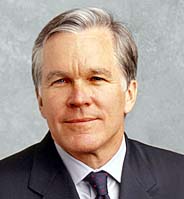 The New York Times issued this statement to RAW STORY announcing the release of their internal probe into the paper's role in the outing of covert CIA officer Valerie Plame Wilson.
#
The New York Times story regarding reporter Judith Miller and the Plame investigation has been posted on http://www.nytimes.com/. Ms. Miller has also provided an account, which can also be found on www.nytimes.com.
Below is a statement from Bill Keller, executive editor of The New York Times:
Advertisement

We promised our readers a hard look at The Times's part in the White House leak drama as soon as our reporter was out of legal jeopardy. We have delivered on that promise. The package we are giving readers includes Judy Miller's account of what she told the Special Counsel. No other reporter drawn into this investigation has provided such a detailed report. We're relieved that we can finally put this story in the hands of our readers, who will draw their own conclusions.
Catherine Mathis
VP, Corporate Communications
The New York Times Company
Correction. The first edition of the article identified Judith Miller as CIA officer Valerie Plame Wilson. Rather unsurprisingly, she is not.
Originally published on Saturday October 15, 2005.