Senate Democratic committee to hold oversight hearing on Iraq pre-war intelligence

John Byrne and Ron Brynaert
Published: Friday June 23, 2006

Print This | Email This
Downing Street Memo reporter to join Democrats
The Senate Democratic Policy Committee (DPC) will be holding a special oversight hearing on pre-war intelligence relating to Iraq Monday, RAW STORY has learned.
"If we're going to get things right when it comes to Iran, North Korea, and other national security threats, we need to learn what went wrong in the case of Iraq," DPC chairman Senator Byron Dorgan (D-ND) said in a statement.
The hearing is not an official Congressional hearing, which must be convened with Republican support. It does, however, mark an aggressive step by Democrats to bypass the usual channels for intelligence oversight -- namely the House and Senate Intelligence Committees -- which remain mired in partisan disputes.
"Clearly we need good intelligence, but that's not the end of the discussion," he added. "We need to know what set of policies need to be in place as we go forward in order to fix what went wrong in the past."
Senator Dorgan's spokesman told RAW STORY that the hearing shouldn't be characterized as a response to the delayed Senate Intelligence Committee Phase II investigation into pre-war Iraq intelligence.
"For starters there has never been a hearing on the use of pre-war intelligence, but essentially the purpose is there were clearly some problems with intelligence leading up to the Iraq war," said spokesman Barry Piatt. "There's been a lot of discussion about the quality of the pre-war intelligence but there's been almost no discussion about how the intelligence that we had was actually used."
"The purpose of the hearing is to essentially learn from the past," Piatt told RAW STORY. "We've got some enormous challenges with Iran and Korea and we need to get this right."
Numerous former officials to speak
British journalist Michael Smith, who broke the Downing Street memos story in the spring of 2005, which revealed that Blair and his ministers plotted to justify Bush's planned invasion eight months before the official start of the war, will appear as a witness via videoconference at the hearing.
"I decided to give evidence because they asked me to do so, it was clear they were genuinely interested in what I had to say, and it was part of genuine attempt to get to grips with the implications of the leaked memos," Smith told RAW STORY. "It would not be appropriate to discuss beforehand what I will be saying to the committee but it will of course go over issues that I have already written about extensively."
Two former officials slated to testify were recently featured in the PBS Frontline documentary "The Dark Side" which reported on the battle between Vice President Cheney and the CIA to control secret intelligence activities.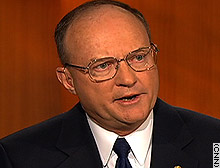 In the documentary, Lawrence Wilkerson, former Chief of Staff to Secretary of State Colin Powell blasted former National Security Adviser Condoleezza Rice for letting ambition cloud her judgment.
"We had a one-word description of the National Security Council...and that one word was 'dysfunctional,'" said Wilkerson.
"How could a woman as competent as Dr. Rice seemed to be — indeed, Secretary Powell had told me she was a sort of a protégé of his — [head up an organization that] could be so dysfunctional?" asked Wilkerson. "I'd say simply she had her eye on the prize, and the prize was a Cabinet position — and a particular Cabinet position, secretary of state — and as national security adviser, one works one's ambitions to achieve that position."
Former CIA analyst, Paul Pillar, authored the "white paper," which publicly assessed the prewar weapons programs of Iraq now "regrets" his involvement.
"It was clearly requested and published for policy advocacy purposes," Pillar said in the documentary. "The purpose was to strengthen the case for going to war."
"Is it proper for the intelligence community to publish papers for that purpose?" Pillar said. "I don't think so and I regret having had a role in it."
Full list of witnesses as listed on the DPC press release:
Lawrence Wilkerson, Chief of Staff to Secretary of State Colin Powell, 2001-2005
Paul Pillar, CIA official responsible for coordinating intelligence on Iraq, 2000-2005
Carl Ford, Assistant Secretary of State for Intelligence and Research, 2001-2003
Wayne White, State Department principal Iraq analyst, 2003-2005
Rod Barton, Senior Advisor to the Iraq Survey Group, 2003-2004
Michael Smith, reporter for the Sunday Times of London, and the first to report the existence of the so-called "Downing Street Memo"
Joseph Cirincione, co-author of WMD in Iraq: Evidence and Implications