Sen. Craig may not yet be ready to release grip on Senate seat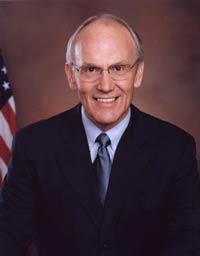 Sen. Larry Craig (R-ID) will not abandon his Senate seat until a Minnesota judge determines whether or not the senator's guilty plea in connection to soliciting sex from an undercover police officer should be overturned, according to CNN. Arguments in the case were presented Wednesday afternoon.
"Today was a major step in the legal effort to clear my name," Craig said in a written statement released Wednesday. "The court has not issued a ruling on my motion to withdraw my guilty plea. For now, I'll continue my work in the United States Senate for Idaho."
Craig had originally announced he would step down by Sept. 30, but the judge's ruling is not likely to come before that date.
In a press conference following the court hearing, a Minnesota state prosecutor said that Craig's arguments "do not meet the standard for manifest injustice that is necessary under Minnesota law for withdrawal of a plea."
"The defendant received due process under the law and had more than eight weeks between the time of his arrest and his August 8 arraignment in which to consider his legal options," he continued. "After careful consideration, the defendant calculatingly entered a plea of guilty to crime of disorderly conduct. That plea was valid...we anticipate a positive ruling from the court."
Craig attorney Billy Martin also made a statement about the case.
"We are arguing--and we hope at this judge, Judge Porter--will look at our argument and make a determination that no matter what Sen. Craig attempted to do to make this go away, what he did was not a crime," he said.
Arrested in a June bathroom sex sting operation conducted at a Minneapolis airport, Sen. Craig had entered a guilty plea to charges of disorderly conduct after allegedly soliciting sex from an undercover policeman.
Since then, however, he has maintained his innocence, announcing that he regretted admitting guilt.
"In his petition to vacate the plea, Craig's attorney maintained the senator's 'panic' over the possibility that the allegations would be made public drove him to accept a guilty plea without seeking legal advice and that he had been assured by the arresting officer that the matter would remain private," says CNN at its website.
The Associated Press reported earlier that Craig's attorneys are "trying to prove that letting the senator's plea stand would be a 'manifest injustice.'The term isn't defined in the law, but is generally left up to judges to determine on a case-by-case basis, legal experts said. If the plea is withdrawn, prosecutors could refile charges."
"Craig has said his foot-tapping, hand gestures, and looks into a bathroom stall were misconstrued by the police officer," the AP story continued.
In the following video clip, Minnesota prosecutors hold a press conference responding to Senator Craig's attempts to undo conviction.
This video is from CNN's Newsroom, broadcast on September 26.