Did CIA hand over Pearl murder suspect to be tortured nearly to death?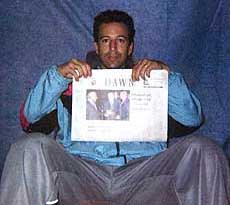 An alleged terrorist financier who authorities suspected in the plot to kill journalist Daniel Pearl five years ago was detained and interrogated by the CIA and Pakistani intelligence before his death earlier this year, leading human rights groups to suspect the detainee was tortured nearly to death.
The report in Monday's Wall Street Journal has renewed questions among legal and human rights advocates over how far US interrogators will go to get information from detainees and whether the CIA turns over detainees to other governments that would torture them.
The suspect, Saud Memon, was held for an indeterminate amount of time and interrogated by US and Pakistani intelligence agencies, law enforcement sources tell the Journal's Jay Solomon and Steve Levine.
Memon was dumped in front of his home in Karachi on April 28; the 44-year-old suspect weighed less than 80 pounds and was badly injured, family members and human-rights activists said. He was bound to a wheelchair during an appearance before the Pakistani Supreme Court five days later, and Memon was dead within three weeks from what doctors said were complications from meningitis and tuberculosis.
"Legal-aid and human-rights groups have accused Pakistan's intelligence agency, the Inter-Services Intelligence bureau, of torturing Memon during his detention in Pakistan, based on interviews with fellow prisoners. A Pakistani police official said Memon was already in poor condition when the U.S. authorities delivered him to Pakistan," Solomon and Levine report.
A CIA spokesman told the paper that the agency "does not, as a rule, comment on allegations regarding who has, or has not, been in its custody," but he insisted the US "does not conduct or condone torture."
Pearl, a foreign correspondent for the Journal, was executed in January 2002 in a brutal videotaped beheading intelligence agencies believe was orchestrated by militant Pakistani terrorists.
"Pakistani investigators called Memon a prime suspect in the case because he owned a nursery compound where the journalist was held and killed. Witnesses alleged Memon himself drove three men to the compound who subsequently killed Pearl, Pakistani investigators say," Solomon and Levine report.
Officials said Memon was a significant player among militant groups believed to be conducting abductions in Pakistan.
For months after Pearl's abduction and execution, Memon disappeared. Investigators believe he used a fake passport to flee Pakistan for Mozambique, where he traveled to South Africa. US authorities eventually learned of his whereabouts from the Pakistani government, which intercepted a phone call from Memon to family members.
Amina Masood, a human rights activist, told Solomon and Levine that former inmates imprisoned with Memon said he was extensively tortured by Pakistan's ISI intelligence agency.
"I saw him with my own eyes. His body looked like a 16-year-old boy's. He had completely lost his memory," Masood told the paper. "It wasn't possible for him to survive. He couldn't recognize his wife, children."