Like this article ? Text `Support` to 50123 to donate.
EL PASO — In a sworn declaration submitted as part of an ongoing federal court challenge, a senior Republican state senator with redistricting experience said he believes his party violated federal voting laws when it drew new boundaries for state Senate District 10 in the Fort Worth area.
"Having participated in the 2011 and 2013 Senate Select Redistricting Committee proceedings, and having read the prior federal court decision regarding SD10, it was obvious to me that the renewed effort to dismantle SD 10 violated the Voting Rights Act and the U.S. Constitution," state Sen. Kel Seliger said in a declaration signed in November.
The statement from the Amarillo Republican emerged this week as part of a dayslong hearing before a three-judge panel considering a lawsuit that claims the district was intentionally reconfigured to discriminate against voters of color in Tarrant County.
Under the map passed by the Republican-controlled Legislature, some Black and Hispanic populations previously in District 10 were split into two other districts with majority-white electorates. The Black and Hispanic voters who remain in the newly drawn District 10, in urban areas of south Fort Worth, were lumped in with several rural, mostly white counties to the south and west that drive up the district's population of white eligible voters while diminishing the number of voters of color.
RELATED: Watch Ted Cruz get repeatedly schooled by voting rights experts
A group of plaintiffs — including state Sen. Beverly Powell, D-Burleson, who represents the current SD-10 — is asking the federal judges to throw out the new district ahead of the March primaries.
Seliger chaired the Senate's redistricting committee last decade, redrawing the state's maps following the 2010 census when a similar attempt to reshape the district was found to be discriminatory. A federal court in Washington, D.C., ruled in 2012 that lawmakers had discriminated against voters of color in dismantling the district and cracking apart their communities. As a result, the Legislature went back to restore the district's configuration.
Seliger affirmed his declaration in a video deposition taken earlier this month — portions of which were played in open court in El Paso this week — during which he also said that "pretextual reasons" were given for how political boundaries were decided during the 2021 redistricting process.
Seliger pointed to the redrawing of his own district in the Texas Panhandle as an example. The district was reconfigured so that it lost several counties from the region while picking up about a dozen on the southern end of the district, closer to Midland, from where Seliger had picked up a primary challenger. He ultimately decided against seeking reelection.
RELATED: Lifelong Texas Republican predicts voter suppression bills will blow up in her party's face
The chamber's chief map-drawer, Sen. Joan Huffman, R-Houston, said throughout the process that the maps were drawn "race-blind" while following various guidelines, such as preserving political subdivisions, communities of interest and geographic compactness.
Beyond the challenge to SD-10, the state is defending the Legislature's redistricting work against a collection of legal challenges to its new maps for the state House and Senate and for Congress.
The Legislature passed maps last year that solidified the GOP's dominance while weakening the influence of voters of color. None of the maps offer Hispanic Texans new opportunities to turn their growing numbers into political power, even though they were behind half of the state's growth in the last decade.
The federal lawsuits are built on allegations that lawmakers discriminated — in some cases intentionally — against voters of color by diminishing the power of their votes. The challenge to SD-10 is running ahead of the various challenges to the House and Congressional maps, which are not set to go to trial until the fall.
On Wednesday, Seliger told The Texas Tribune that his statement about the illegality of SD-10 was "more of a concern than it was an assertion" of whether there was a violation.
RELATED: Chris Wallace nails Greg Abbott for racist election law: 'The point is to suppress voting by people of color'
"When you draw a map that essentially takes out minorities or, in what was more the point, take out the chance that there would ever be a Democrat elected there, was there a violation?" Seliger said. "It's not an assertion on my part because I'm not a constitutional lawyer, but that was my concern about Sen. Powell's district — to take that district and completely change it and it still marginalized minorities in that district."
He added that there was a "context" surrounding the drawing of SD-10 — even as Huffman asserted she had not paid any attention to racial data in drawing its boundaries — that requires lawmakers to consider race.
"The Voting Rights Act says if you can create a district in which a historically marginalized minority can elect a candidate of their choice, you must draw that district," Seliger said. "You start with that principle in every single district."
As part of his deposition, Seliger indicated that he had not authored the declaration in question, which he signed under penalty of perjury. Instead, it had been provided to him by Powell. Still, he said he stood by the statements that were included.
"Is everything exactly the way I would have written it? I can't tell you that. I doubt it, but it was perfectly acceptable," Seliger said.
This article originally appeared in The Texas Tribune at https://www.texastribune.org/2022/01/26/texas-redistricting-kel-seliger-redistricting/.
The Texas Tribune is a member-supported, nonpartisan newsroom informing and engaging Texans on state politics and policy. Learn more at texastribune.org.
CONTINUE READING
Show less
Top allies of former President Donald Trump pushed back after he endorsed a former administration aide over a conservative influencer who is highly popular on the far right.
On Tuesday, Trump endorsed Morgan Ortagus, a former State Department spokeswoman and Fox News contributor, in the upcoming Republican primary in Tennessee's 5th congressional district. Incumbent Rep. Jim Cooper, a Democrat, has announced that he will retire, saying that Republicans had "dismembered" his longtime Nashville district for partisan gain.
"Morgan was fantastic in her role working with Secretary Mike Pompeo at the U.S. State Department and understands the threats posed by China, Russia, Iran and others, and will be tough, not just roll over like the Democrats and RINOs," Trump said in a statement. "She won't bow to the Woke Mob or the Leftist LameStream Media. Morgan Ortagus will have my Complete and Total Endorsement if she decides to run!"
That statement brought immediate and highly unusual pushback from some of Trump's most ardent supporters.
"Nope. Trump has this completely wrong," tweeted conservative pundit Candace Owens, writing that the "correct pick" is Robby Starbuck, a former music video producer running as a pro-MAGA Republican in the district.
Former Trump aide Sebastian Gorka and former Trump lawyer Jenna Ellis echoed that sentiment.
Starbuck is running on a platform to crack down on ballot access, so-called Critical Race Theory, LGBTQ rights and Big Tech companies. It's unclear why Trump snubbed Starbuck in favor of Ortagus, who called him "disgusting" during his 2016 campaign before joining his administration.
Numerous other Trump allies joined in backing Starbuck over Trump's preferred candidate.
"I endorsed [Starbuck] months ago and I stand by my endorsement," tweeted Rep. Madison Cawthorn, R-N.C.
"I endorsed Robby months ago & believe he's exactly what we need in these difficult times," wrote Trump-backed Arizona gubernatorial candidate Kari Lake. "He's a God-fearing man who loves his wonderful family — he's a true 'citizen politician.'"
The Republican scramble comes after the GOP-dominated state legislature carved up Cooper's Nashville-area district. Cooper, who has trounced every Republican challengers for decades and ran unopposed in 2020, said the Republican plan to split reliably blue Nashville into three Republican-leaning districts made it impossible for him to win.
"Despite my strength at the polls, I could not stop the General Assembly from dismembering Nashville," he said in a statement. "No one tried harder to keep our city whole. I explored every possible way, including lawsuits, to stop the gerrymandering and to win one of the three new congressional districts that now divide Nashville. There's no way, at least for me in this election cycle, but there may be a path for other worthy candidates."
The Tennessee House of Representatives on Monday approved a new congressional map that would split Nashville, combining areas of the state's largest city with more conservative parts of the state. Cooper, who represented a district President Joe Biden won by 24 points, was drawn into a new district that former Trump carried by nine points, according to Cook Political Report editor Dave Wasserman.
"Our Republican legislature has savaged Nashville in order to get one more vote in Congress," Cooper told Axios. "This is a cruel blow to all people of Nashville, certainly to minority groups, but to every resident of Nashville," he added.
Although Republicans have not been as aggressive at carving out new districts in other states, many of the Republican-drawn maps have been perceived as intended to dilute the power of voters of color. Several Republican-drawn maps have already been struck down and Democrats have vowed to continue to litigate partisan and racial gerrymanders.
"The maps passed by Tennessee Republicans are blatant partisan gerrymanders," former Attorney General Eric Holder, the chairman of the National Democratic Redistricting Committee, said in a statement. "The congressional map splits Nashville into three separate districts, weakening the voting power of the region's economic powerhouse and the city's black community. This map is an obvious attempt to deliver illegitimate political power to the Republican Party for the next decade."
Republicans already hold a 7-2 edge in the state's congressional delegation but the Nashville redistricting could give the GOP eight of the state's nine House seats. Cooper suggested that the aggressive gerrymander was unnecessary, since Republicans are likely to win back control of the House in November anyway. Cooper is the 29th Democratic incumbent to announce he won't seek re-election ahead of a likely power shift.
While Cooper said the redistricting plan would prevent him from winning re-election, it's unclear whether progressive primary challenger Odessa Kelly plans to continue her campaign after comparing the effect of the redistricting to Jim Crow-era laws that prevented Black people from voting.
"I joined the congressman in fighting back against the Tennessee General Assembly's racist gerrymandering that will erase the voices of Black and brown voters in Nashville," Kelly told Tennessee Lookout. "But I know one thing is true: People-powered movements in this state have been building power for years and no map is going to slow it down."
CONTINUE READING
Show less
Given that Russia has amassed
100,000 troops
along its nearly 1,200-mile border with Ukraine, a look at two recent invasions by Russia against neighboring territories offers insight to what a possible new invasion would entail if diplomacy is unable to ease the growing tensions.
Invasion of Georgia
In 2008, Russian President Vladimir Putin invaded Georgia, a country in the Caucasus region located on the Black Sea, during the opening ceremony of the Beijing Olympics. Approximately 40,000 soldiers and 1,200 armored vehicles entered into Georgia's semi-autonomous region of South Ossetia before stopping about 35 miles short of Tbilisi, Georgia's capital.
Putin attempted to justify the invasion under the pretense of the international norm of the responsibility to protect. In this case, Russia argued that its use of force was required to protect Osseitians from Georgian "genocide".
Yet the Global Centre for the Responsibility to Protect, a nongovernmental international agency started in 2008 to prevent genocide, found no legal justification for Russia's use of force. Instead, there is plenty of evidence to indicate the war was "premeditated."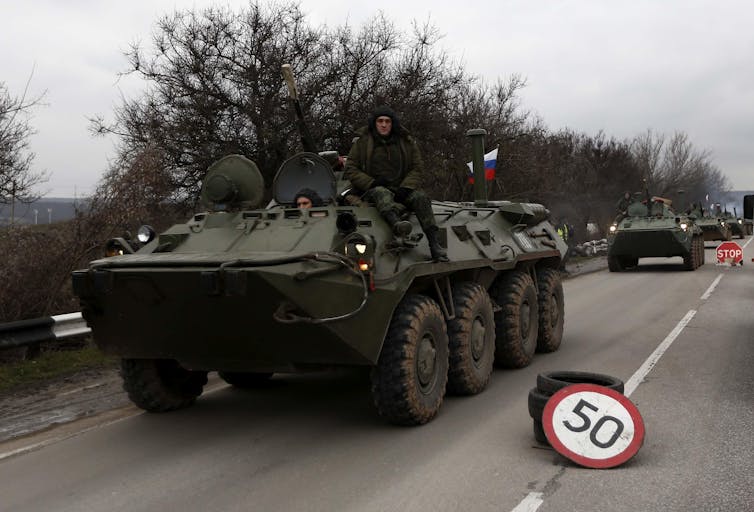 In this Feb. 28, 2014, photograph, Russian armored personnel carriers are rolling into Crimea, Ukraine.
Bulent Doruk/Anadolu Agency/Getty Images
Invasion of Crimea
In 2014, when Russian invaded Crimea, Putin had a large troop formation along Ukraine's border. But instead of invading there, Putin used hybrid warfare to seize Crimea, a peninsula that juts into the Black Sea and housed a Russian naval base.
Ukraine failed to provide a military response. But when Russia actively supported separatists in the Ukrainian regions of Donetsk and Luhansk – collectively known as the Donbass – Ukraine fought back. Even though Ukraine's military was in a "decrepit" state, hollowed out by decades of corruption, it was able to push the Russian-backed separatists to the border with the help of volunteers.
In response, Russia increased its support, sending small military formations to assist the separatists.
As a career U.S. special forces officer with combat and operational deployments in Afghanistan, Iraq, Bosnia, Africa and South America, I conducted field research on the 2008 and 2014 wars in Georgia and Ukraine. Based on my military experience, Putin would not want to send large troop formations into Ukraine without some sort of justification, credible or not. As it is now, justification for an invasion would be extremely difficult for Putin. That doesn't mean he won't invade anyway.
From what I have learned, I expect a possible Russian invasion would start with cyberattacks and electronic warfare to sever communications between Ukraine's capital and the troops. Shortly thereafter, tanks and mechanized infantry formations supported by the Russian air force would cross at multiple points along the nearly 1,200-mile border, assisted by Russian special forces. Russia would seek to bypass large urban areas.
Likewise, Ukraine would seek to keep the major combat out of large urban areas to minimize the destruction. But neither side likely would be able to avoid urban fighting altogether.
A stronger Ukrainian military
It would likely be a limited incursion. The political cost of capturing Ukraine's capital would be too high, and as a result, Putin would likely stop short of Kiev, just as he did with Tbilisi during the invasion of Georgia in 2014. But the war would be extremely costly for Russia because of significant improvements in the Ukrainian military since 2014.
In 2008, a less sophisticated Georgian Army shot down as many as 22 Russian aircraft, causing Russia to significantly decrease its sorties. Russia would likely meet the same fate in 2022 against a Ukrainian military armed with Stinger missiles that are being transferred from Lithuania and Latvia.
After testing Ukrainian air defenses and suffering losses in the first few days, I suspect Russia would largely ground its aircraft and instead rely on multiple launch rocket systems (MLRS) to knock out strategic strongholds.
Ukraine also would likely keep its air force grounded, just as it did in 2014, leading observers to question why Ukraine maintains an air force that costs billions of dollars if it fails to employ it in war.
On the ground, Russian tanks also would likely face a much different defense. In 2014, for instance, Russian T-90 tanks supporting separatists in Ukraine's Donbass region were almost impenetrable. Since then, Ukraine has upgraded its defense. In 2017, the United States provided Javelin anti-tank missiles to Ukraine, with additional missiles arriving from Estonia in the coming days. These man-portable, self-guided missiles are extremely accurate, extremely effective, easy to use and would inflict heavy losses on the Russians.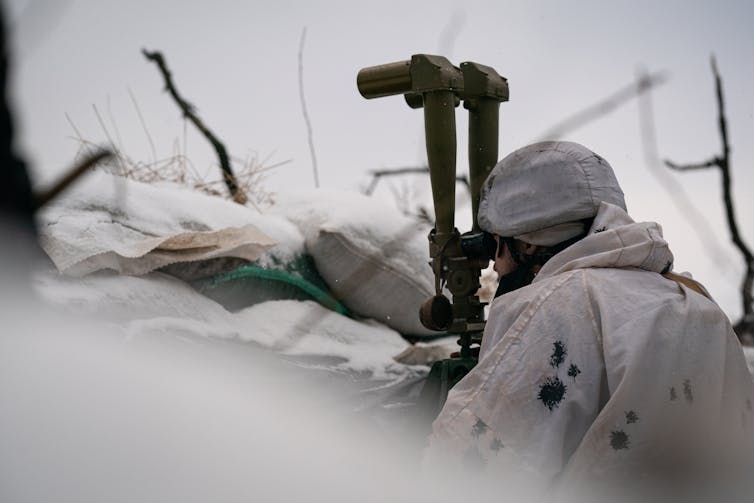 A member of the 503âd Naval Infantry Battalion stationed in Donbass, Ukraine, on Jan. 18, 2022.
Photo by Wolfgang Schwan/Anadolu Agency via Getty Images
Ukraine's military is far more capable now than it was in 2014. Since then, the United States has committed over $2.7 billion in training and equipment that has helped reform Ukraine's defenses. Ukraine's military is now at least on par and most likely better than the Russians at the tactical level, which is similar to 2008 when Georgian forces often outperformed their Russian counterparts.
When Russia invaded the Donbass, Ukrainian "volunteers" flocked east to stave off Russian forces, preventing Ukraine from losing more than just the Donbass. Many were completely untrained, yet they fought well. Over the past few years, volunteers have continued to train.
Russia would not have the element of surprise as it did in 2008 and 2014. Instead, it would find a ready and trained volunteer force that would provide not only critical intelligence to the Ukrainian military but also counterattacks against Russian forces during the invasion.
A high price to pay
Despite the advances of the Ukrainian military, Russia's military, due to its sheer size, would still overwhelm the Ukrainians.
Yet a military victory would come at an extremely high military and political cost. Sanctions against Russia following its seizure of Crimea in 2014 have been estimated to have reduced Russia's economic growth by 2.5 to 3%, or roughly $50 billion per year. Sanctions would likely be much more significant this time.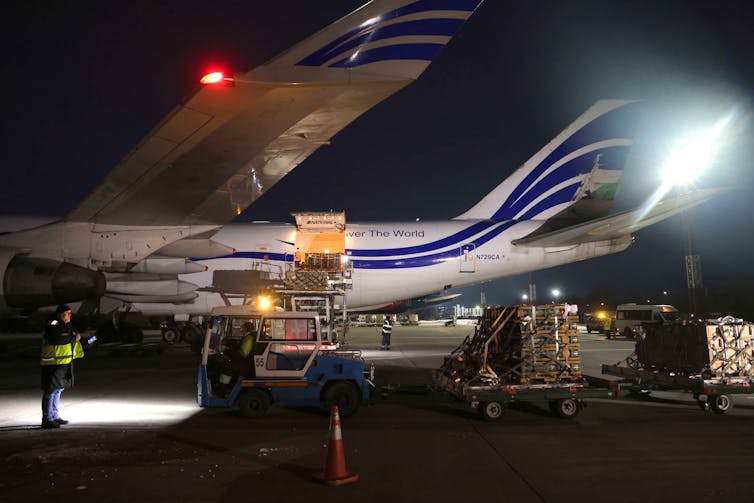 Ground crew unloads weapons and other military hardware from the U.S military at Boryspil Airport near Kyiv on Jan. 25, 2022.
Photo by Sean Gallup/Getty Images
It is doubtful that Putin is willing to accept these costs. With additional Javelin and Stinger missiles being sent to Ukraine from Western allies and messaging from President Joe Biden that Russia would "pay a heavy price" for any invasion, Putin might heed the warnings.
[Too busy to read another daily email? Get one of The Conversation's curated weekly newsletters.]

Liam Collins, Founding Director, Modern War Institute, United States Military Academy West Point
This article is republished from The Conversation under a Creative Commons license. Read the original article.
CONTINUE READING
Show less
{{ post.roar_specific_data.api_data.analytics }}