Stories Chosen For You
United States District Judge Lewis Kaplan has set a trial date in writer E. Jean Carroll's rape case against former President Donald Trump.
Journalist Adam Klasfeld first reported that Kaplan had accepted Carroll's proposed trial date of April 10, 2023.
Carroll revealed in 2019 that she had allegedly been sexually assaulted by Trump in the 1990s. She later sued Trump for defamation after he responded by saying that "she's not my type."
Last week, Carroll filed a new lawsuit after a New York law lifted existing deadlines for sexual assault survivors to sue.
CONTINUE READING
Show less
Besieged former President Donald Trump spent Tuesday morning firing off missives on his Truth Social account, lashing out in multiple directions over the loss by Kari Lake in Arizona and a general unhappiness with coverage of his meeting with a notorious anti-Semite.
The former president, who is being harshly criticized for consorting with Holocaust-denier Nick Fuentes, and who is also awaiting what is expected to be a rebuke for the 11th Circuit Court of Appeals over his attempt to avoid being investigated for stealing government documents and hiding them at Mar-a-Lago, also launched a diatribe about mail-in voting.
In one post on Truth Social, he raged, "RINO Karl Rove, a man with a losing record the likes of which few political operatives would be able to get away with, including his loss to me in 2016, fights so hard and so stupidly, but is constantly on Fox News and the once great Wall Street Journal, explaining how things should be done - and he doesn't have a clue. People can't stand him, a clone of even more unpopular Paul Ryan, who sadly runs Fox News, now on a very bad path. Rove is a DINIER (sic) of DINIERS (sic), which makes him a fool. WATCH!"
Changing directions, he then wrote, "Our Elections are Rigged. Mail-In Ballots are a total SCAM. How about all of those 'BROKEN' Republican Voting Machine? GET SMART REPUBLICANS, OR YOU WON'T HAVE A PARTY (OR COUNTRY) LEFT!" accompanied by a link to election deniers complaining about the certification of votes in Maricopa County where Republican Kari Lake went down to defeat.
RELATED: The GOP risks a 'full blown MAGA implosion': Newsweek reporter
Taking up mail-in ballots, he warned, "REMEMBER, YOU CAN NEVER HAVE FAIR & FREE ELECTIONS WITH MAIL-IN BALLOTS - NEVER, NEVER, NEVER. WON'T AND CAN'T HAPPEN!!!"
He then fell back on complaining about his presidential election loss to Joe Biden two years ago, with the former president writing, "I was 232-22 in the MIDTERM ELECTIONS, and still have to listen to DEMS, RINOS, and the Fake News explain how poorly I did (Also, 98.6% in Republican Nomination Endorsements!). Without my Endorsement of Republican Candidates, the numbers would have been a disaster. Same for 2018 and the CORRUPT ELECTION OF 2020, where almost everyone won because, and with the help of, ME - EXCEPT ME - and that's because the Presidential Election was RIGGED & STOLEN!"
CONTINUE READING
Show less
The amount of oxygen in the Earth's atmosphere makes it a habitable planet.
Twenty-one per cent of the atmosphere consists of this life-giving element. But in the deep past — as far back as the Neoarchean era 2.8 to 2.5 billion years ago — this oxygen was almost absent.
So, how did Earth's atmosphere become oxygenated?
Our research, published in Nature Geoscience, adds a tantalizing new possibility: that at least some of the Earth's early oxygen came from a tectonic source via the movement and destruction of the Earth's crust.
The Archean Earth
The Archean eon represents one third of our planet's history, from 2.5 billion years ago to four billion years ago.
This alien Earth was a water-world, covered in green oceans, shrouded in a methane haze and completely lacking multi-cellular life. Another alien aspect of this world was the nature of its tectonic activity.
On modern Earth, the dominant tectonic activity is called plate tectonics, where oceanic crust — the outermost layer of the Earth under the oceans — sinks into the Earth's mantle (the area between the Earth's crust and its core) at points of convergence called subduction zones. However, there is considerable debate over whether plate tectonics operated back in the Archean era.
One feature of modern subduction zones is their association with oxidized magmas. These magmas are formed when oxidized sediments and bottom waters — cold, dense water near the ocean floor — are introduced into the Earth's mantle. This produces magmas with high oxygen and water contents.
Our research aimed to test whether the absence of oxidized materials in Archean bottom waters and sediments could prevent the formation of oxidized magmas. The identification of such magmas in Neoarchean magmatic rocks could provide evidence that subduction and plate tectonics occurred 2.7 billion years ago.
The experiment
We collected samples of 2750- to 2670-million-year-old granitoid rocks from across the Abitibi-Wawa subprovince of the Superior Province — the largest preserved Archean continent stretching over 2000 km from Winnipeg, Manitoba to far-eastern Quebec. This allowed us to investigate the level of oxidation of magmas generated across the Neoarchean era.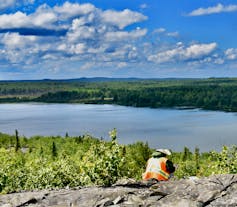 The 2750- to 2670-million-year-old granitoid rocks collected from the largest preserved Archean continent may help reveal the origin story of the Earth's oxygen. (Dylan McKevitt), Author provided
Measuring the oxidation-state of these magmatic rocks — formed through the cooling and crystalization of magma or lava — is challenging. Post-crystallization events may have modified these rocks through later deformation, burial or heating.
So, we decided to look at the mineral apatite which is present in the zircon crystals in these rocks. Zircon crystals can withstand the intense temperatures and pressures of the post-crystallization events. They retain clues about the environments in which they were originally formed and provide precise ages for the rocks themselves.
Small apatite crystals that are less than 30 microns wide — the size of a human skin cell — are trapped in the zircon crystals. They contain sulfur. By measuring the amount of sulfur in apatite, we can establish whether the apatite grew from an oxidized magma.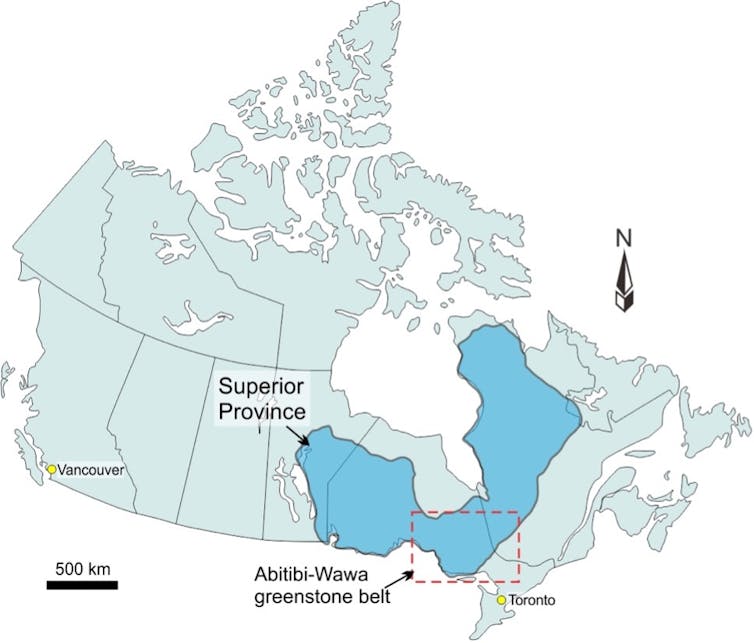 Map of the Superior Province that stretches from central Manitoba to eastern Quebec in Canada. (Xuyang Meng), Author provided
We were able to successfully measure the oxygen fugacity of the original Archean magma — which is essentially the amount of free oxygen in it — using a specialized technique called X-ray Absorption Near Edge Structure Spectroscopy (S-XANES) at the Advanced Photon Source synchrotron at Argonne National Laboratory in Illinois.
Creating oxygen from water?
We found that the magma sulfur content, which was initially around zero, increased to 2000 parts per million around 2705 million years. This indicated the magmas had become more sulfur-rich. Additionally, the predominance of S6+ — a type of sulfer ion — in the apatite suggested that the sulfur was from an oxidized source, matching the data from the host zircon crystals.
These new findings indicate that oxidized magmas did form in the Neoarchean era 2.7 billion years ago. The data show that the lack of dissolved oxygen in the Archean ocean reservoirs did not prevent the formation of sulfur-rich, oxidized magmas in the subduction zones. The oxygen in these magmas must have come from another source, and was ultimately released into the atmosphere during volcanic eruptions.
We found that the occurrence of these oxidized magmas correlates with major gold mineralization events in the Superior Province and Yilgarn Craton (Western Australia), demonstrating a connection between these oxygen-rich sources and global world-class ore deposit formation.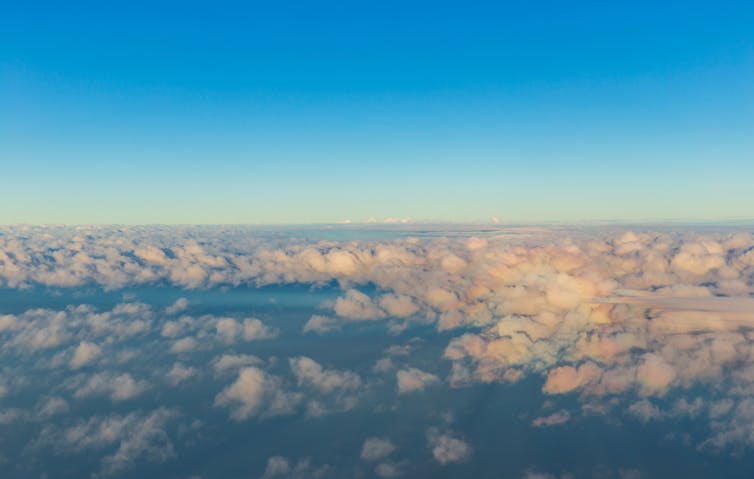 The driving of ocean water deep into the Earth, caused by the sliding of oceanic plates under the Earth's continental plates, may generate free oxygen as well as the mechanism to release it — volcanoes. (Shutterstock)
The implications of these oxidized magmas go beyond the understanding of early Earth geodynamics. Previously, it was thought unlikely that Archean magmas could be oxidized, when the ocean water and ocean floor rocks or sediments were not.
While the exact mechanism is unclear, the occurrence of these magmas suggests that the process of subduction, where ocean water is taken hundreds of kilometres into our planet, generates free oxygen. This then oxidizes the overlying mantle.
Our study shows that Archean subduction could have been a vital, unforeseen factor in the oxygenation of the Earth, the early whiffs of oxygen 2.7 billion years ago and also the Great Oxidation Event, which marked an increase in atmospheric oxygen by two per cent 2.45 to 2.32 billion years ago.
As far as we know, the Earth is the only place in the solar system — past or present — with plate tectonics and active subduction. This suggests that this study could partly explain the lack of oxygen and, ultimately, life on the other rocky planets in the future as well.

David Mole, Postdoctoral fellow, Earth Sciences, Laurentian University; Adam Charles Simon, Arthur F. Thurnau Professor, Earth & Environmental Sciences, University of Michigan, and Xuyang Meng, Postdoctoral Fellow, Earth and Environmental Sciences, University of Michigan
This article is republished from The Conversation under a Creative Commons license. Read the original article.
CONTINUE READING
Show less
{{ post.roar_specific_data.api_data.analytics }}