Pandagon is daily opinion blog covering feminism, politics, and pop culture. Come for the politics, stay for the complete lack of patience for the B.S. and bad faith coming from conservative leaders and pundits.
Don't miss stories. Follow Raw Story!
It's amazing the schisms that have broken open in this campaign season. Bil Browning of The Bilerico Project has an eye-opening post up, "Why is EMILY's List endorsing anti-semitism, racism and homophobia?" EMILY's List, an organization that promotes and helps fund women who run for public office, the primary goal is to ensure that pro-choice candidates are elected.
In one Congressional race (Tennessee's 9th district, which includes Memphis and environs), EMILY's List is backing a candidate, Nikki Tinker, who is up against a pro-choice, pro-LGBT incumbent, Steven Cohen. Tinker's campaign and surrogates have engaged in disturbing tactics that show how conflicts between core Democratic constituencies have erupted into ways difficult to paper over.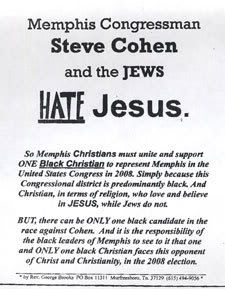 Rep. Steve Cohen, who is Jewish, was attacked in a flier (left, "Memphis Congressman Steve Cohen and the Jews hate Jesus") distributed by a black homobigoted pastor from Murphreesboro who is not even from Cohen's district, Rev. George Brooks. Tinker, who happens to be black as well, and was called to condemn the flier. (WaPo):
[T]he literature encourages other black leaders in Memphis to "see to it that one and ONLY one black Christian faces this opponent of Christ and Christianity in the 2008 election."

The Commercial Appeal wrote an editorial in Wednesday's paper condemning Tinker for not speaking out against the anti-Semitic literature.

"What does Nikki Tinker think about anti-Semitic literature being circulated that might help her unseat 9th District Congressman Steve Cohen in the Democratic primary next August?" the editorial asked. "The question goes to the character of the woman who wants to represent the 9th District, and 9th District voters deserve an answer. But Tinker declined to return a phone call about the flier."
The Memphis Baptist Ministerial Association, an organization of black pastors that has backed Tinker's campaign as well, has openly criticized Cohen for his support of hate crimes legislation. Why is this not an issue for EMILY's List? Certainly its resources can be spent more effectively in another race, given incumbent Cohen's pro-choice record. Why back such a divisive candidate if your primary issue is already supported? Is there something missing from this picture that we should be aware of?
You can read more over at Bil's pad. He concludes that in this case, for EMILY's List, it has placed working to elect a pro-choice woman above any concerns about anti-Semitism or homophobia pouring from Tinker's campaign and supporters.