Pandagon is daily opinion blog covering feminism, politics, and pop culture. Come for the politics, stay for the complete lack of patience for the B.S. and bad faith coming from conservative leaders and pundits.
Don't miss stories. Follow Raw Story!
UPDATE: Fox News Senior VP of Programming Bill Shine came up with this lame statement: "A producer on the program exercised poor judgment in using this chyron during the segment."
Jesse linked to Atrios's post on this, but I had to put up something. Last week, E.D. Hill bleated about the Obama's fist bump/dap as a secret communication between terrorists. Now we have the network broadcasting refreshingly direct racist attacks on the Obamas. This during a segment with anchor Megyn Kelly and right-wing blogger Michelle Malkin who is, naturally, a FNC contributor: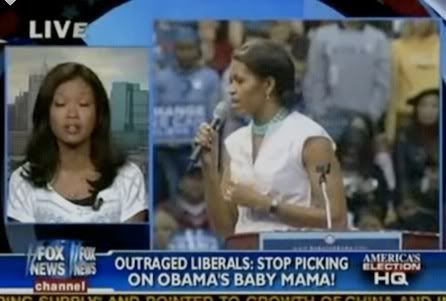 Baby Mama? If Fox is going to try to float that they are just being "down with the Negroes" in this landmark campaign, the bigoted network should at least get its sh*t right. Oliver Willis:
So here's the thing (because during this campaign I'm apparently learning that we black people have our own secret code and hand signals so this stuff has to be explained like you are speaking to a child at times), using the phrase "baby mama" to describe this woman implies that like too many people in the black community, she is a mother on her own with no man around doing his job.

Except, Barack and Michelle Obama are the exact opposite of this, and that is one of the reason America – especially black America – are so proud of them.
Let's go to the Urban Dictionary. Does this describe Mrs. Obama to you?
baby mama. A term used to define an unmarried young woman (but can be a woman of any age) who has had a child. As mentioned before in another definition, most of the time it is used for when it was simply a sexual relationship, compared to ex-wife or girlfriend. Usually this has a negative connotation, a lot of baby mamas are seen as desperate, gold digging, emotionally starved, shady women who had a baby out of spite or to keep a man. Sometimes they may act like this because of missed child support payments, unfulfilled promises by the father, or convenient sex by the father. Either or both may exist in any situation.
It's high time that Fox News just stop with the pussyfooting around with these games and run the more direct "nigger" on any Chyron running over video of the Obamas. Being a generous person, I'll help Fox out – a few more direct descriptions for them to use are below the fold. Let Chevy Chase and Richard Pryor school Faux News:
It's going to be a wonderful general election season, don't you think? Especially with that Obama monkey doll.
It's no surprise that Michelle Malkin (who infamously defends Japanese-American internment during WWII) is at the center of this segment, as Liza points out.
The authors of Malkin Watch and Liberal Avenger wrote an important piece called "Ghost Blogging". Professor of Law, Eric Mueller, who notoriously fisked (the) Malkin racist and anti-immigrant manifesto, "The Case For Internment", had noticed the writing pattern as well and went even as far as to say (after being attacked for attacking Malkin's racist screed) :
Of course, when a female, nonwhite blogger condemns rather than defends the Japanese American internment, or argues for protecting rather than trashing immigrants' rights, or takes the opposite side of just about anything Malking writes, it's really not so attention-grabbing, is it?

Gee. Could that have anything to do with why Malkin gets so much attention on the right?
In other words, Michelle Malkin has always been "Michelle Malkin & Co", most specifically, Jesse Malkin doing most of the writing with Michelle as the front of the operation.

Which is why having Michelle Malkin at the center of this "baby mama drama" is so important. Ever the opportunists, "Malkin & Co." seeks out race baiting opportunities the way sharks seek blood in the water : If it is something "Malkin & Co" can profit from, she and her husband run to it and unleash the racist wurlitzer on her blog. By the way –do you know that the multi-tasker Michelle Malkin is also CEO of HotAir.com, a conservative new media company?

…By having Malkin at the center of the "Obama Baby Mama" drama, Fox News can get away with one more day of cashing in on extremist propaganda, all the while attacking the presumptive first African American President and First Lady of the United States.
Also check out Echidne of the Snakes' take on this.
Related:
* Faux News' E.D. Hill's asinine 'fist bump' terror alert