Pandagon is daily opinion blog covering feminism, politics, and pop culture. Come for the politics, stay for the complete lack of patience for the B.S. and bad faith coming from conservative leaders and pundits.
Don't miss stories. Follow Raw Story!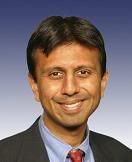 The very young governor of Louisiana is allegedly on John McCain's VP shortlist, but this little bit of news should tank his prospects for selection.
Bobby Jindal, the 36-year old governor of Louisiana, is being taken seriously by the national press as a candidate on the shortlist to be John McCain's Vice President. No one doubts that he's a political prodigy — his impressive resume includes stints as president of the state university system, a Congressman and now governor.

But one of Jindal's job titles hasn't gotten much attention — and it just might prompt a few questions if his Veep candidacy gains steam: Exorcist.

We've discovered that in an essay Jindal wrote in 1994 for the New Oxford Review, a serious right-wing Catholic journal, Jindal narrated a bizarre story of a personal encounter with a demon, in which he participated in an exorcism with a group of college friends. And not only did they cast out the supernatural spirit that had possessed his friend, Jindal wrote that he believes that their ritual may well have cured her cancer.
It sounds like Jindal has a bright future as a competitor of Benny Hinn.
Jesus' General has a howler on this.