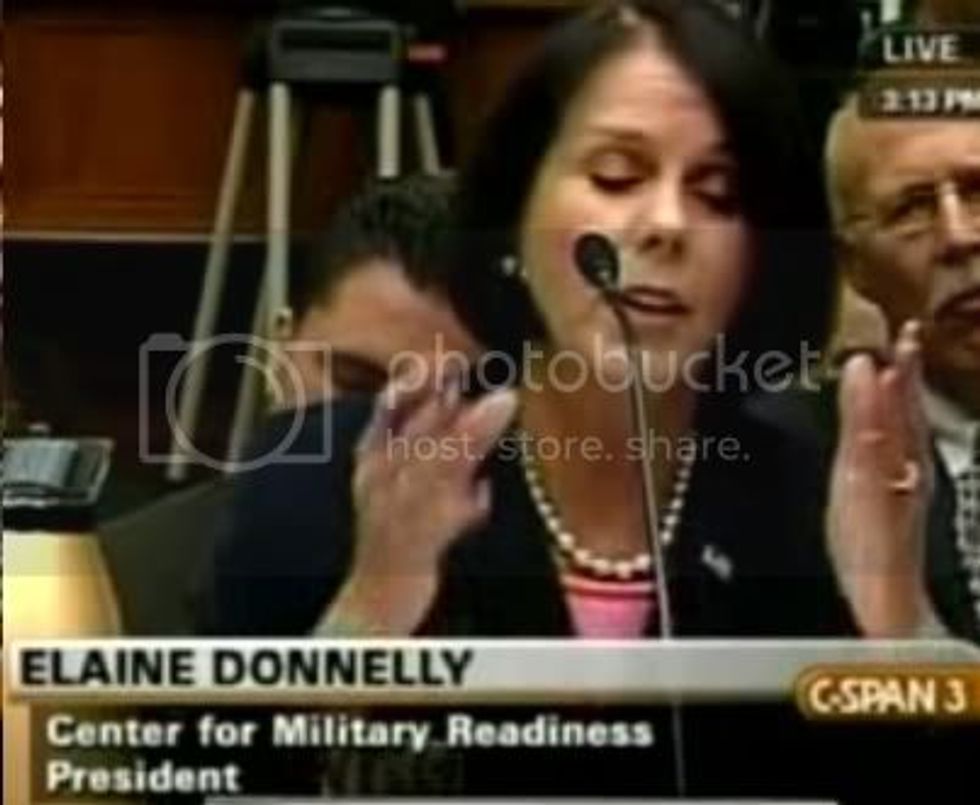 Dana Milbank at the WaPo delivers a stunning and accurate smackdown to the misguided, misleading and unhinged Elaine Donnelly of The Center for Military Readiness, who testified at yesterday's House Armed Services personnel subcommittee hearing on the law known as Don't Ask, Don't Tell.

---
Donnelly treated the panel to an extraordinary exhibition of rage. She warned of "transgenders in the military." She warned that lesbians would take pictures of people in the shower. She spoke ominously of gays spreading "HIV positivity" through the ranks.

"We're talking about real consequences for real people," Donnelly proclaimed. Her written statement added warnings about "inappropriate passive/aggressive actions common in the homosexual community," the prospects of "forcible sodomy" and "exotic forms of sexual expression," and the case of "a group of black lesbians who decided to gang-assault" a fellow soldier.

At the witness table with Donnelly, retired Navy Capt. Joan Darrah, a lesbian, rolled her eyes in disbelief. Retired Marine Staff Sgt. Eric Alva, a gay man who was wounded in Iraq, looked as if he would explode.
As I said in my post yesterday, the doyenne of discrimination (who has no military background and zero qualifications of any kind to speak with authority on the subject), actually helps our cause -- she had nothing to offer except fear-mongering that was ratcheted so high that Donnelly drew laughter from the gallery. I'm sure from her POV she was successfully laying out her case that The Homosexual Agenda will ruin the military.
The fact of the matter is that America -- hell, the world -- got to see the public face of the supporters of Don't Ask, Don't Tell, and what they saw, in all its glory, was untethered madness.

Rep. Vic Snyder (D-Ark.) labeled her statement "just bonkers" and "dumb," and he called her claims about an HIV menace "inappropriate." Said Snyder: "By this analysis . . . we ought to recruit only lesbians for the military, because they have the lowest incidence of HIV in the country."

..."Like a woman who is stared at, her breasts are stared at," Donnelly explained. She further explained the "absolutely devastating" effect of homosexuals "introducing erotic factors" and made a comparison to Sen. Larry Craig's adventure at the Minneapolis airport. She said admitting gays to the military would be "forced cohabitation" and a policy of "relax and enjoy it."

[Pennsylvania Congressman Patrick] Murphy puffed his cheeks with air to calm himself.
Thanks, Elaine. You (along with The Peter) are saving us all some lobbying time. Let's return to the videotape of Elaine's award-worthy performance. It's below the fold.
Related:

* Don't Ask, Don't Tell supporter Donnelly provides comic relief during House hearing