I've been busy and haven't briefed folks on the Taser-happy crowd for some time; it looks like the Charlotte-Mecklenburg PD is having a whale of a time with its shock-inducing, deadly device.

---
A Statesville man died after being shocked multiple times by Tasers at the Iredell County jail over the weekend, sources say.

Anthony Davidson, 29, was unresponsive when he was taken to Iredell Memorial Hospital Saturday afternoon. He was put on life support and died late Sunday night, police said.

His death is the second Taser-related death this year in the Charlotte area. In March, 17-year-old Darryl Wayne Turner, died after Charlotte-Mecklenburg police used a Taser on him at a Food Lion store in Charlotte.
If you read the whole article, it's clear that Davidson was having difficulties -- he was unable to pay for groceries at a local store, rolled the cart out -- but drove away without them. He was followed and then

When officers caught up with Davidson a short time later, he was carrying an Applebee's gift card from the store that hadn't been paid for, Anderson said.

Officers took Davidson to the Iredell County Jail where he appeared before a magistrate on a larceny charge. Davidson was behaving abnormally from the time officers first encountered him, Anderson said.

While being booked, Davidson became "physically aggressive and was communicating loudly," Anderson said. That's when officers used one or more Tasers to get him "back under control," police said.
He was hit three times and according to a nurse was "under the influence of some type of impairing substance." Davidson was unresponsive when he was taken to the hospital, where he went into intensive care. He was taken off of life support that evening.
More below the fold, including another Taser death caused by cops shocking a man covered in gasoline, setting him on fire. I've blogged about the outrageous Turner case before. The young man died when he was tased by an officer continuously for 37 seconds. All the cop received was a five day suspension. No criminal charges.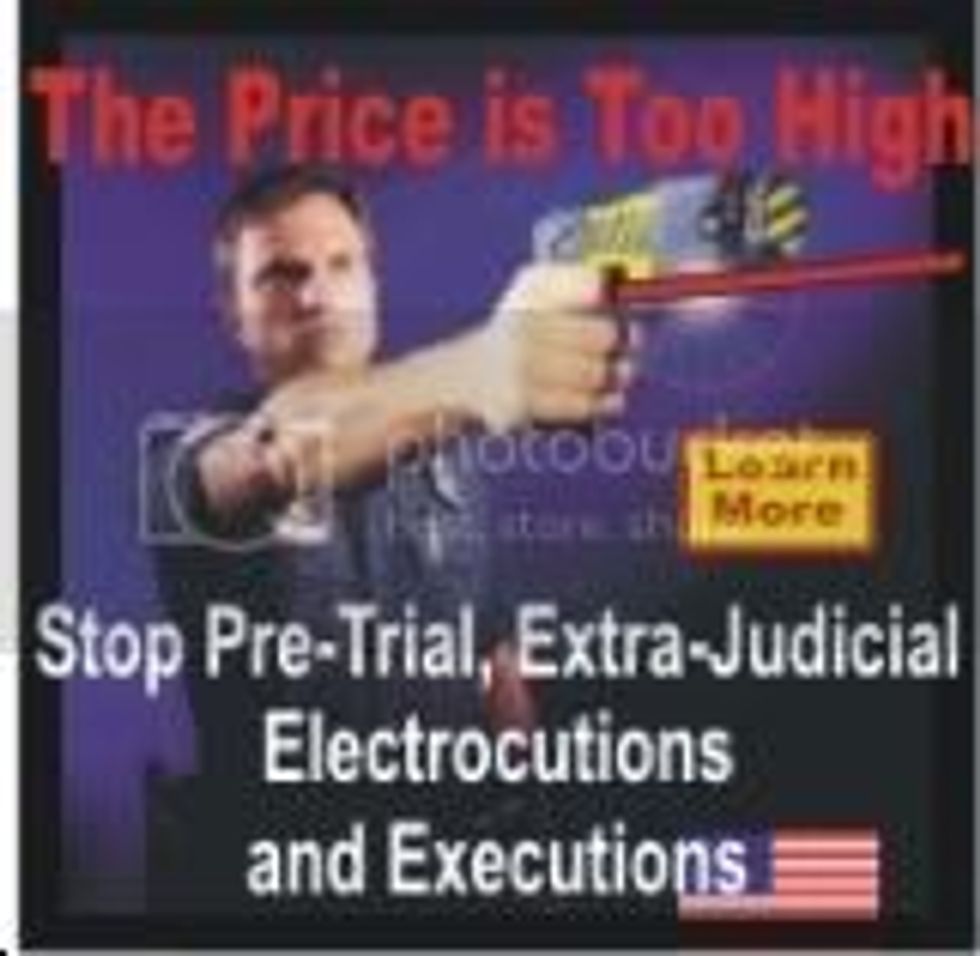 The N.C. Taser Safety Project was established to survey the state's 100 sheriff's offices. In these counties, 70 Tasers have been issued to deputies but many have no training or policies established. issued Tasers to some or all of its deputies, but many agencies lack clear policies about when and how they should be used.

The coalition calls for policies that clearly define situations for appropriate firing of the device, as well as the circumstances in which Taser use is limited or prohibited. The group wants policies to address the use of the weapon in consideration of health concerns, with use being limited against children, pregnant women, senior citizens and people with disabilities.

The group also wants policies amended to address situations in which Taser use has increased the risk of injury, restricting multiple firings and use against passive resisters, people in elevated areas, restrained individuals and people in the presence of flammables.

Richard McKinnon, of Cumberland County, died as a result of burns he sustained after being tased near flammable materials in 2005. After being pulled over by deputies for a broken tail-light, McKinnon led police on a chase, crashed, and got soaked with gasoline he had in the front seat. Deputies say McKinnon resisted arrest. They used a Taser on him, and his clothing burst into flames. Months later, he died from the burns.
Afrosphere bloggers have given these the moniker "Police Pre-Trial, Extra-Judicial Electrocutions," and that is in fact what this is (see the "Electrocuted While Black" blog).
Of course this is an issue that transcends racial lines because Taser-trigger happy members of law enforcement seem to pull out the stun gun for just about anyone they have a beef with, regardless of whether they are compliant. That there is often a racial component to the matter only makes it worse. Some of these officers have simply skipped over negotiation, reason, physical restraints and other techniques before pulling out a potentially lethal weapon after having received little training -- it's open season for sadists.
Related:

* 17-year-old killed by Taser over shoplifted Hot Pockets

* Oregon: Tasered while cycling

* Colorado: conflict over parking leads to Taser duel

* Canada: 82-year old heart patient Tased in hospital bed

* Florida: Wheelchair-bound woman Tased to death; Vermont: man Tased during seizure