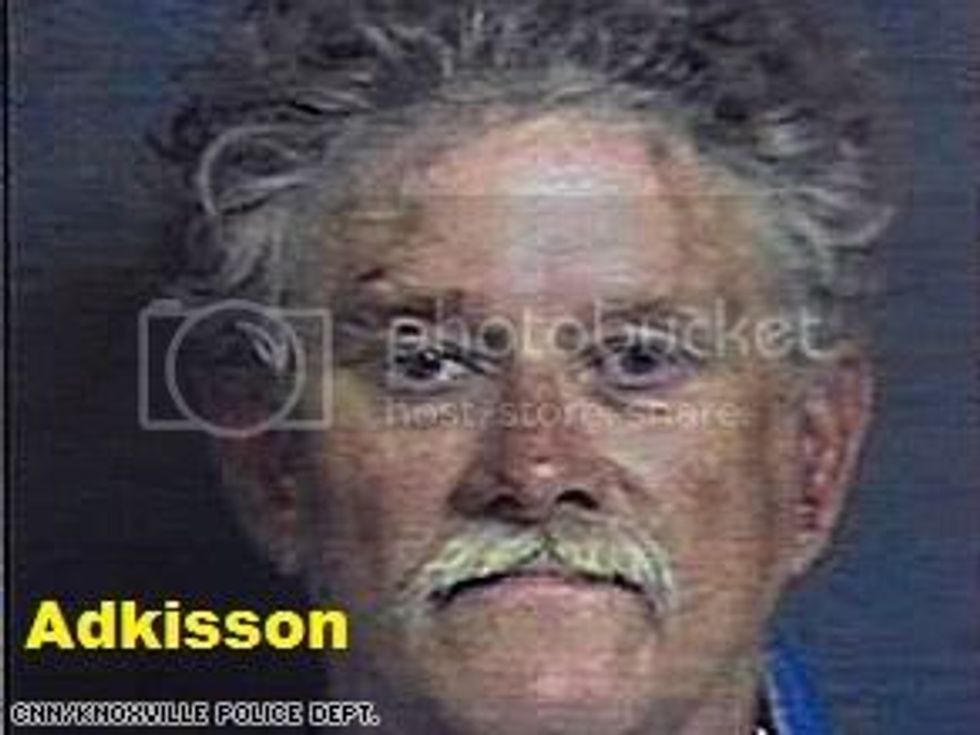 Out & About, Tennesee's LGBT paper, reports one aspect of the high-profile tragic shooting at Tennessee Valley Unitarian Universalist Church that I didn't see when I flipped on the TV to see coverage on CNN this AM. While you probably heard that Jim D. Adkisson, 58, opened fire with a shotgun during a church event killing two (more than 200 people were attending a performance of "Annie"), the Knoxville congregation had also recently put up a sign to publicly welcome LGBTs to worship.

---
Greg McKendry, 60, was killed when he confronted the gunman as he entered the church. Knoxville Police have charged Jim D. Adkisson, 58, of Powell, with first-degree in the death of McKendry. Knoxville Police Chief Sterling P. Owen IV said Adkission shot eight people with a 12-gauge shotgun. Of those shot, all were adults- four women and three men.

...Knoxville Police have not yet released a motive for the shooting. The church is the site of some gay affirming activities. A member of the congregation wrote in a national blog that the church just recently put up a sign welcoming gays. One of the goals of the church's long range plan is to "Increase congregational participation in human rights programs forgay/lesbian/transgendered persons."
That church member was Elrod of The Moderate Voice:

I was not there this morning as we had friends visiting from out of town. But we seriously considered attending with our friends. This is such a shock to the community here. Tennessee Valley Unitarian Universalist Church is such a welcoming community. Though it's decidedly more liberal than East Tennessee as a whole, we have very good relations with the rest of the community. I don't understand why anybody would do this. All we know right now is that the suspect was not connected to the church in any way. I have no idea if the man had some sort of political or cultural agenda (TVUUC had just put up a sign welcoming gays to the congregation), or if it's just some lunatic acting for no reason at all.
Before opening fire, one witness said Adkisson shouted something to the congregation that suggests he was there for a purpose -- "It was hateful words. He was saying hateful things." The FBI is officially investigating whether this brutal attack in a house of worship was a hate crime.
More after the jump, including additional information about the church from Out & About. Going back to the MSM coverage of this horror -- for instance, the article on the CNN web site covering the story, has a vague reference to the progressive positions of the church, but no mention of the new gay-affirming sign as a possible motive.

The church, on its Web site, describes itself as a community that has worked for social change -- including desegregation, women's rights and gay rights -- since the 1950s.
Well, that would be true of UU churches generally, no news there. Out & About elaborates:

It is home to Knoxville's Spectrum Café, which is a social gathering place for Knoxville area high school youth who "support the principles of diversity, tolerance, and the worth and dignity of every human being." Teens who come to Spectrum respect each others' ideas, religious views, race, sexual orientations, abilities, and ethnic backgrounds. The group welcomes "self-identify as gay, lesbian, bisexual or transgender, or who are questioning their sexual or gender identity."

The Knoxville Monday Gay Men's Group meets at the church each Monday from 7:30 p.m. to 9 p.m.

David Massey is one of the coordinators of Spectrum Café, also known as "Spectrum Diversi-Tea and Coffee House," which will begin its eighth year this spring. "We advertise it as a safe harbor for teens who identify as LBGTQ and their straight friends and allies, plus any other youth who are being harassed for religious beliefs, appearance, or abilities," Massey said in an interview with UU World Magazine.
The proximity of the posting of the gay-affirming sign to the attack, plus the eyewitness report that Adkisson's statements prior to blasting the crowd are relevant facts to report, after all, we will likely find out what he said -- members of the congregation were recording the performance of Annie when the tragedy occurred; police are reviewing the videos. The Knoxville News Sentinel reports that Adkisson left a manifesto in his car, but its content has not been released.
Pay attention to the national MSM coverage -- let us know in the comments whether this angle sees the light of day in reports.