Pandagon is daily opinion blog covering feminism, politics, and pop culture. Come for the politics, stay for the complete lack of patience for the B.S. and bad faith coming from conservative leaders and pundits.
Don't miss stories. Follow Raw Story!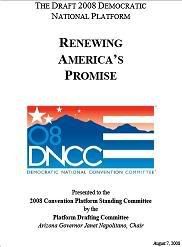 If you're looking for a committed, hard-hitting, strong-spined party platform on LGBT rights, you may want to hold off on thumbing through the 2008 Democratic Party platform. In fact, for those of you who want to get an idea of how the Dems are selling themselves on the major issues of the day, I obtained a draft of the DNC platform for your perusal. Feel free to comment on the other issues addressed, as I'm interested in your opinions of the platform on the range of topics covered.
Since the readers at the Blend focus predominantly on LGBT issues, I gave them a little preview and searched in the draft for:
* gay
* lesbian
* bisexual
* transgender
…and came up with nothing. To be fair, if you do a search for discrimination, sexual orientation or gender identity, you get a few hits.
A More Perfect Union
We believe in the essential American ideal that we are not constrained by the circumstances of birth but can make of our lives what we will. Unfortunately, for too many, that ideal is not a reality. When our laws, our leaders or our government are out of alignment with our ideals, the dissent and activism of ordinary Americans becomes the truest expression of patriotism. We have more work to do. Democrats will fight to end discrimination based on race, sex, ethnicity, national origin, language, religion, sexual orientation, gender identity, age and disability in every corner of our country, because that's the America we believe in.
It continues below the fold.
…We all have to do our part to lift up this country, and that means changing hearts, changing minds, and making sure that every American is treated equally under the law…We are committed to ensuring full equality for women: We reaffirm our support for the Equal Rights Amendment, recommit to enforcing Title IX, and will urge passage of the Convention on the Elimination of All Forms of Discrimination Against Women. We will pursue a unified foreign and domestic policy that promotes civil rights and human rights, for women and minorities, at home and abroad. We will pass the Local Law Enforcement Hate Crimes Prevention Act, because hate crimes desecrate sacred spaces and belittle all good people.

…Allow All Americans to Serve
We will also put national security above divisive politics. More than 10,000 service men and women have been discharged on the basis of sexual orientation since the "Don't Ask, Don't Tell" policy was implemented, at a cost of over $360 million. Many of those forced out had special skills in high demand, such as translators, engineers and pilots. At a time when the military is having a tough time recruiting and retaining troops, it is wrong to deny our country the service of brave, qualified people. We support the repeal of "Don't Ask Don't Tell" and the implementation of policies to allow qualified men and women to serve openly regardless of sexual orientation.
With polls on DADT repeal show support for ending discrimination by boots on the ground, the American people as well as many high ranking military officials, it's been platform-ready for some time.
Oh wait, here's something else to gnash your teeth over — no surprise that there's not even feeble support for marriage equality; there's also no guarantee of support for T-inclusion on ENDA, which is described below as "comprehensive." That of course, as we've learned from last year's debacle, is highly subjective.
That is the America we believe in. It is not enough to look back in wonder of how far we have come; those who came before us did not strike a blow against injustice only so that we would allow injustice to fester in our time. That means removing the barriers of prejudice and misunderstanding that still exist in America. We support the full inclusion of all families in the life of our nation, and support equal responsibility, benefits, and protections. We will enact a comprehensive bipartisan employment non-discrimination act. We oppose the Defense of Marriage Act and all attempts to use this issue to divide us.
Jesus — opposition to DOMA is a no brainer at this point — the polling wind is at their back on that one. "Full inclusion of all families in the life of our nation" — I don't even know what that means in terms of acting on legislation or what "support" means in this context. It sounds like a willingness to invite the LGBT family next door over for a barbecue. Injustice will continue to fester if you cannot even use the words in "LGBT" in your platform.
I haven't read the rest yet; it's a good window on what we'll see in the final version. One reader at the Blend said this in the comments:
Always read the Republican platform before reading the Democratic platform — the comparison reminds you that, though the Democrats are far behind where we want them to be, they're still light years ahead of where the Republicans are and will remain.
My reply:
that's a way low bar
Leadership is meaningful and a platform, in part is to be aspirational, not simply pragmatic. It's about declaring the values of a party. You see that throughout the document on other matters.
by: Pam Spaulding @ Fri Aug 08, 2008 at 11:08:34 AM EDT