Pandagon is daily opinion blog covering feminism, politics, and pop culture. Come for the politics, stay for the complete lack of patience for the B.S. and bad faith coming from conservative leaders and pundits.
Don't miss stories. Follow Raw Story!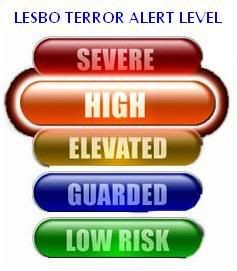 I haven't covered James Hartline, the fundamentalist, recloseted gay man who hails from the "homosexual stronghold" of Hillcrest in San Diego, CA, in a while. He is a failed City Council candidate, but he is best known for his mind-boggling anti-gay screeds on gay rodeos, San Diego Pride (multiple times), Starbucks, and even the equally insane Lou Sheldon.
This time he's bleating about the Dyke March held in his area. From the description, you'd think there was a gang of lesbians running in the streets snatching up children. From the James Hartline Report – "Lesbians Terrorize San Diego Community During Obscene Political Event."
In a scene that actually provides a rare and horrifying glimpse into the real world of lesbian politics, a large group of radical lesbian activists, some carrying signs with very obscene language, marched through a major public street in San Diego, California on Saturday, July 26, 2008. Calling itself San Diego Dyke March, the group of approximately 300 lesbians so disturbed a number of residents in the community of North Park, that one fearful churchgoer who resides in the area has alleged that a number of other church members were forced to keep their children indoors to avoid being exposed to the disgusting activities of the women. During the march, one shirtless woman exposed her bare chest. Photographs from the Dyke March show that this woman had had her breast surgically removed. During the march this same shirtless woman carried a sign that read, "I'm A Dyke. Ask Me How."

Other signs that these women carried during the public march included one that read "Vagina 100% Organic."

…Reports of parents who were forced to keep their kids off the streets so that they would not be exposed to these lesbians carrying obscene signs should give voters a prophetic look into where the gay movement wants to take California. It is a nightmarish vision that should leave parents fearfully involved in efforts to stop the madness of same-sex marriages which were recently forced upon Californians via the activist California Supreme Court. If such a large group of politically active lesbians are willing to carry obscene signs down a public street with small children present, where do California voters think these women will be taking society if no legal restraints are put on such behaviors in the future?
More unbelievable frothing at the mouth is below the fold. He continues to wail about marriage equality — what does this have to do with a Dyke Parade? And look at this fact-free statement.
There is perhaps no greater manipulation of the public by gay activists and their liberal media allies than the issues of same-sex marriage and the promotion of the gay community's newly defined forms of family. Research has demonstrated that long-term and committed gay and lesbian couples are the rare exception to the rule in the homosexual movement.

As part of their aggressive campaign to fight the Prop. 8 California state initiative to ban same-sex marriages, the 2008 San Diego Gay Pride Parade featured a number of homosexual couples who have lived in committed relationships for many years. Yet, for every one of these couples on display, there are literally thousands of cases in San Diego of homosexual couples who use illegal drugs, engage in domestic violence and have sex with multiple partners despite being in publicly professed "committed" relationships.
James is pulling Paul Cameron's discredited, fact-free "research" out of his posterior in the above. Here's a video report on Hartline from the 700 Club where he describes how he was actually born straight, but simply spent more than 30 Satanic years in the homosexual lifestyle.
Hartline blames his "former" orientation for contracting HIV and now AIDS, rather than his admitted rampant drug abuse and unsafe sex in bathhouses. His outrageous proselytizing, using his own tragic condition to foment homophobia, given the spread of HIV in heterosexual populations around the world (and in this country) — is shameful. Look at the rate of HIV/AIDS in the black community. Would Hartline feel free to chastise someone because of their race as a cause for AIDS? It's insane. It's pretty clear that his rants are incredibly insensitive to persons living with HIV/AIDS. And even worse, he believes that a cure for AIDS will come from his little prayer team (or that he's been cured himself), which is incredibly irresponsible.
Do you really want a cure? What if God wants to reveal the cure to one of His Christian servants? Perhaps He is going to reveal to me or one of the members of my prayer team a cure for AIDS. We pray for a cure all of the time. In fact, He may have already revealed the cure. We have just not analyzed all of the revelations that God has shown us through our prayer times

So, the next time you think about attacking our ministry because we stand up for the Bible, you may be attacking the one that God is showing the miracle of a cure for AIDS
We do pray for a cure and we believe that God is bringing a cure soon.
His back story is quite sad and disturbing; the man needs to spend time receiving help from mental health professionals instead of persecuting gays because of the internal issues that he has not dealt with.
Related:
* James Hartline's steep slide into insanity
* James Hartline: San Diego is on fire because of the homos
* Six Years In Sodom: From The Journal Of James Hartline
* Writing Like James Hartline 101