Pandagon is daily opinion blog covering feminism, politics, and pop culture. Come for the politics, stay for the complete lack of patience for the B.S. and bad faith coming from conservative leaders and pundits.
Don't miss stories. Follow Raw Story!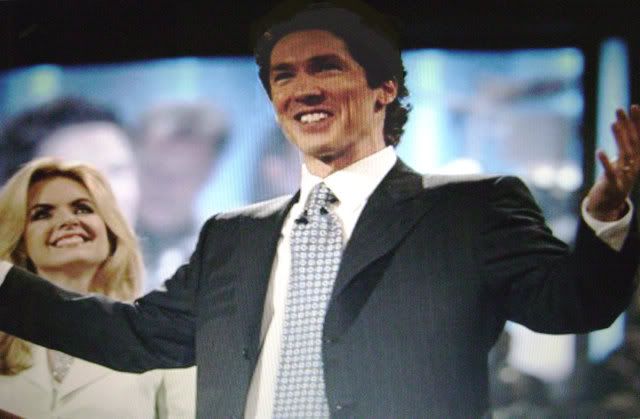 Is anyone surprised that Texas Talibangelist Joel Osteen's pious spouse might be less a madonna and more like Leona Helmsley? (NYT);
Treated like a rock star by her followers, Victoria Osteen, 47, is co-pastor of Lakewood Church, one of the nation's largest and fastest-growing megachurches. With a halo of perfectly coiffed blond hair, she preaches about love and acceptance alongside her husband, Joel, to more than 40,000 congregants every Sunday.

But she was portrayed in court on Thursday as imperious, combative and possibly racist in a dispute with a Continental Airlines flight attendant, Sharon Brown.

…One of Ms. Brown's co-workers, Maria Johnson, told a jury of five women and seven men that Ms. Osteen "manhandled" her and Ms. Brown and charged toward the cockpit during a flight from Houston to Vail, Colo., in December 2005.

Ms. Osteen was upset about some liquid "about the size of quarter" on the armrest of her first-class seat, Ms. Johnson said. Ms. Johnson suggested that Ms. Osteen was dismissive and abusive to Ms. Brown and another black attendant because of their race. She said Ms. Osteen pushed past her co-workers to speak to her because she was "the only white girl on the plane."
Victoria Osteen's lawyer said that this was simply a case of "extortion masquerading as a lawsuit," and that the plaintiff is simply playing the race card because the Osteen congregation "was a third black and a third Hispanic."
Folks up for the Benny Hinn video — in honor of scam artists everywhere?