Don't miss stories. Follow Raw Story!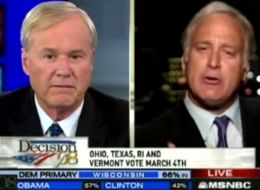 The Republican party had planned an attack ad aimed at Obama during the Democratic convention that had to be pulled at the last minute because of the unexpected death of Rep. Stephanie Tubbs Jones.
GOP candidate John McCain's ad man told Republican delegates Saturday that the campaign planned an attack ad featuring an infamous piece of footage in which Obama supporter Kirk Watson was unable to name any of the Illinois senator's legislative accomplishments.
Texas state Sen. Kirk Watson is the star of a pair of John McCain television ads that never aired. McCain's media guru, "Hollywood" Fred Davis showed the spots Saturday morning to a breakfast of GOP officials in St. Paul for next week's convention. Both commercials feature an infamous interview by Chris Matthews, host of MSNBC's Hardball (seen to the right). Despite repeated prodding my Matthews, Watson went blank and couldn't name any legislative accomplishments by Barack Obama.
Tubbs Jones was the other guest during the segment, and Republicans pulled the attack spot after the Cleveland-area Congresswoman's unexpected death two weeks ago.
The breakfast meeting in St. Paul, where Republicans are beginning their convention this week, also featured an appearance from Karl Rove, who spoke of studying under infamous GOP attack artist Lee Atwater.
Rove, who recently left the White House, continues to be involved in Republican politics, although he has no formal role on McCain's campaign.
During the same Saturday breakfast meeting with the South Carolina delegation, Davis revealed another possible line of attack the McCain campaign is considering.
In his acceptance speech, Democrat Barack Obama repeatedly declared that we are "our brother's keeper." But turnabout is fair play, and at a Saturday breakfast, John McCain's hirsute attack-ad man, Fred Davis, hinted broadly that the response might include an ad comparing Obama's Chicago mansion with the Kenyan shack occupied by his half brother George Obama. In the last few weeks, the brother's plight was spotlighted by an Italian magazine and picked up by tabloids.
That these are the attacks they're talking about in person makes one wonder what is still being kept secret.