Pandagon is daily opinion blog covering feminism, politics, and pop culture. Come for the politics, stay for the complete lack of patience for the B.S. and bad faith coming from conservative leaders and pundits.
Don't miss stories. Follow Raw Story!
I know, I keep saying how you just can't make this stuff up, but here we go again…
Homobigot GOP Congressman Virgil Goode of Virginia, a man who scored a "perfect" HRC scorecard zero every year since 2001, is the subject of an investigation by Mike Stark of Accountability Moments and Mike Rogers of BlogActive. It won't be popular with the fundie crowd.
So, how does an anti-gay Republican US Congressman come to support a movie that is filled with lots of gay sex and lots of drug use? Well, the best place to start is with Linwood Duncan, Goode's Press Secretary. Linwood is gay (an open secret in DC) and has aspirations to be a movie star. In 2003, Ed Henry, then with Roll Call, reported about Linwood and his dreams of the silver screen:

Who knew that Linwood Duncan, the unassuming press secretary for Rep. Virgil Goode (R-Va.), has been dabbling in acting on the side and turns up with a bit part in the new movie "Eden's Curve"?

***

Duncan has played everyone from Sherlock Holmes to Sir Thomas More in dozens of shows in the D.C. and Charlottesville, Va., areas. He was approached by a longtime friend, Jerry Meadors, screenwriter and producer for "Eden's Curve."

You're thinking "what's the big deal?" Who cares if Roll Call wrote about a movie starring a right-wing Congressional staffer that was "especially popular at gay and lesbian film festivals across the country because the lead character gets mixed up in relationships with his male roommate…"?

I'll tell you who cares. The anti-earmark conservatives care and the anti-gay troglodytes care… A LOT!
Yes, and surf over to Mike's pad for documentation of Goode's involvement with the producer of that film. After his press secretary made his big screen debut in Eden's Curve, the anti-gay Goode felt motivated to earmark $150,000 of tax dollars for the theatre run by Meadors, where staffer and aspiring movie star Duncan also sits on the board!
Oh. My. God. Have the hypocrisy and cronyism meters blown up?
The questions raised by Stark and Rogers in the video are below the fold.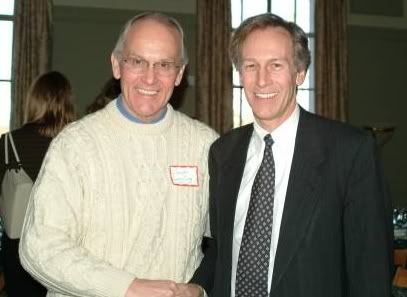 * Why would a press secretary for an anti-gay GOP Congressman act in a gay art-house film? A film that thanks Goode and his wife, and Linwood Duncan in the credits!?
* How did it come to pass that Virgil Goode inserted a $150K earmark for Jerry Meador and the North Theatre after Linwood Duncan got his first big Hollywood break in Meador's film?
* What are the personal relationships between Goode, Duncan and Meadors?
* How does Virgil Goode square his condemnation of LGBT Americans while helping to make Eden's Curve?
* How many other films or projects exploring gay issues has Congressman Goode been involved with?
* Can we gain access to the documents showing how that $150K earmark of tax dollars was spent?
At BlogActive, where Mike has an action item to email legislators in Goode's district to ask the above questions about this, and 2) help send copies of Eden's Curve to the mailboxes of right-wing pastors in Goode's district to let them know what the Congressman has been supporting. It doesn't look like it squares with their world view.
UPDATE: Mike Stark held a press conference on this investigation; this story is blowing up big in the most conservative parts of VA.