Pandagon is daily opinion blog covering feminism, politics, and pop culture. Come for the politics, stay for the complete lack of patience for the B.S. and bad faith coming from conservative leaders and pundits.
Don't miss stories. Follow Raw Story!
Should we be surprised that the violence and bigotry we've seen in the supporters of McCain/Palin are just as prevalent in the "pro-family, save marriage" thugs in favor of passing Prop 8? Take a look at this video, shot on a camera phone by Theremina:
Something to keep in mind: when I hit the record button, I hadn't said a single word to anyone, or interfered with the rally any way. I stood a fair distance away from the sign-wavers (remaining at least four feet away from all of them…until they approached me). But as soon as they noticed me filming them, I was greeted with curses and threats of violence. "Get that shit out of here. I'll knock it out of your hand." None of these folks knew me, yet they instantly knew they hated me.

Eventually, as you can see, some of the protesters surrounded me and began poking at me with their signs. Others, some of the most visibly angry and hysterical among them (apparently minors), hid their faces behind their banners while continuing to scream at passing traffic.

I asked the most aggressive woman (who was not underage) "are you afraid to be online?" She answered, "oh, no, they already videotaped me, but these kids don't want to be online, cause they're [unintelligible] loaded on a sexual perv profile and [unclear] look at my little cousins." Fair enough. I'm all for protecting the innocent. (Not that there's anything particularly innocent about screaming hate speech in public.)

"Go away, Nasty Nasty. Nasty, nasty, nasty, nasty."

The woman continued to poke at my face with her sign and call me "nasty." Genuinely disturbed by the complete lack of rational behavior I'd seen up to this point, wanting to look into her face and possibly connect on some level with her as a fellow human being, I pulled a corner of the sign down away from my eyes and asked "why are you calling me nasty?"

That's when she attacked, clawing, grabbing and then shoving. I didn't fight back; she was much bigger than me. After calling me a "nasty fucker" and threatening to kick my ass, she pried my phone out of my hand and tried to break it in half while her friends egged her on.

Please note that I never touched or threatened her in any way (unless you want to consider my pulling the edge of her sign out of eye-poking territory a threatening gesture).
You have to surf over and read the rest. Below the fold, another incident is caught on tape, this time at a Yes on 8 rally in Bakersfield.
Violence erupts, and the assailant is Ken Mettler, a Kern High School District trustee and Kern's "Yes on Proposition 8" campaign leader. He kicked and punched a protestor yesterday (Friday). From the Bakersfield Californian:
Kern High School District Trustee Ken Mettler, in red, is shown kicking at an opponent of Proposition 8. Mettler is head of the local Yes on Proposition 8 campaign. The video was taken by an opponent of Proposition 8.

The altercation was captured on video at a rally in southwest Bakersfield where two groups for and against Proposition 8 had congregated at opposite sides of the intersection of California Avenue and Stockdale Highway, according to police. Mettler, 55, said Friday night that he went to the corner where the Prop. 8 protesters were gathered to retrieve signs he thought his side had left behind. In the video, which was recorded by a Proposition 8 protester, people are shown trying to confront Mettler who is holding a defaced "Yes on 8" sign.

"I was physically accosted and defended myself," Mettler said. "I was not trying to set up a confrontation."

But Rob Badewitz, 20, says he was trying to grab a stack of signs Mettler had gathered when Mettler kicked him and punched him in the jaw. Mettler then walked across the street and said he was attacked first, according to the person who shot the video and provided a copy to The Californian.
***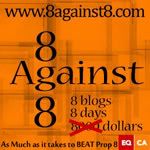 10/25 – Day 6, 10:45 AM ET: 221 donors – $11,475.
8 Days – 8 Bloggers Against Proposition 8
(October 20-27, 2008)
Eight lesbian bloggers work together to help defeat Proposition 8. To donate, click here.