Pandagon is daily opinion blog covering feminism, politics, and pop culture. Come for the politics, stay for the complete lack of patience for the B.S. and bad faith coming from conservative leaders and pundits.
Fox gets jiggy with Colin Powell
Don't miss stories. Follow Raw Story!
It doesn't stop, huh?
As Jesus' General says, "The Confederacy lives on at Fox News." Here's a screen cap of its web site: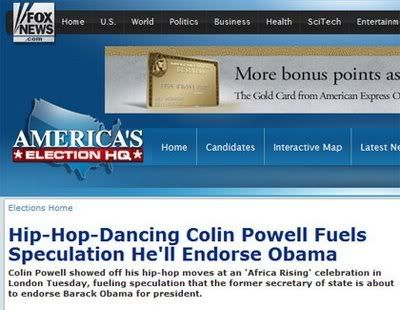 And in similar news as Jesse mentioned, unregistered-to-vote Joe the Plumber compared Barack Obama to…Sammy Davis, Jr (no lie, it's about 3:00 into this CBS interview w/Katie Couric). The transcript:
Neighbors were outside asking them questions and I didn't think they were asking tough enough questions so I thought I'll go over there. I've always wanted to ask one of these guys a question and really corner them to answer a question for once instead of tap dancing around it. Unfortunately I asked the question and still got a tap dance. He was almost as good as Sammy Davis, Jr. [Couric and others laugh.]