Pandagon is daily opinion blog covering feminism, politics, and pop culture. Come for the politics, stay for the complete lack of patience for the B.S. and bad faith coming from conservative leaders and pundits.
Don't miss stories. Follow Raw Story!
(For a news roundup on all things Prop 8, click over to this DKos diary. Also, click over to Mirele's diary "Powerful 'Mormon Home Invasion' No on 8 Web Ad" to view and join the discussion about it.)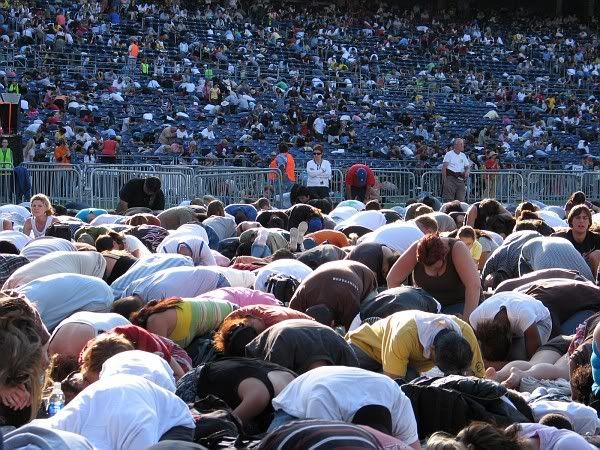 Yesterday "TheCall," a 12-hour rally to boost support for Yes on 8, which would eliminate the right of gays and lesbians to marry in California, was held in San Diego's Qualcomm stadium. The festival of fundies believe they will save marriage, the homosexuals and the state of California by communing during the movement's 40 days of prayer and fasting.
James Dobson and Tony Perkins were there to stir up the crowd. As usual, those running the event tried to inflate the numbers attending the gathering. A spokesman declared 30,000 were there, but journalist Rex Wockner said that it appeared to be around 15,000. TheCall elicited this reaction from him (the photos in this post are his).
Lots of words came into my head during my hours there: Cultlike. Brainwashing. Frenzied. Frightening. Depressing. But, interestingly, there wasn't really any hate on display. They seemed to just want to "save" marriage. And, as for the homosexuals, they love us, they pray for us, they want us to be set free from sin and demons.

…If I hadn't once upon a time been a Catholic seminarian and hadn't emerged from those days with near certainty that all this God/Jesus stuff is pure myth and mass delusion, it could have been dangerous to be there. It would have been dangerous for any gay person struggling with internalized homophobia or religious guilt, I think.
And that's the point. Of course these people out there awash in their pray-away-the-gay-marriage belief aren't voting No on 8. But this event provided an excellent look at what our society is up against in terms of organized religion being misdirected and abused by people who have a political agenda. TheCall's website has the banner "As California goes, so goes the nation" — for these folks it's a homosexual armegeddon.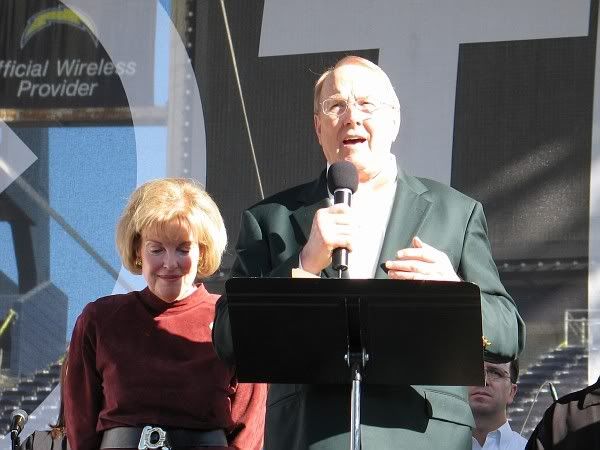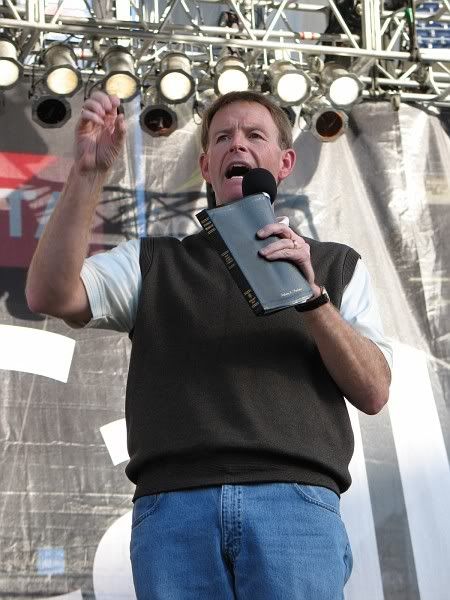 I really wonder what they think we gays are going to do to marriage. Nothing worse than usual has happened to marriage in the years Massachusetts has had same-sex marriage, and nothing worse than usual has happened to marriage in California in the 4 1/2 months we've had it here. They don't ever actually say what they think will befall marriage as a result of same-sex couples marrying.
Surf over to Rex's pad to see hi-res photos and more reporting on TheCall.
***
Jeremy at Good As You has excellent blogging on TheCall as well. He pulled together audio of some of the holy speechifying, including Tony Perkins:
Tony Perkins expains why it's not the frightening economy, the life-depriving wars, or any other modern crisis that voters should keep in mind on Tuesdays. No, no — it's the gays:
***
Rex also attended a No on 8 vigil in James Hartline's haunt, the homosexual stronghold of Hillcrest in San Diego. See some of that coverage below the fold. Rex:
Between 7,000 and 10,000 people took to University Avenue in San Diego's heavily gay Hillcrest district the evening of Nov. 1 to protest Proposition 8, the Nov. 4 ballot measure that would amend the California Constitution to re-ban same-sex marriage, negating the California Supreme Court decision that legalized it.

…Amazingly, the gay protest was organized entirely via e-mail and, to the best of my knowledge, it was the biggest gay street action in the 14 years I've lived here, apart from the gay pride parade, which draws about 150,000 people.
The pro-equality Republican mayor of San Diego, Jerry Sanders, was at the rally with his out daughter Lisa.
***
Mike Tidmus also has great reporting on the No on 8 rally, but he took time to make this graphic for TheCall:

As I type this, thousands of hungry Christianists have left their double-wides in Methcondido and their little houses made of ticky-tacky in Cucamonga, piled into their holy-rollin' Battlewagons-for-the-Lord, and are currently tooling down I-5 set to descend on Qualcomm Stadium in San Diego to prey away marriage equality and enshrine their Bronze Age world view in the California Constitution.
On the media front, here is the latest commercial for No on 8, the Courage Campaign's, "Home Invasion" — it's a good one – Mormons show up at a lesbian couple's home and and takes their wedding ring and rips up their marriage license.