Tired of ads? Want to support our progressive journalism? Click to learn more.
JOIN FOR $1

A former Republican candidate for U.S. Senate has been arrested by police in Colorado and charged with felony criminal extortion as well as misdemeanor ethnic intimidation harassment and theft, the Aspen Daily News reports.
Mark Aspiri, who unsuccessfully ran a campaign for the Republican nomination to oppose then-Sen. Mark Udall in 2014, allegedly targeted a random victim in a plot to harass, threaten and extort $1,200 from a Latino man.
"Aspiri allegedly told the victim the money was owed to a third party — but could provide little to no information in the way of why the money was owed or to whom, exactly," reports the Aspen Daily News. "The victim terminated the call and, after receiving several additional calls from Aspiri, blocked the phone number."
A Glenwood Springs Police Department press release says Aspiri began calling from different numbers, and his "associates" did as well.
"After receiving numerous threatening calls, the victim became very scared. Mr. Aspiri told him that he knew the victim, 'was here illegally.' He made several other similar statements threatening to have the victim deported. He demanded payment that day as the next day would be too late," the release stated. "The victim told Mr. Aspiri that he was afraid of him and asked him to stop calling and making the threats. Friends of the victim told the victim that Mr. Aspiri is very powerful and influential, and he should just pay him."
Aspiri allegedly told the victim to Google him to find out who he was.
The victim's alleged immigration status was reportedly used against him in the extortion plot.
"On another occasion, Mr. Aspiri again demanded payment that day. He said, 'tonight is your opportunity and believe me, you don't want any problems with me.' He again referenced the victim being in the United States unlawfully which was a theme woven throughout the interactions," the press release reads.
The victim ended up paying Aspiri $500.
"It was reported that Mr. Aspiri told an attorney retained by the victim's family that he has, 'done this often and gotten thousands of dollars from people,'" according to the press release.
After his arrest, Aspiri was released from jail, pending a hearing in Garfield County District Court.
CONTINUE READING
Show less
Public figures live on within the words they are remembered by. To understand the effect they had on history, their words need to be documented. No one is absolutely sure of exactly what Abraham Lincoln said in his most famous speech, the Gettysburg Address. Five known manuscripts exist, but all of them are slightly different. Every newspaper story from the day contains a different account.
In the case of modern presidents, for the official record, we rely upon transcriptions of all their speeches collected by the national government.
But in the case of Donald Trump, that historical record is likely to have a big gap. Almost 10% of the president's total public speeches are excluded from the official record. And that means a false picture of the Trump presidency is being created in the official record for posterity.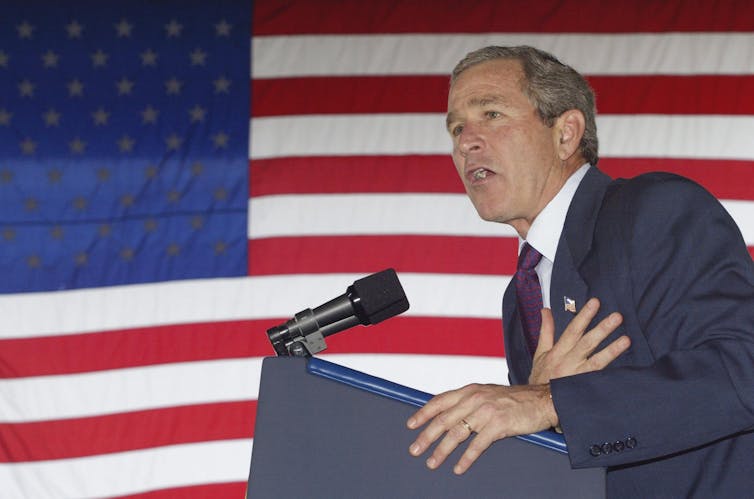 In speeches President George W. Bush would give when stumping for GOP candidates, he made the same joke 50 different times, apologizing to audiences that they drew the 'short straw' and got him instead of Laura Bush.
Paul J. Richards/AFP/Getty Images
Saving the records
In 1957, the National Historical Publications Commission, a part of the National Archives that works to "preserve, publish, and encourage the use of documentary sources … relating to the history of the United States," recommended developing a uniform system so all materials from presidencies could be archived. They did this to literally save presidential records from the flames: President Warren G. Harding's wife claimed to have burned all his records, and Robert Todd Lincoln burned all his father's war correspondence. Other presidents have had their records intentionally destroyed, such as Chester A. Arthur and Martin Van Buren.
So the government collects and retains all presidential communications, including executive orders, announcements, nominations, statements and speeches. This includes any public verbal communications by presidents, which are also placed as public documents in the Compilation of Presidential Documents.
These are part of the official record of any administration, published by the Office of the Federal Register, National Archives and Records Administration on a weekly basis by the White House press secretary. In most presidencies, the document or transcript is available a few days to a couple of weeks after any event. At the conclusion of an administration, these documents form the basis for the formal collections of the Public Papers of the President.
As a political scientist, I'm interested in where presidents give speeches. What can be learned about their priorities based on their choice of location? What do these patterns tell us about administrations?
For example, Barack Obama primarily focused on large media markets in states that strongly supported him. Trump went to supportive places as well, including small media markets like Mankato, Minnesota, where the airport was not even large enough to fly into with the regular Air Force One.
Presidential speeches often give a very different perception of an administration. Without all the pageantry, you can quickly get to the point of the visit in the text.
In speeches that President George W. Bush gave in the 2002 midterm election period, he made the same joke more than 50 times as his icebreaker. He would apologize that audiences had drawn the "short straw" and gotten him instead of Laura. His commitment to that joke gave a glimpse of his desire to try to connect to an audience through self-deprecating humor.
I found something odd when I began to pull items from the compilation and organize my own database of locations for the Donald Trump administration. I was born and raised in Louisville, Kentucky, and I pay attention to my home state. I knew that on March 20, 2017, Donald Trump held a public rally in Louisville, where in a meandering speech he touched on everything from Kentucky coal miners to the Supreme Court, China, building a border wall and "illegal immigrants" who were, he said, robbing and murdering Americans.
But when I looked in the compilation in mid-2017, I couldn't find the Louisville speech. No problem, I thought. They are just running behind and they will put it in later.
A year later, I noticed the Louisville speech was still not there. Furthermore, other speeches were missing. These were not any speeches, but just Trump's rallies. By my count, 147 separate transcripts for public speaking events are missing from Trump's official presidential speech records. That's just over 8% of his presidential speeches.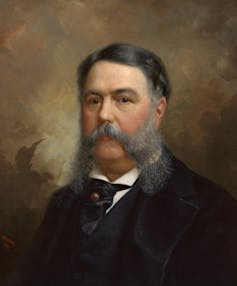 President Chester A. Arthur, whose family burned many of his presidential records. This was not uncommon for presidents' families to do.
Ole Peter Hansen Balling, artist; National Portrait Gallery, Smithsonian Institution
What's in, what's out
The Presidential Records Act, first passed in 1978, says administrations have to retain "any documentary materials relating to the political activities of the President or members of the President's staff, but only if such activities relate to or have a direct effect upon the carrying out of constitutional, statutory, or other official or ceremonial duties of the President."
An administration is allowed to exclude personal records that are purely private or don't have an effect on the duties of a president. All public events are included, such as quick comments on the South Lawn, short exchanges with reporters and all public speeches, radio addresses and even public telephone calls to astronauts on the space shuttles.
But Trump's large public rallies, and what he said at them, have so far been omitted from the public record his administration supplied to the Compilation of Presidential Documents. And while historians and the public could get transcripts off of publicly available videos, that still does not address the need to have a complete official collection of these statements.
Federal law says that presidents are allowed to exclude "materials directly relating to the election of a particular individual or individuals to Federal, State, or local office, which have no relation to or direct effect upon the carrying out of … duties of the President."
The law has been interpreted to mean an administration could omit notes, emails or other documentation from what it sends to the compilation. While many presidents do not provide transcripts for speeches at private party fundraising events, rallies covered by America's press corps likely do not fall under these exclusions.
Why does it matter?
Government documents are among the primary records of who we are as a people.
These primary records speak to Americans directly; they are not what others tell us or interpret to us about our history. The government compiles and preserves these records to give an accurate accounting of the leaders the country has chosen. They provide a shared history in full instead of an excerpt or quick clip shown in a news report.
[Deep knowledge, daily. Sign up for The Conversation's newsletter.]
Since 1981, the public has legally owned all presidential records. As soon as a president leaves office, the National Archivist gets legal custody of all of them. Presidents are generally on their honor to be good stewards of history. There is no real penalty for noncompliance.
But these public documents, which I work with constantly, have so far always been available to the public – and they've been available quickly. Internal presidential documents like memos or email have a rigorous archival procedure that lasts years before they are even accessible. I have a record of every presidential speech from 1945 to 2021 – every president since Clinton has all their public speeches available online. Until President Trump, there have been no missing public speeches in the permanent collection. By removing these speeches, Trump is creating a false perception of his presidency, making it look more serious and traditional.
And by the way: That 2017 Louisville speech is still missing from the records in 2021.

Shannon Bow O'Brien, Assistant Professor of Instruction, The University of Texas at Austin College of Liberal Arts
This article is republished from The Conversation under a Creative Commons license. Read the original article.
CONTINUE READING
Show less
After a West Virginia woman died from COVID-19, her best friend blames former president Donald Trump's refusal to enthusiastically embrace vaccinations.
The former president got his shot in private before leaving office and has offered meager approval since leaving the White House, and Anastacia Kelley feels certain her college roommate would have gotten one for herself if Trump had gotten his in the public eye, reported The Daily Beast.
"Absolutely, without a doubt," Kelly told the website. "If he had come out and even taken a picture of himself getting it, he could have saved many lives."
Kelley and Lizzie had remained friends since college, but Lizzie had drifted toward conspiracy theories after moving back home to West Virginia, and she expressed skepticism about the vaccines.
"The exact quote was, she was not going to put that shit in her body," Kelley said, asking to keep her friend's last name private. "I said, 'You'll eat a cheeseburger from McDonald's and you have no idea what's in it.'"
Kelley knew her friend's husband was a strong Trump supporter, and she regrets not pushing her friend more to get the vaccine despite her skepticism and their political differences.
"I was the one person she listened to," Kelley said. "She might have listened to me. I just let it go with her, not thinking the worst would happen."
Kelley saw a March 19 Facebook post by Lizzie's sister lamenting that her family had COVID-19 after making "one mistake" after being careful about the virus, and she knew that Lizzie must have caught it, as well.
She called her friend, who confirmed she had tested positive, on the following day, and Kelley shared tips for dealing with the infection, but Lizzie texted March 26 to notify her that she was being admitted to a hospital after other family members had been, as well.
"I can't breathe, I feel awful. This is the worst thing I've ever been through," Lizzie said in the text.
Once in the hospital, she was placed in isolation with COVID-related pneumonia in both lungs, but an allergy prevented her from receiving steroid treatment and she was placed in intensive care on March 28.
Lizzie's condition worsened March 31, and her Trump-loving husband sent a Facebook message later that day notifying Kelley that she had died, and Lizzie's sister died Tuesday in ICU unaware that her sister had preceded her.
"All this could have been avoided," Kelley said, haunted by the vaccine hesitancy that she blames on the former president. "He has a lot of blood on his hands."
CONTINUE READING
Show less

Don't Sit on the Sidelines of History. Join Raw Story Investigates and Go Ad-Free. Support Honest Journalism.
Subscribe Annually
$95 / year — Just $7.91/month
Subscribe Monthly
$1 trial
I want to Support More
$14.99 per month
{{ post.roar_specific_data.api_data.analytics }}