Pandagon is daily opinion blog covering feminism, politics, and pop culture. Come for the politics, stay for the complete lack of patience for the B.S. and bad faith coming from conservative leaders and pundits.
Don't miss stories. Follow Raw Story!
My, my, is this what we call progress in the New World Police State? Taser International has convinced our friends across the pond to deploy the "electronic control device" in London this week, where protestors can feel the burn, as it were, if they get too out of hand. (AlterNet):
Months after the Republican National Convention in the U.S., such sweeping security measures may seem to be par for the course. But in the UK — where police forces have traditionally not carried guns — it was not that long ago that Tasers were new to the streets. Since their arrival in the spring of 2003, however, their popularity has skyrocketed; last fall, Home Secretary Jacqui Smith unveiled a plan to spend £8 million on Tasers and Taser training for 30,000 police officers, providing some 10,000 new Tasers to police across England and Wales. "I am proud that we have one of the few police services around the world that do not regularly carry firearms," Smith said, "and I want to keep it that way." But an arms expert at Amnesty International UK called the move "a dangerous step in British policing," citing "numerous" taser deaths in North America as a cautionary example.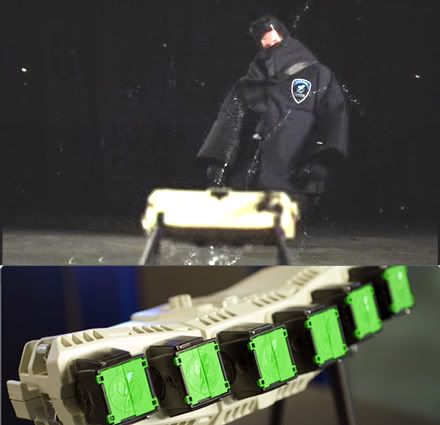 There are plenty of cases to review over at my pad. But Taser International is now offering a model with new and enhanced capabilities that is surely going to be attractive to the sadist set…
On March 31, the company's latest Taser model — called the Shockwave — hit the market; according to Taser International website, it "allows for both increased safety and stand-off capability during hostile situations, minimizing risk with a stand-off distance of up to 100 meters." But as Dalia Hashad, director of Amnesty International's USA Program focusing on domestic human rights, wrote about the product last falll, the Shockwave "belongs in my 'You've Got to Be Kidding' file along with Taser International's leopard-print MP3 player that doubles as a taser and their employment of Playboy Bunnies for promotion." The company's literature shows it to be a powerful crowd-control weapon:

"With the push of a button at a stand-off distance of up to 100 meters, the Shockwave unit deploys multiple standard TASER® cartridges that are oriented across an area arc. Full area coverage is provided to instantaneously incapacitate multiple personnel within that region."
En masse Tasing capability — when law enforcement cannot even educate cops on the beat to use a single-stun device appropriately — is unbelievable. Take a look at this device in action (via EnGadget):
The first (gulp) generation of Taser remote area denial systems consists of a Taser 6-shooter module covering a 20-degree arc at 25-feet. Best of all, they can be daisy-chained into an apparently endless array of hot neuro muscular incapacitation action.
And there's video from Taser International (you MUST watch this).
Countdown to cookie defending the right to multi-zap at will…
Hat tip, Radha.