Pandagon is daily opinion blog covering feminism, politics, and pop culture. Come for the politics, stay for the complete lack of patience for the B.S. and bad faith coming from conservative leaders and pundits.
The Religious Right: bearing false witness over and over about hate crimes legislation
Don't miss stories. Follow Raw Story!
Religious Right leaders' portrayal of the hate crimes bill as an attack on religious liberty is false; it reflects a larger political strategy to portray equality advocates as enemies of faith and freedom.
— Right Wing Watch's report on the continual lies coming out of the mouths of bible-beaters, "Right Sounds False Alarm On Hate Crimes Legislation"
Isn't that the truth? This document over at People for the American Way's Right Wing Watch is a great primer to download and have on hand when you encounter anyone who has been fed the lies being e-blasted out there by the professional anti-gay set.
The fact is that the majority of Americans support expanding the federal hate crimes law, repealing DADT and anti-discrimination legislation, but the fundies don't have many cards left to play. So they've lately chosen to slow the pace of demonization rhetoric and focus on the phantom "religious freedom" argument (which ironically blew up in their faces recently with that hilariously mocked NOM "storm is coming" ad).
But as I said, it's really all they have left, and it isn't even true.
This is part of a larger political strategy by Religious Right leaders to advance their policy goals and mobilize supporters with alarmist claims that Christians in America are on the verge of being jailed for their religious beliefs.

As we have noted before, there's a dangerously cynical motive at the core of this strategy. It is easier to convince Americans to support discrimination – even to oppose laws designed to discourage violent hate crimes – if you have first convinced them that their gay neighbors want to shut down their church and throw their pastor in jail for reading the Bible.
Leading the way with the most laughably extremist, lying declarations of The Homosexual Agenda's war on faith has been Tony Perkins of the FRC: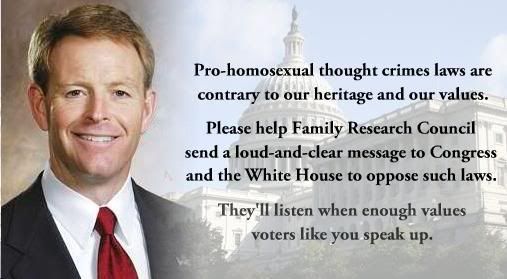 When hate crimes legislation came before the House of Representatives in 2007, Religious Right leaders went ballistic. Family Research Council President Tony Perkins insisted that its only effect would be "to gag people of faith and conviction who disagree with the homosexual agenda." Perkins' ally Bishop Harry Jackson recruited other African American pastors to appear at a press conference and in a newspaper ad claiming that hate crimes legislation would "muzzle" black preachers and deny them the freedom to preach about homosexuality. Rev. Ted Pike of the National Prayer Network called a hate crimes bill "the most dangerous legislation ever to come before Congress." Not to be outdone, the Traditional Values Coalition's Andrea Lafferty said "Most Christians might as well rip the pages which condemn homosexuality right out of their Bibles because this bill will make it illegal to publicly express the dictates of their religious beliefs."

The same combination of misinformation and willful deception is being rolled out this year, led by Tony Perkins and the Family Research Council. One alert to its members on March 31 claimed that a federal hate crimes law "could lead to the criminalization of the biblical view of homosexuality in sermons and elsewhere." Said Perkins:

"A 'hate crimes' law is really a 'thought crime' law that punishes a person's beliefs – part of the Left's intolerant agenda to silence the voice of Christians and conservatives in America and eliminate moral restraint."

Perkins' messages to activists in March make it clear that the alarmist rhetoric against legislation to fight hate crimes is part of a larger political strategy to convince conservative Christians that President Obama and the Democratic Party are enemies of religion and religious freedom. One note urged activists to "Stop President Obama's Agenda to Silence Your Beliefs" and another spoke of an "Obama-Pelosi-Reid" agenda as "a blueprint of their dangerous vision of an anti-faith, anti-family vision for America."
The truth is below the fold. And here's the truth:
It's pretty simple. The federal hate crimes law doesn't create something called a "thought" crime or somehow create "special rights" for a particular group of people. It strengthens law enforcement's ability to fight violent crime – not vigorous debate, not sermons against homosexuality, not hateful speech, not the infamous "God hates fags" protesters, not the spreading of misinformation that thrives on constitutionally protected right-wing television, radio, and blogosphere.

Conservatives often say they want judges to focus on exactly what a law says. Well, here's exactly what the law says:

"Nothing in this Act, or the amendments made by this Act, shall be construed to prohibit any expressive conduct protected from legal prohibition by, or any activities protected by the free speech or free exercise clauses of, the First Amendment to the Constitution."

Another section of the law makes it clear that federal courts could not rely on evidence of a person's outlook or statements to convict someone of a hate crime unless those expressions were directly related to the commission of the violent crime in question:

"In a prosecution for an offense under this section, evidence of expression or association of the defendant may not be introduced as substantive evidence at trial, unless the evidence specifically relates to that offense. However, nothing in this section affects the rules of evidence governing the impeachment of a witness."

Could it be any clearer that this has nothing to do with silencing preachers or punishing thoughts, and everything to do with discouraging and prosecuting violent hate crimes?
Definitely check out the rest.