Tired of ads? Want to support our progressive journalism? Click to learn more.
GO AD-FREE FOR $1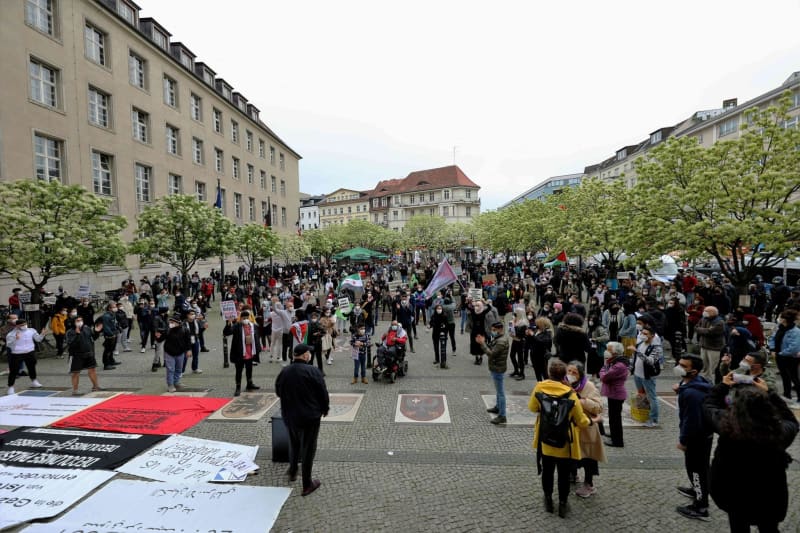 After several German cities saw anti-Israel rallies in the wake of resurging conflict between Israel and Gaza in recent days, the government has strongly condemned anti-Semitic protests and promised to ramp up protection for Jewish institutions.
Government spokesperson Steffen Seibert said on Friday that peaceful demonstrations against Israel's policies were allowed in Germany. "But anyone who uses such protests to shout out their hatred of Jews is abusing the right to protest. Anti-Semitic rallies will not be tolerated by our democracy," he added.
Those who protest in front of a synagogue and damage Jewish symbols showed that they are not criticizing a state, but showed "aggression and hatred against a religion and those who belong to it," Seibert stressed. "We oppose this with all the strength of a democratic constitutional state."
In recent days, police have intervened at anti-Israel rallies and boosted their presence at synagogues throughout the country after several instances of vandalism and the burning of Israeli flags.
Seibert said the authorities were working with the utmost commitment to solve the crimes, punish the perpetrators and protect Jewish institutions.
Meanwhile, the government's anti-Semitism commissioner, Felix Klein, asked the Islamic associations in Germany to stand up against violence.
He was calling on the organizations "to distance themselves from violence against Jews and attacks on their places of worship, to call for non-violence and to exert a de-escalating influence on the Muslim community in Germany," Klein said on Friday.
It was appalling to see "how obviously Jews in Germany are being held responsible here for actions of the Israeli government in which they are completely uninvolved," he added. Such a view is "pure anti-Semitism," Klein said.
CONTINUE READING
Show less
A member of the Proud Boys who was arrested for taking part in the January 6th MAGA riots angrily lashed out at former President Donald Trump after he realized he wouldn't be getting pardoned for his crimes.
Politico's Kyle Cheney reports that federal prosecutors this week revealed anguished messages sent by Proud Boy Ethan Nordean on January 20th after he watched Trump leave office without delivering a blanket pardon to all those who rioted on his behalf weeks earlier.
"F*CK TRUMP!" he wrote in a social media message. "F*ck him more than Biden. I've followed this guy for 4 years and given everything and lost it all."
Nordean expressed disillusionment because he believed that the United States was really on the precipice of "some great justice," only to see it dashed after watching Trump leave office in disgrace.
"So glad he was able to pardon a bunch of degenerates as his last move and sh*t on us on his way out," he wrote. "F*ck you Trump you left us on the battle field bloody and alone."
See the entire message below.
Proud Boy leader Ethan Nordean lashed out at Trump on Jan. 20, when it dawned on him that he'd likely be going to j… https://t.co/CHbPzKnlja

— Kyle Cheney (@Kyle Cheney)1620992304.0
CONTINUE READING
Show less
Although there were some Black South Carolina residents who drew pensions related to their service during the Civil War, Levin notes that "the vast majority of these men were body servants or what I call in my book camp slaves."
In fact, the original legislation establishing pensions for these men and their families describes Black Confederates as "servants, cooks, and attendants on the side of the Confederacy."
Additionally, notes Levin, the amount of money set aside for Blacks who served the Confederacy was dwarfed by the pensions set aside for white Confederate soldiers.
"As was the case in the other states, the amount of money earmarked for African Americans in SC paled in comparison with that for veterans," writes Levin. "In 1924 the state appropriated $750,000 for soldiers and $3,000 for Black pensioners."
CONTINUE READING
Show less

Don't Sit on the Sidelines of History. Join Raw Story Investigates and Go Ad-Free. Support Honest Journalism.
Subscribe Annually
$95 / year — Just $7.91/month
Subscribe Monthly
$1 trial
I want to Support More
$14.99 per month
{{ post.roar_specific_data.api_data.analytics }}