Like this article ? Text `Support` to 50123 to donate.
The Federal Reserve signaled plans to begin raising interest rates "soon" in a bid to tamp down inflation before it poses a serious risk to the U.S. economy. A hike would be the first time the central bank has increased its benchmark lending rate in over three years.
Lifting the borrowing costs consumers and businesses pay for loans has the effect of slowing economic activity, which in turn could curb inflation. But there are also concerns that it could put on the brakes too quickly. We asked Alexander Kurov, a finance professor at West Virginia University, and Marketa Wolfe, an economist at Skidmore College, to explain what the Fed is doing and what it means for you.
1. Why is the Fed raising interest rates?
Short-term interest rates in the U.S. are now essentially zero.
The Fed quickly cut rates to zero at the beginning of the COVID-19 crisis in March 2020 in an attempt to soften the blow of the sharp recession that began that month as the U.S. went into lockdown. As a reminder of how bad things were back then, over 40 million workers – a quarter of the American workforce – filed for unemployment in the first few months of the pandemic, a staggering number with no precedent in the job market.
Although the recession was short-lived – lasting only two months – and the economy has mostly recovered, the Fed has kept rates at rock bottom because many workers and businesses still need support as the pandemic continues to rage.
The big problem for the Fed now is that U.S. consumer prices have surged. For 10 months in a row, inflation has been above the Fed's 2% target and reached an annual pace of about 7% in December. This is the highest rate of inflation recorded in the U.S. in the last 40 years. High inflation means the prices people pay for goods and services are continually going up – especially for basic items like meat and gasoline, as well as for manufactured goods like cars.
The Fed can ill afford to allow this to continue because if higher inflation becomes entrenched, it would damage the economy. And the longer it lasts, the harder – and more painful for consumers and businesses – it is going to be to bring it back to a more sustainable 2%.
So the Fed has to act quickly before it's too late.
2. How does the Fed raise rates?
The Fed sets a target range for what is called the "federal funds rate." This rate acts like a benchmark for all interest rates in the economy.
While the Fed didn't specify a time when it plans to raise rates, analysts expect the first increase to come in March, probably by 0.25 percentage point. This would affect banks' cost of borrowing, which in turn slowly filters throughout the economy as lenders charge more for loans on homes, cars, businesses, college tuition and anything else you might want to buy with debt. Banks would also gradually increase the interest they offer on deposits and savings accounts.
The Fed does not directly control all these other rates, and the exact path they will take is not completely predictable, but the overall trend will be up if the Fed keeps raising its target rate.
Markets expect the Fed to raise interest rates at least two more times in 2022.
3. What does that mean for consumers and businesses?
Put simply, higher interest rates mean borrowers would need to pay more for the loans they get.
If the Fed lifts interest rates this year by 0.75 percentage point, as expected, this would translate into about US$45,000 in additional interest payments on a 30-year, $300,000 mortgage.
[Get the best of The Conversation, every weekend. Sign up for our weekly newsletter.]
So if you want to borrow to start a business, pay for college, buy a car or do anything else, you should expect your borrowing costs to be higher later this year.
On the other hand, higher rates is good news for savers and investors, as their returns from activities like making deposits and buying bonds will go up.
4. And how will it affect the broader economy?
Higher interest rates would likely slow down business activity. While this can help reduce inflation, it also means lower economic growth.
The Fed always makes decisions based on what is happening in the economy and on how economic conditions are expected to change. And changes in the economy are often hard to predict.
The biggest unknown at this point is what will happen to inflation later this year. This is uncertain because inflation is driven by multiple factors, such as supply chain shortages and strong demand.
In addition, the labor force participation rate has still not recovered to pre-pandemic levels, and the economy is experiencing labor shortages, which could push wages and prices higher. If these COVID-19-related pressures don't ease up soon, inflation could continue to stay high or continue to accelerate, which may force the Fed to increase interest rates faster than currently expected.
On the other hand, if economic or employment growth stalls, this will make it much harder for the Fed to raise rates without making things worse. The Fed will need to find the right balance between taming inflation and avoiding slowing down the economy too much.

Alexander Kurov, Professor of Finance and Fred T. Tattersall Research Chair in Finance, West Virginia University and Marketa Wolfe, Associate Professor of Economics, Skidmore College
This article is republished from The Conversation under a Creative Commons license. Read the original article.
CONTINUE READING
Show less
Precedent shows us that justices tend grow old in the position. Breyer is one such example. When he joined the Supreme Court in 1994, he was an already very accomplished 55-year-old former law professor and appeals court judge. Now, at age 83, he is set to retire from the court at the end of the current term in June.
Supreme Court justices in the U.S. enjoy life tenure. Under Article 3 of the Constitution, justices cannot be forced out of office against their will, barring impeachment. This provision, which followed the precedent of Great Britain, is meant to ensure judicial independence, allowing judges to render decisions based on their best understandings of the law – free from political, social and electoral influences.
Our extensive research on the Supreme Court shows life tenure, while well-intended, has had unforeseen consequences. It skews how the confirmation process and judicial decision-making work, and causes justices who want to retire to behave like political operatives.
Problems with lifetime tenure
Life tenure has motivated presidents to pick younger and younger justices.
In the post-World War II era, presidents generally forgo appointing jurists in their 60s, who would bring a great deal of experience, and instead nominate judges in their 40s or 50s, who could serve on the court for many decades.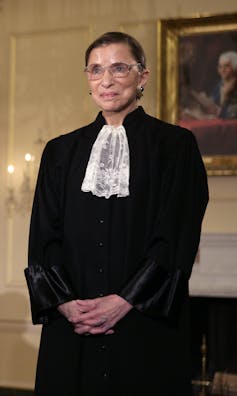 Justice Ruth Bader Ginsburg.
Brooks Kraft LLC/Corbis via Getty Images
And they do. Justice Clarence Thomas was appointed by President George H.W. Bush at age 43 in 1991 and famously said he would serve for 43 years. There's another 12 years until his promise is met.
The court's newest member, Donald Trump's nominee Amy Coney Barrett, was 48 when she took her seat in late 2020 after the death of 87-year-old Justice Ruth Bader Ginsburg.
Ginsburg, a Clinton appointee who joined the court at age 60 in 1993, refused to retire. When liberals pressed her to step down during the presidency of Democrat Barack Obama to ensure a like-minded replacement, she protested: "So tell me who the president could have nominated this spring that you would rather see on the court than me?"
Partisanship problems
Justices change during their decades on the bench, research shows.
Justices who at the time of their confirmation espoused views that reflected the general public, the Senate and the president who appointed them tend to move away from those preferences over time. They become more ideological, focused on putting their own policy preferences into law. For example, Ginsburg grew more liberal over time, while Thomas has become more conservative.
Other Americans' political preferences tend to be stable throughout their lives.
The consequence is that Supreme Court justices may no longer reflect the America they preside over. This can be problematic. If the court were to routinely stray too far from the public's values, the public could reject its dictates. The Supreme Court relies on public confidence to maintain its legitimacy.
Life tenure has also turned staffing the Supreme Court into an increasingly partisan process, politicizing one of the nation's most powerful institutions.
In the 1980s and 1990s, Supreme Court nominees could generally expect large, bipartisan support in the Senate. Today, judicial confirmation votes are almost strictly down party lines. Public support for judicial nominees also shows large differences between Democrats and Republicans.
Life tenure can turn supposedly independent judges into political players who attempt to time their departures to secure their preferred successors, as Justice Anthony Kennedy did in 2018. Trump appointed Brett Kavanaugh, one of Kennedy's former clerks, to replace him. A similar turn of events may occur if President Biden nominates Judge Ketanji Brown Jackson, a former Breyer clerk, to the current vacancy on the court.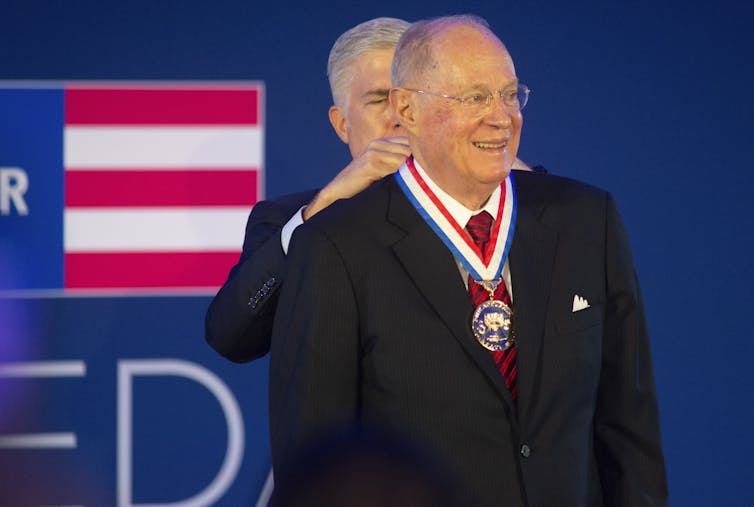 Justice Anthony Kennedy receiving the 2019 Liberty Medal from Justice Neil Gorsuch.
William Thomas Cain/Getty Images
The proposed solution
Many Supreme Court experts have coalesced around a solution to these problems: staggered, 18-year terms with a vacancy automatically occurring every two years in nonelection years.
This system would promote judicial legitimacy, they argue, by taking departure decisions out of the justices' hands. It would help insulate the court from becoming a campaign issue because vacancies would no longer arise during election years. And it would preserve judicial independence by shielding the court from political calls to fundamentally alter the institution.
Partisanship would still tinge the selection and confirmation of judges by the president and Senate, however, and ideological extremists could still reach the Supreme Court. But they would be limited to 18-year terms.
The U.S. Supreme Court is one of the world's few high courts to have life tenure. Almost all democratic nations have either fixed terms or mandatory retirement ages for their top judges. Foreign courts have encountered few problems with term limits.
Even England – the country on which the U.S. model is based – no longer grants its Supreme Court justices life tenure. They must now retire at 70.
Similarly, although many U.S. states initially granted their supreme court judges life tenure, this changed during the Jacksonian era of the 1810s to 1840s when states sought to increase the accountability of the judicial branch. Today, only supreme court judges in Rhode Island have life tenure. All other states either have mandatory retirement ages or let voters choose when judges leave the bench through judicial elections.
Back in 1894, the Supreme Court was older – not to mention whiter and all male.
C.M. Bell/Library of Congress/Corbis/VCG via Getty Images
Polling consistently shows a large bipartisan majority of Americans support ending life tenure. This likely reflects eroding public confidence as the court routinely issues decisions down partisan lines on the day's most controversial issues. Although ideology has long influenced Supreme Court decisions, today's court is unusual because all the conservative justices are Republicans and all the liberal justices are Democrats.
[Over 140,000 readers rely on The Conversation's newsletters to understand the world. Sign up today.]
In December 2021, the Presidential Commission on the Supreme Court of the United States released its report on Supreme Court reform, which examined term limits for the justices. Although the commission did not take a position on the merits of term limits, it did outline a variety of means by which they could be imposed, including through the constitutional amendment process and by congressional statute.
Ultimately, Congress, the states and the public they represent will decide whether the country's centuries-old lifetime tenure system still serves the needs of the American people.
Editor's note: This is an updated version of an article originally published on July 6, 2021.

Paul M. Collins, Jr., Professor of Legal Studies and Political Science, UMass Amherst and Artemus Ward, Professor of Political Science, Northern Illinois University
This article is republished from The Conversation under a Creative Commons license. Read the original article.
CONTINUE READING
Show less
As tensions mount between Russia and the West over Ukraine, the threat of Russian cyberattacks against the U.S. increases. The Department of Homeland Security issued an intelligence bulletin on Jan. 23, 2022, warning that Russia has the capability to carry out a range of attacks, from denial-of-service attacks on websites to disrupting critical infrastructure like power grids.
"We assess that Russia would consider initiating a cyber attack against the Homeland if it perceived a US or NATO response to a possible Russian invasion of Ukraine threatened its long-term national security," the DHS stated in the bulletin, which it sent to law enforcement agencies, state and local governments, and critical infrastructure operators.
Cybersecurity experts are concerned that in the wake of recent cyberattacks by hackers affiliated with Russia, the Russian government has the capability to carry out disruptive and destructive attacks against targets in the U.S. The SolarWinds attack, uncovered in December 2020, gave the perpetrators access to the computer systems of many U.S. government agencies and private businesses. The DHS and FBI accused Russian hackers in March 2018 of infiltrating U.S. energy and infrastructure networks.
Russian cyberattacks could include continued attempts to diminish Americans' confidence in elections, undermine economic stability, damage the energy grid, and even disrupt health care systems.
While some components of these systems almost certainly remain vulnerable to Russian-aligned hackers, the Russian government is likely to think twice before unleashing highly disruptive attacks against the U.S., because the U.S. government could interpret such attacks, particularly those targeting critical infrastructure, as acts of war. The DHS bulletin stated that Russia has a high threshold for initiating disruptive attacks. As a researcher who studies cyberwarfare, I believe a more likely threat from Russian hackers is launching disinformation campaigns.
Distract, distort and divide
Americans can probably expect to see Russian-sponsored cyber activities working in tandem with propaganda campaigns. These activities are likely to be aimed at preventing a unified response to Russian aggression in Ukraine.
Russian military doctrine includes the well-evolved concept of information confrontation, which uses cyber means to create doubt about what is true. Russia's information warfare strategy seeks to manipulate information and relationships.
The specific maneuvers aim to bolster narratives, people and groups that support Russian interests and undermine those that are counter to Russian interests. The maneuvers, which include dismissing and distorting information and undermining opinion leaders, are carried out in the press and on social media.
Russian intelligence operatives are skilled at using technology, including amplifying misinformation through fake accounts on popular social media platforms. In effect, Russia uses social and other online media like a military-grade fog machine that confuses the U.S. population and encourages mistrust in the strength and validity of the U.S. government.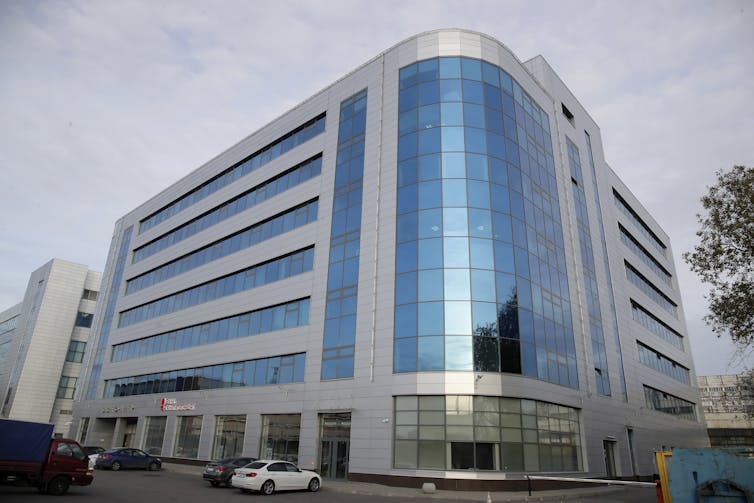 This office building, dubbed the 'troll factory,' housed the Internet Research Agency, a Kremlin-backed disinformation organization.
Repressive governments like those in Russia and China have perfected the manipulation of online information as a way to control their own populations. Democracies are especially vulnerable to these techniques, given the open exchange of ideas and lack of centralized control over sources of information.
In addition, U.S. society is polarized, and that polarization is occurring at an increasing rate. A study by researchers at the University of Oxford examined Russia's computational propaganda against the U.S. between 2013 and 2018 and found that it was designed to boost U.S. political polarization.
Plausible deniability
Though the Russian government commonly operates through its intelligence services, including the technical experts in the GRU military intelligence service and the spymasters in the FSB domestic intelligence service, it also uses criminal groups to achieve its aims.
History shows that Russia is most likely to recruit proxies to carry out cyberattacks that disrupt decision-making so that the attacks don't point directly back to the Kremlin. There is no foggier battlefield than cyberspace. That is one of the main benefits of cyberspace as an element of national power – a cyberattack almost always allows for plausible deniability.
On Jan. 14, 2022, Russia arrested members of the Russian-based cyber gang REvil who were responsible for the 2021 ransomware attacks against meat supplier JBS Foods, headquartered in Greeley, Colorado, and the Colonial Pipeline, headquartered in Alpharetta, Georgia. The unusual move caused cybersecurity analysts to wonder about Russia's motive, including speculation about making it easier for the government to deny a connection to the cyberattacks.
US cyber defenses
National cyber defense is inherently challenging, but the U.S. is far from defenseless. Several analysts have noted that the U.S. is the most capable cyber power in the world. The U.S. also has 20 years of experience dealing with Russian cyber aggression.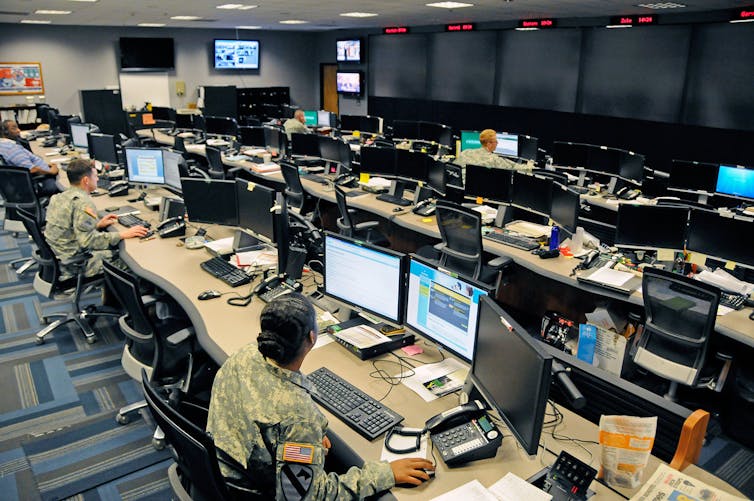 U.S. Army intelligence personnel in the Cyber Operations Center at Fort Gordon in Georgia watch for network attacks.
U.S. Army photo by Michael L. Lewis
The Biden administration's tough stance on Russian hacking has made some progress. And though disinformation is among the murkiest of cyber strategies, cybersecurity experts are making headway on that front, too.
Cause for concern but no reason to fear
Cyber activity that creates room for Russia to present the seizure of Ukraine as a fait accompli is much more likely than a crippling cyberattack. Though Russia might temporarily deter a U.S. response to Russian moves in Ukraine by disrupting U.S. critical infrastructure, Americans are likely to present a unified and powerful response to such an overt attack. I believe Russia is more likely to prefer a path of insidious political polarization to weaken U.S. geopolitical influence.
Even if Russia were to launch extensive cyberattacks against the U.S., the average American is unlikely to be harmed. The disruption of natural gas and food supplies would clearly have a significant economic impact, but it is extremely rare for a cyberattack to lead to loss of life.
If you are worried about the situation in Ukraine and wondering what you can do to defend against Russian cyberattacks, I recommend tuning out divisive rhetoric and cultivating common ground with Americans whom you might not agree with. Though there are many issues U.S. society is working through, Americans can still try to find some general agreement in the principles of the American experiment.
[Science, politics, religion or just plain interesting articles: Check out The Conversation's weekly newsletters.]

Justin Pelletier, Professor of Practice of Computing Security, Rochester Institute of Technology
This article is republished from The Conversation under a Creative Commons license. Read the original article.
CONTINUE READING
Show less
{{ post.roar_specific_data.api_data.analytics }}