Tired of ads? Want to support our progressive journalism? Click to learn more.
GO AD-FREE FOR $1

The DSA has upended local politics in this Democratic stronghold, and its wins extend well beyond New York – into Virginia, Nevada and beyond. How did socialism jump from the fringes of American politics into its very center?
American socialist history
The DSA's roots trace back to the Socialist Party of America, which was formed in New York in 1901 to promote such issues as establishing an eight-hour workday and public ownership of utilities like water and electricity.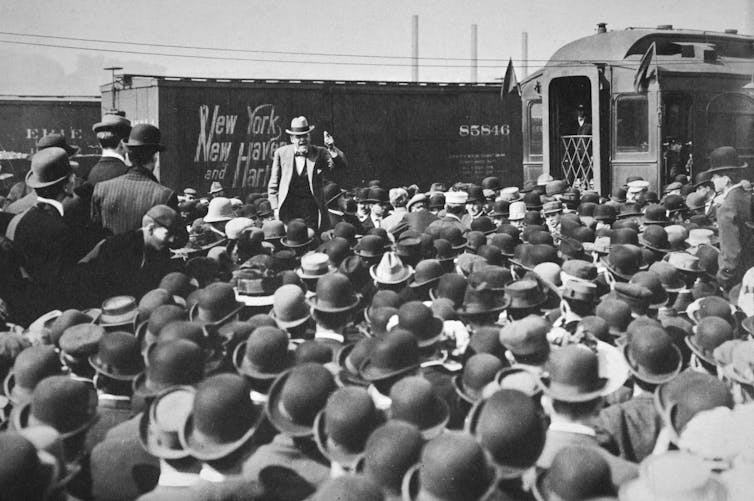 Union leader and Socialist Party presidential candidate Eugene Debs campaigning in 1900.
Historica Graphica Collection/Heritage Images/Getty Images
Writer Upton Sinclair, Christian theologian Reinhold Niebuhr and Planned Parenthood founder Margaret Sanger were prominent early members. But many early American socialists were Jews and Eastern European immigrants – groups that were considered well outside mainstream "white" society at the time.
My research as a historian of American socialists finds that early 20th-century socialists found electoral success by running candidates who represented the economic and racial diversity of their communities and championed the issues that mattered to working-class, immigrant constituencies.
In 1918 – the heyday of New York's socialist caucus, when socialists held 10 of 121 seats in the State House – socialist politicians were teachers, settlement house lawyers and union leaders. They proposed New York's first birth control bill, allowing advocates to give women educational pamphlets about contraception, and put forward programs to create old-age insurance and rent control.
The Socialist Party began losing members to the growing Communist Party in the 1930s. By the mid-20th century, it had responded to Americans' growing anticommunism with a rightward turn. In 1972, party leaders actually renamed the party the Social Democrats, USA because so many people associated the word "socialist" with America's great antagonist, the Soviet Union.
The DSA, past and present
Disillusioned, the activist and Marxist professor Michael Harrington left the organization and in 1973 formed the Democratic Socialist Organizing Committee, which later merged with another leftist group, the New American Movement, to form the Democratic Socialists of America.
Unlike the Socialist Party of America, which was a registered political party and ran candidates on its own ticket, the DSA is a political group. Harrington wanted to create the "left wing of the possible" within the Democratic Party.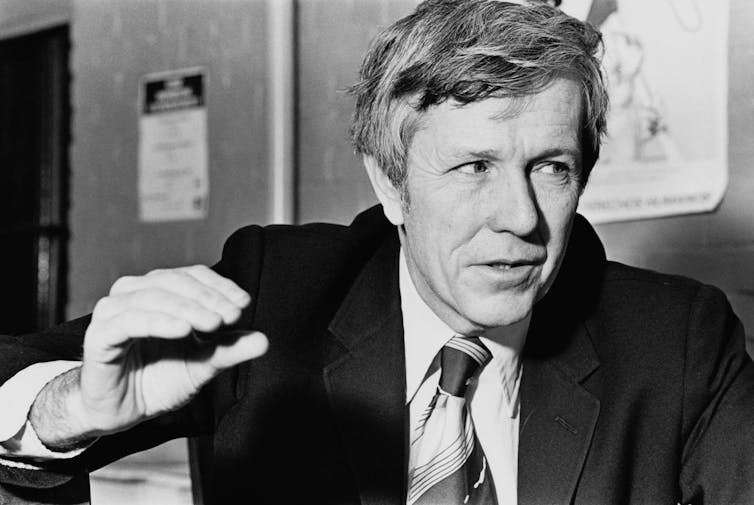 DSA founder Michael Harrington, who died in 1989.
Photo by Barbara Alper/Getty Images
For four decades, DSA members have mostly run in Democratic primaries, attempting to push the party leftward – on the Iraq War and NAFTA, for example – while endorsing Democratic presidential nominees from Walter Mondale to Barack Obama.
It had some early local successes. From the 1980s to the early 2000s, DSA members were elected to city councils nationwide and won mayoral races in liberal college towns like Berkeley, California; Ithaca, New York; and Burlington, Vermont, where the openly socialist politician Bernie Sanders was mayor from 1981 to 1989.
In 2016, Sanders ran for president. His campaign, coupled with Donald Trump's subsequent victory, created a surge in DSA membership among young voters. The group's median age dropped from 68 in 2013 to 33 by 2017. The DSA now claims over 90,000 dues-paying members, up from 6,000 in 2015.
The DSA's electoral strategies also changed after 2016, partly due to the influx of new members and partly in frustration with mainstream Democratic candidates.
In Democratic primaries across the country, DSA candidates ran to replace older, centrist, white incumbents with young leftists who promised to fight for "Medicare for all" and to "hold elected officials accountable."
It was a winning strategy for the Trump era. Since 2016, DSA-backed candidates have won district attorney races from Philadelphia to Travis County, Texas, and hold four seats in Congress. Forty DSA members sit in 21 state legislatures. DSA members hold five of Chicago's 50 city council seats.
The professional backgrounds of today's DSA legislators resemble those of their forebears. New York State Sen. Jabari Brisport, elected in 2020, was a teacher and tenant organizer. New York State Rep. Phara Souffrant Forrest was previously a tenant organizer and nurse.
The DSA's legislative proposals – rent control, free college and reproductive rights – are classic socialist issues, updated for the 21st century. The Democratic Party has now embraced many of these proposals, but moderates like West Virginia Sen. Joe Manchin have not.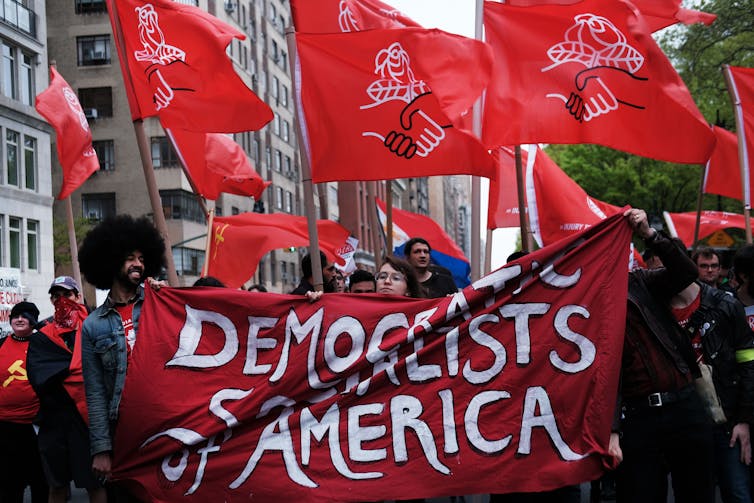 DSA activists in New York march for immigrant rights, May 1, 2019.
As in the past, the DSA tends to back candidates from marginalized groups – whether African American, Caribbean, South American or South Asian – who reflect the racial makeup of the neighborhoods they represent.
Angry Dems and DSA infighting
The DSA's growing political profile has caused tensions within the Democratic Party.
Shortly after DSA-backed candidates in March 2021 swept all five leadership positions in the Nevada Democratic Party, many longtime party staffers quit rather than work under the new leftist leadership. But first, according to the Nevada Independent and other local newspapers, the Democratic staffers transferred US$450,000 from the DSA-controlled Nevada Democratic Party coffers into the Democratic Senatorial Campaign Committee, which is controlled by the National Democratic Party.
Some DSA policies that diverge sharply from the Democratic party line – such as its support for the movement to boycott, divest from and sanction Israel for its militarized occupation of the Palestinian territories – draw fierce criticism from other Democrats.
The DSA has also been accused of having a "race problem." Despite running primarily candidates of color, the organization's leadership is largely white and male. Some DSA members say the group silences the concerns and voices of people of color.
After new groups arose within the DSA to recruit more Black leaders, the DSA's national committee announced in February 2021 that it would start an initiative to better attract, mentor and retain people of color.
In the 20th century, American socialism cracked under the weight of infighting and social change. Can the modern DSA survive its 21st-century challenges?
Its next test is in New York City on June 22.
This story has been corrected to accurately reflect Bernie Sanders' political identification. Sanders is a self-described "democratic socialist" and is endorsed by the Democratic Socialists of America, but is not a member of the group.

Joshua Kluever, Ph.D. Candidate of 20th Century American History, Binghamton University, State University of New York
This article is republished from The Conversation under a Creative Commons license. Read the original article.
CONTINUE READING
Show less
Shortly after Israeli Defense Forces announced that its air and ground troops "are currently attacking" the Gaza Strip, progressive U.S. lawmakers took to the House floor Thursday evening to discuss the ongoing violence and decades of Israel's government, military, and settler colonists violating the human rights of Palestinians.
The special order hour was organized by Reps. Mark Pocan (D-Wis.) and Marie Newman (D-Ill.)—who, along with 23 other House members, sent a letter Wednesday calling on the Biden administration to pressure the Israeli government to "desist from its plans to demolish Palestinian homes in Al-Bustan and evict Palestinians from their homes in Sheikh Jarrah," two neighborhoods in occupied East Jerusalem.
"We must acknowledge and condemn the disproportionate discrimination and treatment that Palestinians face versus others in this region," Pocan declared, challenging those who frame the violence, of this week and the past several decades of Israeli occupation, as "a 'both sides' issue."
Pocan continued:
When serious human rights abuses compound, such as the recent attacks on places of worship like the Al-Aqsa Mosque, the forced removal of people from their homes, most recently in East Jerusalem but ongoing in the West Bank for way too long, the jailing and military court trials for Palestinian children, the dehumanization of the lives of the Palestinians by having roads and entrances that are separate for some people, which all too often looks like a former South Africa, the blockade and open-air prison conditions for the people in Gaza, where food and clean water is often scarce, when those types of human rights abuses occur, we're not just putting the lives of the Palestinians and Israelis at risk, but we're also putting the United States at greater jeopardy.

After laying out some of what the hour would entail, Pocan introduced Rep. Rashida Tlaib (D-Mich.), the first Palestinian-American woman elected to Congress, whose elderly grandmother lives in the village of Beit Ur al-Fauqa outside of Jerusalem.
"Palestinians aren't going anywhere, no matter how much money you send to Israel's apartheid government," Tlaib told her colleagues. "If we are to make good on our promises to support equal human rights for all, it is our duty to end the apartheid system that for decades has subjected Palestinians to inhumane treatment and racism, reducing Palestinians to live in utter fear and terror of losing a child, being indefinitely detained or killed because of who they are, and the unequal rights and protections they have under Israeli law. It must end."
The speakers discussed U.S. military aid to Israel, reports that the Biden administration blocked a United Nations Security Council statement calling for a cease-fire earlier this week, and regional history going back to what Palestinians call the Nakba—which means catastrophe in Arabic and refers to the forced mass displacement of Palestinians and creation of Israel in 1948.
Tlaib also criticized recent remarks from U.S. President Joe Biden, Secretary of State Antony Blinken, Defense Secretary Llyod Austin, and fellow lawmakers.
"To read the statements from President Biden and Secretary Blinken, General Austin and leaders of both parties, you'd hardly know Palestinians exist at all," she said. "There has been absolutely no recognition of Palestinian humanity. If our own State Department can't even bring itself to acknowledge the killing of Palestinian children as wrong, well, I will say it for the millions of Americans who stand with me against the killing of innocent children no matter their ethnicity or faith."
Rep. Alexandria Ocasio-Cortez (D-N.Y.) similarly took issue with Biden's comments this week. His administration has repeatedly emphasized that "Israel has a right to defend itself" while declining to condemn Israeli attacks that have now killed scores of Palestinians in Gaza since Monday, including over two dozen children.
"The president and many other figures this week stated that Israel has a right to self-defense, and this is a sentiment that is echoed across this body. But do Palestinians have a right to survive?" Ocasio-Cortez asked. "Do we believe that?"
Rep. Ilhan Omar (D-Minn.) recounted hearing bombs go off outside her window as a child, when she lived through a violent civil war in Somalia, before shifting to the current bloodshed in Gaza and Israel—and said that "we must speak out truthfully and forcefully about the seed of this conflict, and about what is happening today."
"The truth is that this is not a conflict between two states. This is not a civil war. It is a conflict where one country—funded and supported by the United States government—continues an illegal military occupation over another group of people," she said, noting that the Nakba led to one of the worst refugee crises in human history.
Rep. Betty McCollum (D-Minn.) asserted that the U.S. providing Israel with $3.8 billion in unconditional U.S. military aid each year "gives a green light to Israel's occupation of Palestine" while Rep. Cori Bush (D-Mo.) suggested that those funds could be better spent on improving lives in U.S. communities in need, like those she represents.
The hour also featured remarks from Reps. André Carson (D-Ind.), Joaquin Castro (D-Texas), Jesús "Chuy" García (D-Ill.), Ayanna Pressley (D-Mass.), and Jan Schakowsky (D-Ill.).
As Muslims in the region and around the world marked the holiday Eid al-Fitr on Thursday, Israel continued its aerial assault of Gaza and prepared for a ground invasion. At least 109 people, including 28 children, have been killed in Gaza since Monday, and over 580 others wounded. At least six Israelis and an Indian national have also been killed, some by rockets that Palestinian militants have fired from Gaza, many of which have been stopped by Israeli air defenses.
Thursday also saw global protests in solidarity with Palestinians against Israel's bombing of the Gaza Strip and ethnic cleansing campaign in East Jerusalem and the West Bank. Lindsey German of the United Kingdom's Stop the War Coalition said in a statement that "these ongoing Israeli war crimes have the backing of both the U.S. and the U.K. and as a result continue as the world looks on in horror."
CONTINUE READING
Show less
Blundering right-wing activists and smear merchants Jacob Wohl and Jack Burkman held a press conference at the Hyatt Centric in Arlington, Virginia, on Thursday, where they launched meritless allegations against Trump attorney Rudy Giuliani and Rep. Matt Gaetz, the embattled Florida Republican. Since both Gaetz and Giuliani face abundant legal difficulties in the real world, the fact that Wohl and Burkman had nothing to offer but spurious rumors was almost remarkable in itself. But that was not the duo's only largest problem. Now Burkman and Wohl have been banned from holding press events at the Arlington Hyatt, a hotel official told Salon.
A manager of the Hyatt Centric property said that the venue's operating team had no knowledge of Wohl and Burkman's extensive past history of scams and schemes, and that the two right-wing operatives had told hotel staff they planned to hold a "book signing," not a press conference. "I'm upset they lied to me," the manager told Salon.
The manager said that Burkman "got into my face and demanded to rent a room" during a personal visit to the hotel several days earlier. According to the hotel employee, Burkman brought a bundle of cash with him and asked the manager to take it on the spot as payment for a conference room.
Asked why he and Wohl had lied to hotel staff about holding a "book signing," Burkman told Salon: "I never lie. I only tell the truth," before describing himself as a "beacon" for the truth. Burkman and Wohl currently face felony charges in several states for a robocall scheme apparently designed to discourage voting by mail and depress voter turnout in Black neighborhoods during the 2020 election.
During the roughly 50-minute press conference, Wohl and Burkman claimed to have damaging material on both Giuliani and Gaetz. But their muddy allegations could be interpreted as an effort to draw attention away from credible reporting on allegations of sexual misconduct stemming from Gaetz's interactions with numerous women, some of them purportedly underage at the time.
"This is a sad day. It's not the kind of thing we like to do," Burkman said in his opening remarks. Given the number of times he and Wohl have held similar events, that claim seems implausible.
As the press conference wrapped up, a hotel manager told Salon that Wohl and Burkman would be permanently banned from holding events at the Hyatt Centric. "Today's it," that manager said, evidently frustrated.
This isn't the first time Wohl and Burkman have run into the problem of where to host their press conferences. They have often hosted events at or outside Burkman's home in Arlington, but neighbors have become increasingly unhappy with the noise and crowds those gatherings foster.
A furious neighbor yelled at protesters - especially the ones using blowhorns - for making noise. They blamed Burkm… https://t.co/nlGBOMNfMz

— Ford Fischer (@Ford Fischer)1571689398.0
"I will move to a fucking hotel," an angry neighbor declared in October of 2019 after one of Wohl and Burkman's press conferences.
Asked by Salon on Thursday why this press conference wasn't held at his home, Burkman responded, "Safety reasons, you know. Just safety reasons. We don't want our friends with the banjo, man, we don't want our crazy friends with music."
You can watch the entire dubious Thursday press conference below, via YouTube:
Fraudsters Jacob Wohl and Jack Burkman hold presser on Matt Gaetz and Rudy Giuliani www.youtube.com
CONTINUE READING
Show less

Don't Sit on the Sidelines of History. Join Raw Story Investigates and Go Ad-Free. Support Honest Journalism.
Subscribe Annually
$95 / year — Just $7.91/month
Subscribe Monthly
$1 trial
I want to Support More
$14.99 per month
{{ post.roar_specific_data.api_data.analytics }}