Pandagon is daily opinion blog covering feminism, politics, and pop culture. Come for the politics, stay for the complete lack of patience for the B.S. and bad faith coming from conservative leaders and pundits.
Don't miss stories. Follow Raw Story!
Just a bizarre hometown story — but I'm sure you have some you can share that are just as off-the-wall…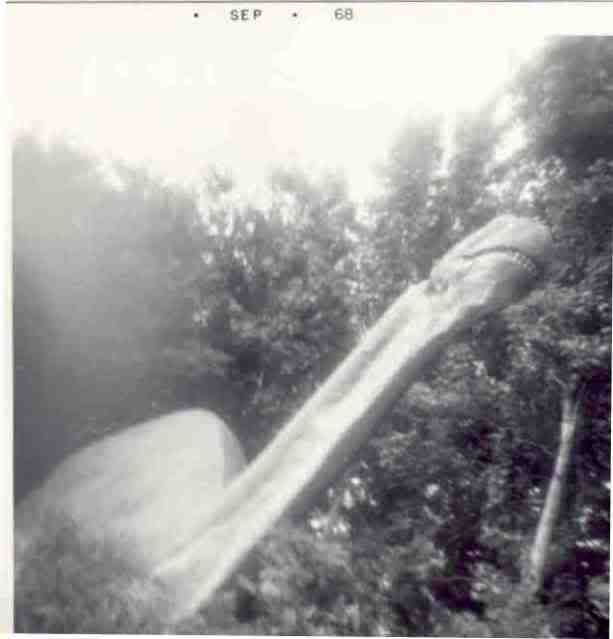 This week the "brontosaurus" at the Museum of Life and Science in Durham was vandalized. Dino was a landmark, so a lot of folks in town are upset that the statue was decapitated, including yours truly.
"An act like this is just heinous," said Mike Shiflett, a resident of the nearby Northgate Park neighborhood.

Northgate Park and the museum have discussed conserving the statue, which has stood beside Ellerbe Creek since 1967. While scientifically obsolete, the brontosaurus is fondly regarded as a Durham landmark.
I remember my mom taking me to see the dinosaur trail when I was a kid, I figured it was around 1967-68. I recall photos were taken at the time, so
I dug through some old albums and found one
.
The good news is that the head was recovered on Wednesday:
They've also identified "those involved," but a statement from the Durham Police Department did not provide details.

The dinosaur head was found off Preston Andrews Road in northern Durham County. It appears it was taken as a prank, police said. The head did not sustain any additional damage.

…It has been returned to the museum and investigators are talking with museum officials about what course of action they wish to pursue, the release said.
You have to see
the pic of the recovery
. The caption reads:
Jim Whitfield,46 tenderly touches the recovered brontosaurus head as it lays in the back of a pick-up truck at the N.C. Museum of Life and Science.
We are sentimental saps about the dino… :)
Below the fold, a slideshow of photos of Dino — a compilation sent in by fellow Bull City residents and visitors to the museum.
Q of the Day: what quirky landmarks are in your neck of the woods? (One reader already pointed out "Jesus in the Dino Gardens Prehistoric Zoo" in Ossinekem, MI)