WNBA's Mystics say no to 'kiss cam' because it might capture two women kissing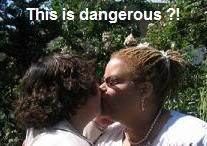 Sports teams usually cater to the fan base. In the WNBA, if you are in the front office of the Washington Mystics, the rule is you make sure your base doesn't exist in the stands. Guess it's easy when you think, as one reader put it, "two women in love is analogous to aborting a fetus." (OutSports):
"We got a lot of kids here," Sheila Johnson, the Mystics' managing partner, said when asked last week at a game. "We just don't find it appropriate."

The article goes at length to show what they don't find appropriate is people of the same-sex kissing, talking to fans, management and players. One of the Mystics' players predictably compares being gay to abortion:

"We wouldn't broadcast on our Jumbotron about abortion issues because of the religious and political conflicts it would cause," said Lindsey Harding, the team's point guard. "It's a similar, sensitive subject. We don't want to put anything out there to turn down certain fans."
This is outrageous. Unfortunately, what's also disappointing (but not surprising) is that this thinking is governed by the bottom line on a couple of fronts. From the WaPo piece.
This is a seminal, scary time for women's professional sports. Ten years after Brandi Chastain's ab-crunching moment in the women's World Cup ushered in a new era of empowerment, less than half of the LPGA Tour's 29 events have secured sponsorship for next year. Though attendance numbers are up in Washington, the league can barely pull in an average of 8,000 people per game and many of its arenas hold 20,000.

It's understandable that a financially shaky league is outright terrified it could alienate a chunk of its fan base if two same-sex people shared a chaste kiss on a video scoreboard.
Apparently the lesbian fan base is irrelevant and kept in the closet, based on the fear of the unknown and need for cash; the league counts on sponsorship from anti-gay Exxon/Mobil. But sadly, the league is not the only entity looking the other way.
As Cathy Nelson, the Human Rights Campaign's vice president, said in a phone interview, "Sheila and the Mystics have been nothing but supportive in our mind, showing up at all our dinners, events, even bringing the whole team once."
Why is it acceptable to HRC that Mystics fans are purposely closeted by the organization? It's not supportive, that's for sure.
The dilemma here is do you ask a league to risk its survival on a guessing game about public tolerance over innocent same-sex bussing at a game? What if they are wrong — when will they know it's acceptable to a sufficient number fans to turn the camera onto a lesbian couple during a game? It's safe to say that the league is always going to be under the financial gun and fighting to stay afloat, so what is the magic metric that needs to be reached? I'm not convinced that this policy is driven solely by financial concerns, but it's not fair to portray the policy of hiding a strong fan base of women because of their sexual orientation or gender presentation (which you know is in an issue in the mix).
After many years and many server changes and finally landing here at Raw Story, which has taken very good care of us, it's time to say goodbye to Pandagon. I've been blogging under this banner for ten years, after Jesse Taylor asked me to join. He, in turn, had been running this joint since he was in college. A lot has changed since then. I became a journalist, moved from Austin to New York and learned to play Dungeons & Dragons. Jesse became a lawyer and, just this past weekend, a married man.
Carly Fiorina defends her lie with a whole bunch of lies
I do like it when Republican candidates sport a resume full of corporate executive work, because it really shows the public how many fools and idiots coast into that position not on merit but on their bullshitting abilities. Donald Trump, Herman Cain, and now we have Carly Fiorina, who just can't understand why her perceived underlings (voters, journalists) won't scurry away, pretending to accept her bullshit like former employees of hers had to do, lest they lost their jobs.
And so it goes that Fiorina, who could make this entire Planned Parenthood controversy go away by saying something like, "I may have misremembered the video, but I still think abortion is wrong," instead is doubling and tripling down. And every time she does, she lies more and more. She was on Meet the Press and, so enamored of the idea that she is perfect and could never do anything wrong, just went to town with the defensive posturing.
Marco Rubio has an astoundingly low opinion of women's intelligence
At RH Reality Check, I covered this story that I wish was getting more press, about how Marco Rubio goes back and forth between suggesting that women who get abortions are greedy monsters who get pregnant for cash:
I just think you've created an industry now … a situation where very much, you've created an incentive for people not just to look forward to having more abortions, but being able to sell that fetal tissue for purposes—these centers—for purposes of making a profit off it, as you've seen in some of these Planned Parenthood affiliates.