Pandagon is daily opinion blog covering feminism, politics, and pop culture. Come for the politics, stay for the complete lack of patience for the B.S. and bad faith coming from conservative leaders and pundits.
Corrupt former House Majority Leader Tom Delay to get down on Dancing with the Stars
Don't miss stories. Follow Raw Story!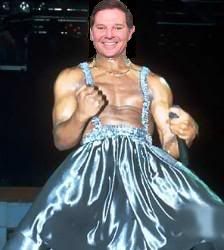 Does this mean it will be "Hammer time" and we'll see him in parachute pants?
Tom DeLay is the name DWTS executive producer Conrad Green expected to have "most people splattering on their cornflakes" following this morning's announcement on Good Morning America. How did it come about? "I know it will sound stupid, we just asked him," Green tells EW. "We usually throw a few Hail Marys every season to people we don't think are gonna say yes, but we think, oh, why not ask him. Occasionally, they come off. As it turns out, Tom DeLay likes to do a bit of the Two Step, he likes dancing with his wife. His daughter is a country dancing champion, I believe. He actually really enjoys dancing. Now I don't know whether that translates into him being the next Mario Lopez on the dance floor, but I think he's gonna come into it with a big smile on his face and probably surprise a lot of people cause he's gonna embrace it so much."
Other toe-tappers will include:
• Donny Osmond: Singer, brother of DWTS Season 5 contestant Marie Osmond, and choreographer of his own freestyle moves in "Weird Al" Yankovic's "White & Nerdy" video

• Macy Gray: Baby-voiced singer and performer on DWTS Season 4 (who famously commented on Apolo Anton Ohno's "huge bulge" to reporters)

• Kelly Osbourne: Reality star/"singer"

• Debi Mazar: Actress (Entourage) and friend of Madonna