Don't miss stories. Follow Raw Story!
Hi! I'm Every Writer Who's Writing a Premier League Preview this week. Like a lot of footy fans, you've probably been scouring the internet for any all takes on your team and the teams you hate the most. And in your excitement and anxiety, you probably haven't noticed (or cared) that all previews essentially sound the same. That's because we have a set of strict rules, like the ones Moses had but for football journalists. And like those rules, if you break them, you go to hell. Also known as The Falkland Islands.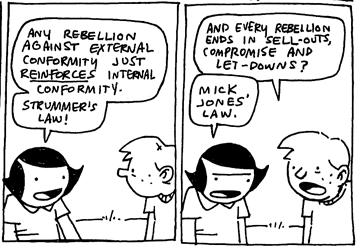 Anyway, here's what it takes to write an EPL preview: 1) You must pick a top 4 club as the winner.
Duh. Anyone calling for Man City or Everton or Spurs to win just looks like a nitwit, and we did not get these professional-type writing jobs to sound like nitwits. When we do, it's our editors' faults.
2) From within the top 4, try to be "original" in your pick.
Most seasons, this is easy, because there's a Clear Favorite, and you can just pick someone else and look edgy. If you were wrong, you can simply point to one of the inevitable injuries or poor tactical moves or disappointing transfers as the reason you couldn't have seen their letdown coming. This season, though, there's no Clear Favorite. Man U lost The Most Beautiful Pouter in the World. And an Orc. Also, van der Sar is out for ages, so, improbably, they're fit for underdog status. Meanwhile, Chelsea kept their team together, but they're old, they didn't add anyone huge, and they didn't finish in the top 2 last season. Factor in a new coach who struggles to win domestic leagues and you've got underdog #2. Arsenal and Liverpool are addressed below.
3) You can't pick the Obvious Challenger to win.
A lot of preview writers are picking Liverpool and thinking "oooh, they finished runner up so they must be alright, but they haven't won in 20 years so they're under the radar. Plus they have lots of guys I've heard of! Score!" This is poor Preview Writing. Liverpool are the Obvious Challenger because they finished so strong and have big stars. But it's too easy to say they're going to take the next step, and the easy road is bad psychic writing. Additionally, the Obvious Challenger always feels too much pressure and inevitably caves. They never win it all.
4) Consider picking a top 4 team to fall to 5th.
Look at the top 4. It's can't stay that way forever. The Premiership is like the Earth. Teams are tectonic plates on a pitch of lava, running into each other and shifting around. (Booya! See how journalists use awesome analogies?) So look at the top 4, find a team that looks weakened, and predict a fall to 5th. This year, it has to be Arsenal because Man City took two players the readers have heard of and they already finished 4th and didn't add squat. Now, a rookie Preview Writer might wonder, "isn't that the obvious pick, violating rule #3?" And I would pop that rookie in the mouth and say, "No, numbnuts. You have to pick the obvious team that might fall to fall. If you pick one of the others, you've crossed the Radical Line and blown people's minds. They won't take you seriously for the rest of the preview because you're too 'out there.' Now fetch me a coffee."
5) Jumble up 6th-10th place.
Keep the same teams there, because they all have medium money, medium talent, solid support, and you've probably watched them play. But be sure to rearrange them so it looks like you've done research. They pay us for that, apparently.
6) Relegation: Send down the worst food.
Next, you have to think about who's dropping out of the league. This is easy. First, among the 3 newly promoted teams, pick the 2 teams whose cities you like the least and swear they're dropping. Hopefully, they will be so disheartened by your harsh criticism that they'll implode and you won't have to get sent there to cover them after this season. You should also call other friends you have who are writing previews and encourage them to do the same. Unanimity will surely break the spirits of players stuck in god knows where. NOTE: crappy parts of London quality as cities worth relegating.
7) Relegation 2: Pick a punching bag.
Don't send down all 3 teams that just came up. That doesn't look smartish. Make sure to pick a team down on its luck who finished in the bottom half of the table last year and kick them to the curb. Doesn't matter who, as you could make a case against any of these sorry teams.
8) 11th-17th: Nobody even reads these.
Toss the rest of the teams into a hat, shake it about, and pick the names. For each one, mention their transfers, their coach being on the hot seat, the youngster hyped up in the team's local coverage, and you're done.
That's it, friends. Now you can take my job. Wait, shit-