The Latest LaBarbera Award goes to…Pastor Steven 'gays must be executed' Anderson
"The sodomites are recruiters and you know who they are after? Your children. They are being recruited by the sodomites. They are being molested by the sodomites. They recruit through rape, they recruit through molestation, they recruit through violation"

"Our country is run by faggots. You know who was the man who was the architect of the bailout? His name is Barney Frank, he is a pedophile…"

"That's who just sold our country into fascism. That's who just sold our corporations to the government. That's who sold out our country, a faggot!"

…They recruit through rape. They recruit through molestation. They recruit through violation. They are infecting our society. They are spreading their disease. It's not a physical disease, it's a sin disease , it's a wicked, filthy sin disease and it's spreading on a rampage. Can't you see that it's spreading on a rampage? I mean, can you not see that? Can you not see that it's just exploding in growth? Why? Because each sodomite recruits far more than one other sodomite because his whole life is about recruiting other sodomites, his whole life is about violating and hurting people and molesting 'em.

"God Hates Barack Obama, I hate Barack Obama. I hate Him. God wants me to Hate Barack Obama." "Someone who commits murder should get the death penalty."
— the wit and wisdom of Steven Anderson, pastor of Faithful Word Baptist Church in Tempe, Arizona, recipient of Box Turtle Bulletin's prestigious LaBarbera Award
Poor Jim Burroway. He actually lives not far from this eliminationist nutbag.
It's been a while since we've given one of these awards out. Maybe I've become so jaded that nothing much shocks me anymore. But then something like this comes around and all I can do is shake my head. The latest LaBarbera Award winner comes from just up the road from where I live.
In addition to his LaBarbera Award, I didn't realize that Pastor Anderson was the recipient of a "complementary" missive from Jesus' General…
Pastor Steven L. Anderson
Faithful Word Baptist Church

Dear Pastor Anderson,

I've been a huge fan of you work for quite awhile. Your sermon on the sin of peeing while sitting and the essay in which you accuse male gynecologists of being perverts are two of the finest examples of biblical scholarship I've ever seen.

But perhaps your greatest accomplishment is the way you've shepherded your flock. One congregant, Brother Matthew Stucky, serves as a living example of the good work you're doing. The sermon he gave in your stead while you were in Norway, "Purge Out the Liberals" was about as good a sermon as a god-fearing man could hear anywhere. I particularly liked the part where he called Gomer Pyle a "faggot."
It goes on from there…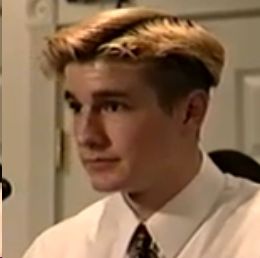 BONUS! Little Teen Steven delivering his first preach-o-rama (h/t commenter Marvin the Martian) at a teenage youth service at Regency Baptist Church in Orangevale, CA. Note the Wham-worthy fluffy highlighted 'do. Any gaydar pinging out there? It doesn't even have to be in good working order. It would be sad if the bile coming out of this man's mouth wasn't so sick.
Related:
* Arizona pastor's sermons call for execution of gays, Barney Frank and the President
* Watch a death to fags "sermon" by Stephen Anderson
'Russia is delighted': Maddow says the elephant in the room is 'rearing up and stomping its feet'
The host of "The Rachel Maddow Show" on MSNBC broke down how all of President Donald Trump's decisions in the Ukraine scandal primarily benefited Russia.
"We are in the middle of this impeachment now and it is still unfolding and there is still more to learn and tomorrow is going to be — tomorrow should be a big deal," Maddow noted. "Even just the news tonight is a big deal."
"But even after one day of public hearings so far, the elephant in the room here feels like it's rearing up and stomping its feet, because who benefits with all these things Trump has done?" Maddow asked. "With all of them. With all this stuff in the middle of the impeachment, but all the other stuff he's doing simultaneously."
Trump begs Louisiana for a 'big win' after his last-minute rally in Kentucky backfired
At his last-ditch rally in Louisiana to help the struggling gubernatorial candidacy of GOP businessman Eddie Rispone, President Donald Trump boasted — incorrectly — that his rally in Kentucky narrowed the gap for Gov. Matt Bevin, who lost the race, by 19 points. He then begged voters to give Rispone a "big win."
"We elected everybody," said Trump. "The governor got brought up, in a few short days, 19 points. I went, we made a speech, the whole ticket was there, everybody won big. Governor's a really good guy. But 19 points is a big thing, and he lost by just a few thousand votes. And the headlines next day, Trump took a loss — I lifted him up a lot. But Trump took a loss. So you gotta give me a big win, please, okay? Okay?"
Republicans are treating voters like 'children' with their defense of Trump: Ex-presidential adviser
On Thursday's edition of CNN's "Anderson Cooper 360," former presidential adviser David Gergen laid into Republican lawmakers for claiming that the impeachment probe is only based on "hearsay."
"The Republicans are treating us like idiots," said Gergen. "They just — they say you're only bringing forth hearsay. You don't have any firsthand information. We know there are three people who know exactly what happened. One is named [Rudy] Giuliani. One is chief of staff [Mick] Mulvaney and the third is [John] Bolton. And what's happened here? They all three have been called. The president said no, you must not talk. So the Republicans then come up and say, well, you only have hearsay."