The Latest LaBarbera Award goes to…Pastor Steven 'gays must be executed' Anderson
"The sodomites are recruiters and you know who they are after? Your children. They are being recruited by the sodomites. They are being molested by the sodomites. They recruit through rape, they recruit through molestation, they recruit through violation"

"Our country is run by faggots. You know who was the man who was the architect of the bailout? His name is Barney Frank, he is a pedophile…"

"That's who just sold our country into fascism. That's who just sold our corporations to the government. That's who sold out our country, a faggot!"

…They recruit through rape. They recruit through molestation. They recruit through violation. They are infecting our society. They are spreading their disease. It's not a physical disease, it's a sin disease , it's a wicked, filthy sin disease and it's spreading on a rampage. Can't you see that it's spreading on a rampage? I mean, can you not see that? Can you not see that it's just exploding in growth? Why? Because each sodomite recruits far more than one other sodomite because his whole life is about recruiting other sodomites, his whole life is about violating and hurting people and molesting 'em.

"God Hates Barack Obama, I hate Barack Obama. I hate Him. God wants me to Hate Barack Obama." "Someone who commits murder should get the death penalty."
— the wit and wisdom of Steven Anderson, pastor of Faithful Word Baptist Church in Tempe, Arizona, recipient of Box Turtle Bulletin's prestigious LaBarbera Award
Poor Jim Burroway. He actually lives not far from this eliminationist nutbag.
It's been a while since we've given one of these awards out. Maybe I've become so jaded that nothing much shocks me anymore. But then something like this comes around and all I can do is shake my head. The latest LaBarbera Award winner comes from just up the road from where I live.
In addition to his LaBarbera Award, I didn't realize that Pastor Anderson was the recipient of a "complementary" missive from Jesus' General…
Pastor Steven L. Anderson
Faithful Word Baptist Church

Dear Pastor Anderson,

I've been a huge fan of you work for quite awhile. Your sermon on the sin of peeing while sitting and the essay in which you accuse male gynecologists of being perverts are two of the finest examples of biblical scholarship I've ever seen.

But perhaps your greatest accomplishment is the way you've shepherded your flock. One congregant, Brother Matthew Stucky, serves as a living example of the good work you're doing. The sermon he gave in your stead while you were in Norway, "Purge Out the Liberals" was about as good a sermon as a god-fearing man could hear anywhere. I particularly liked the part where he called Gomer Pyle a "faggot."
It goes on from there…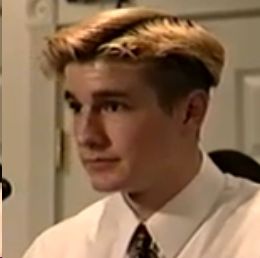 BONUS! Little Teen Steven delivering his first preach-o-rama (h/t commenter Marvin the Martian) at a teenage youth service at Regency Baptist Church in Orangevale, CA. Note the Wham-worthy fluffy highlighted 'do. Any gaydar pinging out there? It doesn't even have to be in good working order. It would be sad if the bile coming out of this man's mouth wasn't so sick.
Related:
* Arizona pastor's sermons call for execution of gays, Barney Frank and the President
* Watch a death to fags "sermon" by Stephen Anderson
'The people of Montana are no fools': Liberian refugee taking on Trump-loving Senator Steve Daines
First-term Sen. Steve Daines (R-MT) was one of the few members of Congress to praise President Donald Trump's racist "go back" taunts that his supporters turned into a "send her back" chant against a black former refugee.
https://twitter.com/SteveDaines/status/1150859069084905472
In response, the Billings Gazette chastised Daines in an editorial, saying, "Montanans are more sickened by the never-ending torrent of childish, bigoted views that are shoveled from the White House that make the country look like bigots and idiots. And we're nauseous when folks like Daines invoke our state in defending a spoiled New York developer who would get tongue-lashed by most Montanans for the way he takes to Twitter."
Democrat who lived under a dictatorship explains why she believes it is time to impeach Trump
One of the Democrats on the House Judiciary Committee who will be interviewing special counsel Robert Mueller on Wednesday explained to MSNBC's Lawrence O'Donnell why she believes it is time to initiate impeachment proceedings against President Donald Trump.
Rep. Debbie Mucarsel-Powell (D-FL) immigrated to the United States from Ecuador as a child. When Mucarsel-Powell was sworn-in to office following the 2018 midterm elections, she became the first Ecuadorian-American and first South American immigrant member of Congress.
"Most Americans don't have time to read a 448-page report," Mucarsel-Powell said. "We found substantial evidence that shows us that the president obstructed justice. "And I think it is critical for the American public to understand that and that's why this hearing will be very important on Wednesday."
Watch Rachel Maddow broadcast 'exclusive story' that undermines Mike Pence's claims
MSNBC anchor Rachel Maddow on Monday presented an "exclusive story" -- that undermines public claims by the Trump administration.
Vice President Mike Pence has been among the biggest defenders of the detention camps the administration is running near the southern border.
Pence has described the treatment of detainees as "compassionate" and "excellent."
https://twitter.com/VP/status/1149879335454515200
But that was not what Maddow reported on Monday.
"You haven't seen this anywhere else," she introduced. "This is the first time this has been broadcast."
The story was an exclusive interview NBC News correspondent Julia Ainsley conducted with a child refugee from Guatemala who was held in one of the camps for eleven days.