Nat'l Review and Political Cesspool's Derbyshire says women should not have the right to vote
Conservative writer John Derbyshire went on Alan Colmes's radio show and showed his not-so-inner bigot and misogynist. I'll just let him speak for himself. (Think Progress):
John Derbyshire, a British-American conservative author and columnist for the National Review, has written a new book titled We Are Doomed: Reclaiming Conservative Pessimism. The book contains a section called "The Case Against Female Suffrage." Yesterday on his radio show, Alan Colmes asked Derbyshire to articulate his argument.

DERBYSHIRE: Among the hopes that I do not realistically nurse is the hope that female suffrage will be repealed. But I'll say this – if it were to be, I wouldn't lose a minute's sleep.

COLMES: We'd be a better country if women didn't vote?

DERBYSHIRE: Probably. Don't you think so?

COLMES: No, I do not think so whatsoever.

DERBYSHIRE: Come on Alan. Come clean here [laughing].

COLMES: We would be a better country? John Derbyshire making the statement, we would be a better country if women did not vote.

DERBYSHIRE: Yeah, probably.
Did I mention that Derbyshire has a wife, Rosie and two children, Dannie and Nellie? I wonder how those views go over in that household. He also said that he would like to repeal the 1964 Civil Rights Act because you "shouldn't try to force people to be good." Well, in spite of that law, we still see a ton of racism out there. Obviously you can't force people to renounce their racism.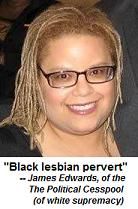 Bonus points! He has appeared as a guest on The Political Cesspool. Remember that? It's the a white nationalist, white supremacist, conspiracy theorist, and extreme right-wing radio show broadcast hosted by none other than James Edwards, who called me a "black lesbian pervert" for pointing out Hank Williams Jr's racist ways.
From an earlier post about Edwards:And on the guest list of this proudly racist, anti-Semitic, homophobic radio show's site you'll find MSM talking heads like Bay and Pat Buchanan. Pat, btw, stands next to a beaming James Edwards on the site's photo page. Edwards is also photographed at an event with former KKK Grand Dragon/Wizard/WTF-ever David Duke, who has also been a guest on The Political Cesspool. The mission of the Cesspool dovetails nicely with the Klan's, by the way:

America would not be as prosperous, ruggedly individualistic, and a land of opportunity if the founding stock were not Europeans.

Since family is the foundation of any strong society, we are against feminism, abortion, and primitivism.

We wish to revive the White birthrate above replacement level fertility and beyond to grow the percentage of Whites in the world relative to other races.

We are cultural conservatives because we have certain morals to which we adhere. We are against homosexuality, vulgarity, loveless sex, and masochism.
Related:
* The Cesspool Overfloweth
Jeffrey Epstein's IT consultant reveals he saw girls who 'couldn't have more than 15 or 16' on private island
ABC News broke a story just after midnight Thursday about a former IT consultant of Jeffrey Epstein's who resigned because he couldn't take some of the things he was seeing on Epstein's private island compound.
The island, which has been called "pedophile island" by locals, had "topless women everywhere.
"There were photos of topless women everywhere," said contractor Steve Scully, who began working for Epstein in 1999 and continued for six years. "On his desk, in his office, in his bedroom."
Stephen Colbert mocks Eric Trump in a way that must be seen to be believed
Stephen Colbert mocked Eric Trump so badly it has to be seen to be believed.
The moment came after Colbert played a clip of the young Trump child saying that 95 percent of the United States supports him, the camera cut to Colbert doing his Eric impression.
"I've got big gums, and I cannot lie," Colbert said.
"Yeah, 95, guys, I'm tellin' ya," Colbert said, pretending to be Eric with his lips curled up.
Black Pennsylvania Trump voter wonders if he's still welcome in the GOP
Tuesday, CNN released interviews with Texas Trump supporters who defended his racist attacks on four Congresswomen of color. Wednesday night, Van Jones showed his panel of supporters of both President Donald Trump and former President Barack Obama. But things got tense when a Black Trump supporter was asked about the president's racially charged statements.
Two men, one white one Black, in the group said they supported Trump and probably would again because business was good. Two women in the group lamented that Trump's racism was hurtful for the country.
"I just go back to values," the older women said. "I value treating people with dignity. And if there is anything that is incongruent with those values, then I'm not for that. So I'm not going to put profit over my values."