Don't miss stories. Follow Raw Story!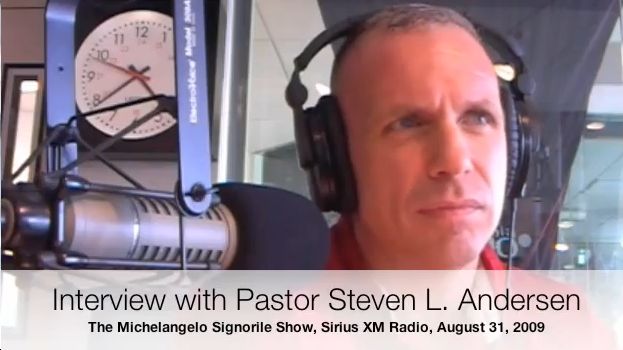 Well we can confirm one thing about this the fundamentalist who called for the execution of Barney Frank and the President (as well as all you Sodomites out there) — the Secret Service was right in paying LaBarbera Award-winner Steven Anderson of Faithful Word Baptist Church in Tempe, Arizona a visit.
Sirius XM's Mike Signorile had the hate-mongerer on his show yesterday (full audio here) and Anderson's not backed down a bit.
MS: You want all gay people to be executed, correct?
SA: That is correct. It is what the Bible teaches.
MS: If somebody were to go out with a machine gun and spray down a crowd of gay and lesbian people, would you think that was okay?
SA: I would not think it's okay because I believe in due process.
MS: Whould that person be a murderer?
SA: No, I would not judge them as a murderer, no.
We can laugh at this guy, but we have to take violence-inciting individuals headcases like Anderson seriously because he whips up the unstable, often gun-toting Base that the GOP is catering to these days. Those are the people who may decide to act out as they feel their world spinning out of control (The Homo Agenda, "socialism", "fascism", country overrun with The Brown Menace, etc.).
But as the headline notes, Anderson then shared some special thoughts with Mike. Apparently the agent of hate didn't know Signorile was gay, and that's what generated this.
MS: You know, I'm gay..I'm gay, and I don't molest any children. What do you think of that?
SA: Well, I'd say you're lying.
MS: You think i must be molesting children, right?
SA: Exactly, right.
MS: Do you pray that I'll died tonight.
SA: If you're a homosexual, I hope you get brain cancer like Ted Kennedy.
Watch it; Mike completely destroyed Anderson on the air, pinning him down to justify his views. The exchange about the assassination of abortion provider Dr. George Tiller is a slam dunk:
Related:
* The Latest LaBarbera Award goes to…Pastor Steven 'gays must be executed' Anderson
* AZ: man packs legal heat — an assault rifle — to Obama protest
* Arizona pastor's sermons call for execution of gays, Barney Frank and the President
* Watch a death to fags "sermon" by Steven Anderson
* The Latest LaBarbera Award goes to…Pastor Steven 'gays must be executed' Anderson