Don't miss stories. Follow Raw Story!
Saw a couple of movies over the weekend, and I'm going to review them in order.
Zombieland
What can I say? Unless you're just too squeamish for zombie movies, this one is a must-see. Sure, it's ripping off Shaun of the Dead, but Shaun of the Dead was hardly an original idea, either. Comedy horror films have been with us for a long time. The key to making a good one is not skimping on either the jokes or the action, and Zombieland has plenty of both.
Zombie movies must make one of two choices: will the zombies win or humanity? That is, are we facing a zombie apocalypse or can the problem be contained? Shaun went the route of the first Night of the Living Dead, where the last scenes imply that humanity was able to rally and kill off the zombie menace. But Zombieland is sending up the apocalypse movies, such as the other Living Dead films and most notably, 28 Days Later. Like 28 Days Later, these zombies can run and are rage-a-holics, and they are also not dead, but victims of a virus that wipes out most of humanity. It also borrows heavily from the concept of the Zombie Survival Guide, in that the hero and narrator has a bunch of rules of survival that are pretty fucking hilarious. (#1: Cardio.) For zombie fans, there are some funny innovations to geek out over, such as their brilliant plan to hide out in Beverly Hills. I wish I'd thought of that and sold a screenplay. A lot of houses in Beverly Hills are practically fortresses, and they're well-spaced and well-stocked. I won't give any more away, but that's just one example of how clever this movie is.
This movie has a little love story in it, and the narrator has Nice Guy® tendencies (that are offset by the fact that the writing is so funny that you're too busy laughing to be annoyed), and the scenes focusing on that feel like a drag. But that's mostly because they rob Woody Harrelson of screen time to kill zombies. Admit it; that's the selling point of the movie, and it delivers on what the trailer promised. Zombies are killed in entertaining and hilarious ways. They don't even try to make Harrelson's character realistic. He's a lean, mean, zombie-killing machine of epic proportions. The other characters hold their own—it's always a relief when zombie movies realize that female survivors would have to be as quick with a firearm as male survivors, and this movie not only has two women who can shoot zombies, but one is 12—but Harrelson is cartoonishly awesome.
Don't watch if you're easily squicked out or could never find apocalyptic scenarios funny. The zombie grossness is all front-loaded and then it moves more into action and less into scenes of zombies yanking tendons with their teeth, but you're still going to see some of that. But for everyone else, this movie is a welcome, inventive comedy.

Whip It
I hesitated to see this film, because I thought that it would sanitize, in order, Austin and roller derby, but I liked the cast so much I gave it a chance. I'm really glad I did, and am saddened to see that the reviews are middling, and in exactly the way you'd expect when the screenwriter, director, and most of the lead actors are all female—no one wants to be seen as being easy on director Drew Barrymore because she's a girl, so they overcompensate and hold her to a standard way higher than a male director of her talent would be held. Indeed, I saw a lot of reviews that obsessed over Barrymore's pedestrian directing in a way that's unusual for reviewers to obsess over directing in genre films. It wasn't Oscar-winning or anything, but it wasn't distracting, and that's as much as I want when the script is as good as this one. When looking at the reviews, remember that women often have to be twice as good to be taken half as seriously, and revise your expectations accordingly. Certainly, the gender ratio in the audience showed that the coveted demographic of males 18-45 were not interested in giving this movie a chance. Not that there were no men there, but they were no more than a quarter of the audience—and that's for a movie that takes place in the city I watched it in!
In fact, as an aside, we experienced one of the more surreal moments you can during a movie. I saw this movie at the Alamo Drafthouse Ritz, and in the movie, two characters go on a date to the Ritz, and you see them sitting in the exact same theater we were sitting in. The audience had a moment there, and then cheered. What else are you going to do?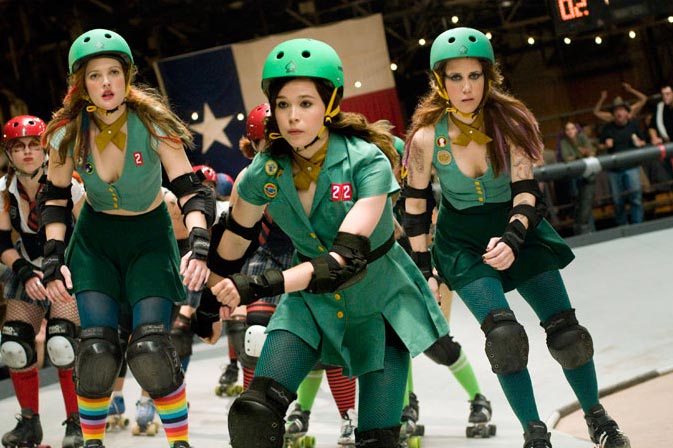 My fears about Austin or roller derby being sanitized were overblown. The screenwriter is herself a former roller derby girl, and so they take great pains to show how roller derby is situated in a larger punk rock subculture. They might have overdone the Texas thing just a little bit—at points, I was like, we get it this in Texas, we didn't forget—but I'd far rather have that than them not even trying to showcase the unique aspects of the culture here. Anyway, it's true that you'd see men wearing loud suits with cowboy boots and women who are fond of wearing way too much black leather—all guzzling Lone Star—at the roller derby. The only detail that felt off to me was the tattoos they covered the actresses in. Too many of them looked like they were taken off the first page in a cliches of tattooing book, but I suppose that's the sort of detail that most people who don't live in the most tattooed city in the country would pick up on. A minor thing, and I admit I was won over by the way the movie was a love letter to my city.
It's the standard issue sports film in most ways: loser team gains neophyte with natural talent, starts to win, big climax at the championship, nothing new there. But it felt fresh, because the writing was funny, and the people—the half-employed slackers of Austin—are not the sort of people you see glamorized in movies, and especially not when they're women. It was a lot more feminist than I would have expected. I was really startled by that. Elements that blew my mind and made me very happy:
*Female characters talk to each other about everything that real women do. The Hollywood convention where women spend all their time obsessing over men is not present here. Sure, they talk about men, but the subject doesn't get more attention than other, equally pressing issues. They talk about work, school, their parents, their friends, their hobbies, and…..feminism. That word isn't used, but the idea that a young woman's rebellion against conformity might have something to do with the stifling nature of roles for women is explicitly dealt with.
*The mother/daughter antagonism is dealt with in a humanizing way, instead of falling on the old cliche that dewy young women are heroes and older women are witches. The mother is even allowed to have her vices and her sexuality. And a job! Most of Hollywood seems to forget that women have to work to eat, but every woman in this movie had a job, and most of them were boring, workaday jobs.
*The movie is about a woman finding herself through not just work, but competition. And real competition, not cattiness—one character actually says she wants to win in a fair fight on the rink, not by using the catty methods of sabotage and back-biting. Women competing honorably, women exhibiting ambition, and above all, women finding themselves not through a man or a baby, but through doing what they love? Why aren't there more movies like this?
*Spoiler. The girl doesn't get the guy at the end, and that doesn't detract from the happy ending at all.
*The best friend character is shown as someone who gets all As, strives to get into a good college, and yet, she's not characterized as a desexualized nerd, but a self-confident, sexy young woman.
Why aren't there more movies like this? Well, like I said, the audience was mostly female, and we're not a target demographic, so I guess I have my answer. But this movie was leagues above other female-loaded comedies like Sex and the City that still fall into the cliches about how life is mostly about men, marriage, and babies. Not that the characters in the movie don't have men, marriage, and babies, but that's not how they're defined. And it feels completely natural. Plus, Kirsten Wiig gets to show off that she has acting chops beyond just being droll and funny, so bonus.
Jos at Feministing also reviews it.