Don't miss stories. Follow Raw Story!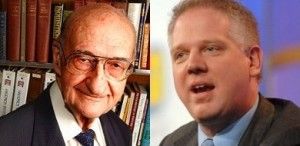 "White schoolchildren would 'envy the freedom' of 'colored playmates.' Slave food, even if monotonous, was plentiful. Corn bread and bacon were the mainstays, with plenty of fruit and vegetables in season. In hog-killing time, countenances were unusually greasy."
— Glenn Beck's idol, far-right activist W. Cleon Skousen in "The Making of America". Beck has made some of this man's writings the centerpiece of his of 9-12 Project.
I don't even know where to begin with the above statement.
We all know that Faux News hack Glenn Beck cannot bring himself to describe "white culture" when directly asked to explain what he meant by the term when he referred to the President as having "a deep-seated hatred for white people, or white culture."
I imagine it will be even more challenging for the bluster-filled bigoted Beck to explain what he terms the "divinely inspired" work of W. Cleon Skousen, who has published some of the most incredible racist revisionist history about slavery that I've ever seen. There's no other term for this garbage than a flaming pile of cowsh*t. (Media Matters):
Newly sold slaves "usually a cheerful lot." "The tendency was to sell families as units, if for no other reason [than] to keep the slaves contented. The gangs in transit were usually a cheerful lot, though the presence of a number of the more vicious type sometimes made it necessary for them all to go in chains. At the other extreme, when the Central of Georgia railroad company in 1858 equipped a Negro sleeping car to assist in the slave trade it set a standard not always maintained in a later generation. When on the block, the slave was as likely to hinder as to help in his sale. Some, out of a vain conceit in bringing a high price, would boast of their physical prowess, in which case an unwary purchaser would likely be cheated. Others would malinger, because of a grudge against owners or traders or in order to bring a low price and be put at less tiring labor. Dealers, also, adopted the tricks of horse traders to make their merchants more attractive — the greasiest Negro was generally considered the healthiest." [The Making of America, pages 731-732]

Slaves hampered efficiency of white labor. "In the management of slave labor the gang system predominated. The great majority of owners, having at the most only one or two families of Negroes, had to work alongside their slaves and set the pace for them. Slavery did not make white labor unrespectable, but merely inefficient. The slave had a deliberateness of motion which no amount of supervision could quicken. If the owner got ahead of the gang they all would shirk behind his back." [The Making of America, page 732]

Cruelty rare, slave owners "the worst victims." "Excessive toil occurred only where the masters or overseers were feeble witted as well as brutal. A persistent rumor among abolitionists was that sugar planters followed a policy of working slaves to death in seven years as a matter of economy. The persons spreading such reports were as ignorant of Negro nature as they were of conditions in the sugar mills. Furthermore, they overrated the ability of the masters to know how to kill a slave in the given time instead of leaving him a broken-down burden to the plantation. When they set out to prove the accusation they returned with no evidence, but convinced that the practice existed in some obscure region which they had not succeeded in ferreting out. Harriet Martineau, after watching slaves go through the motions of work without tiring themselves, considered the planters as models of patience and observed that new slave owners from Europe or the North were prone to be the most severe. Numerous observers, of various shades of opinion on slavery, agreed that brutality was no more common in the black belt than among free labor elsewhere, and that the slave owners were the worst victims of the system." [The Making of America, pages 733-734]

Southern life a "nightmare" of fear — for white people. "The constant fear of slave rebellion made life in the South a nightmare, especially in regions where conspiracies were of frequent occurrence. The extermination of white civilization in Santo Domingo was followed in the nineteenth century by several other bloody outbursts in the West Indies, which never failed to cause ominous forebodings in America. […]