Don't miss stories. Follow Raw Story!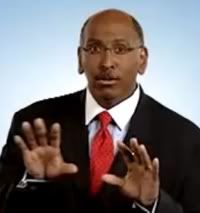 Now how are the Republicans going to say that it's just a few nuts out there trolling against the POTUS?
Michael "MC" Steele shoots out press releases all day long (trust me, they land in my inbox then most I laugh at and then hit the delete button), but somehow I doubt anyone over at the RNC is tapping on the keyboard about this. (Media Matters):
Yesterday, Newsmax columnist John L. Perry brought up the possibility of a military coup against President Obama. Most chilling, perhaps, was the fact that Perry seemed to offer tepid support for the idea. "A coup is not an ideal option," he acknowledged, "but Obama's radical ideal is not acceptable or reversible."

…But more significant than a radical opinion piece is the fact that the Republican National Committee appears to provide financial support to the website that published it. Indeed, the RNC has recently borrowed Newsmax's email list (presumably for a fee) so Michael Steele could fear-monger about the Democrats' "desire for socialist control over our lives."

This is becoming an alarming pattern for Steele's RNC. As conservative blogger Jon Henke previously noted, the RNC has also rented an email list from World Net Daily, one of the main culprits behind conspiracy theories regarding Obama's birth certificate. When Henke emailed the RNC for comment, the RNC refused to distance itself from World Net Daily or comment on their relationship.