Don't miss stories. Follow Raw Story!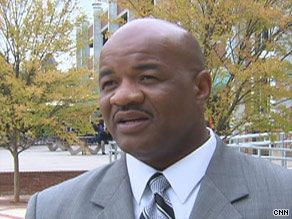 We are talking about five students who are living a gay lifestyle that is leading them to dress a way we do not expect in Morehouse men."
— Dr. William Bynum, vice president for Student Services
When sweeping statements like this are made, it makes you want to ask Bynum if he knows if there's a difference between gay/trans/cross-dressing, since it's pretty apparent from the ignorant statement that he probably doesn't. (CNN):
An all-male college in Atlanta, Georgia, has banned the wearing of women's clothes, makeup, high heels and purses as part of a new crackdown on what the institution calls inappropriate attire. No dress-wearing is part of a larger dress code launched this week that Morehouse College is calling its "Appropriate Attire Policy."

The policy also bans wearing hats in buildings, pajamas in public, do-rags, sagging pants, sunglasses in class and walking barefoot on campus.

Senior Devon Watson said he disagrees with parts of the new policy, especially those that tell students what they should wear in free time outside of the classroom.

"I feel that there will be a lot of resentment and backlash," Watson said. "It infringes on the student's freedom of expression. I matriculated successfully for three-and-half years dressing so how is this a problem?"
It's one thing to ban droopy drawers and dressing in pajama bottoms on campus because it looks unprofessional, but when you cross into the territory of a blanket statement about gender expression, it's discriminatory. What if a male student shows up for class dressed in a sharp tailored woman's business suit, appropriate footwear, etc? to Bynum, that's equivalent to dressing up like Carmen Miranda with a basket of fruit on her head.
According to the CNN article, Bynum met with the campus gay organization, Morehouse Safe Space, which voted on the policy and overwhelmingly supported it, 27-3. MSS says on its Twitter page that "We are the ONLY LGBT Organization @ Morehouse College. We strive to find an alliance amongst Gay & Straight Students in the AUC." I think it's a safe assumption to say the "T" is there as lip service based on that vote. Given how there's already a lack of affirmation for LGB at many HBCUs, the trans issue is simply not enough on the radar to put up a fight, and that's sad.
An another article (Atlanta Journal-Constitution), Bynum gives additional reasoning for the no-dresses policy that are also revealing and relevant to note.
"This is necessary, this is needed according to the students," he said. "We know the challenges that young African-American men face. We know that how a student dresses has nothing to do with what is in their head, but first impressions mean everything."
It shows you how black (and other POC) trans folk are double damned in their communities — they are the living hurdle to cultural acceptance and thus are vilified in policies like this.
***
The article also notes that at Hampton University that would enrage me — students with braids or dreadlocks are encouraged to cut their hair. Again, locs are becoming more acceptable in the workplace, HBCUs are concerned that aside from an afro (I assume it would only find a short one acceptable), that locs and braids even a well groomed styles, are an impediment to employment when one is already dealing with racial discrimination. It's not fair, but I'd have to say, in some parts of the country and some professions, this crap is still true. You have to land the job first, and then see if you can "go natural."
The Morehouse Dress Code Policy is below the fold.
Morehouse College Appropriate Attire Policy
October 2009

Published in The Maroon Tiger

It is our expectation that students who select Morehouse do so because of the College's outstanding legacy of producing leaders. On the campus and at College-sponsored events and activities, students at Morehouse College will be expected to dress neatly and appropriately at all times.

Students who choose not to abide by this policy will be denied admission into class and various functions and services of the College if their manner of attire is inappropriate. Examples of inappropriate attire and/or appearance include but are not limited to:

1. No caps, do-rags and/or hoods in classrooms, the cafeteria, or other indoor venues. This policy item does not apply to headgear considered as a part of religious or cultural dress.

2. Sun glasses or "shades" are not to be work in class or at formal programs, unless medical documentation is provided to support use.

3. Decorative orthodontic appliances (e.g. "grillz") be they permanent or removable, shall not be worn on the campus or at College-sponsored events.

4. Jeans at major programs such as, Opening Convocation, Commencement, Founder's Day or other programs dictating professional, business casual attire, semi-formal or formal attire.

5. Clothing with derogatory, offense and/or lewd messages either in words or pictures.

6. Top and bottom coverings should be work at all times. No bare feet in public venues.

7. No sagging–the wearing of one's pants or shorts low enough to reveal undergarments or secondary layers of clothing.

8. Pajamas, shall not be worn while in public or in common areas of the College.

9. No wearing of clothing associated with women's garb (dresses, tops, tunics, purses, pumps, etc.) on the Morehouse campus or at College-sponsored events.

10. Additional dress regulations may be imposed upon students participating in certain extracurricular activities that are sponsored or organized by the College (e.g. athletic teams, the band, Glee Club, etc).

11. The college reserves the right to modify this policy as deemed appropriate. *All administrative, faculty, students and support staff members are asked to assist in enforcing this policy and may report disregard or violations to the Office of Student Conduct. "