Don't miss stories. Follow Raw Story!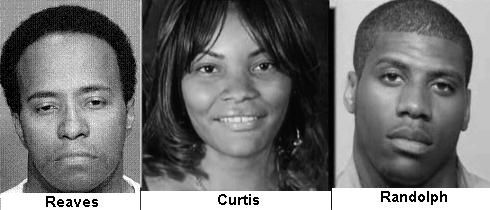 A case here has captured the attention of local media and has exposed the pathological world of the closet, and the hypocrisy and jealousy of an anti-gay pastor who allegedly took the life of an North Carolina Central University student Latrese Curtis, who was "in the way" between him and his roommate, who was the object of the Pentacostal minister's sexual obsession. (WRAL):
Robert Lee Adams Reaves is charged with first-degree murder in the January 2008 stabbing death of Latrese Matral Curtis, 21. rivers discovered her body the morning of Jan. 30, 2008, along Interstate 540 near Louisburg Road. She was stabbed nearly 40 times in the head, neck, chest and stomach. [See the autopsy report.]
Prosecutors have said in previous court hearings that Reaves killed Curtis in a jealous rage because she was having a sexual relationship with his roommate, Steven Randolph, who had rebuffed Reaves' advances.
"Bishop" Robert Reaves of Cedar International Fellowship in Durham has had a checkered past that would have raised some red flags in his congregation.
Reaves, Wake County Assistant District Attorney Jennifer Lindow said in opening statements, has a long history of trying to mentor young men and make sexual advances toward them.

"Steven was not the first person Reaves made sexual advances on," she said. "The same pattern about approaching young men started years earlier and ended with the death of what he viewed as an obstacle to that – Latrese Curtis."
Yes, Reaves must have been preaching anti-gay bigotry even as he engaged in illegal activities that include criminal sexual conduct in Marlboro County, S.C. He was convicted of third-degree sex charges on Jan. 1, 1988. He was also charged with simple assault and battery in 1982 in South Carolina.
Testimony has begun in the trial, and Steven Randolph, who is a former N.C. Central University basketball player took the stand and said that he engaged in a sexual relationship with Curtis, who was separated from her husband, and when Reaves found out about this, it made him fly into a rage, allegedly leading to the brutal slaying of Ms. Curtis.
Apparently Randolph had already been on the receiving end of sexual advances by the closeted pastor and alleged predatory behavior spun out of control.
Hours after Randolph had his first sexual encounter with Curtis, Reaves asked him about his sexual habits and preferences and raised the possibility of his working for an escort service, according to testimony…"He asked me if I was a freak, as far as sexually," Randolph testified Thursday.

Randolph testified that in the fall of 2007 he did not immediately recognize the pastor's proposals as sexual advances toward him. But Randolph said once he realized Reaves' intentions, he told the pastor he was not homosexual or bisexual.

That encounter made Randolph so uneasy, he testified, that he not only left the house immediately to seek refuge with friends, he also got a gun from his cousin to keep in his bedroom.

Randolph told of an unusual string of events in the ensuing months: His girlfriend received phone calls from unidentified young men, threatening to end Randolph's aspirations of becoming a professional basketball player; his tires were slashed; and weeks later his girlfriend's tires were slashed outside her home.
In even more sordid detail, Randolph also testified that Reaves, during one of the propositions for sex, told the basketball player that he could live rent-free in the house if Reaves could perform oral sex on him.
Again, here we see a pious man of the cloth, unable to reconcile his tortured worlds of religious indoctrination and his homosexuality, turns into an alleged deviant predator — and murderer.
Legally, it's not looking good for the Durham pastor — a Wake County sheriff found a knife in Reaves's car.
"It would have been the very back passenger seat," Deputy Alfred Sternberg said. "If you go behind that, there's a rail for where that seat is, and that's where it was."
And his DNA was on the murder victim's steering wheel, according to the forensics experts in Friday's testimony.
Randolph's testimony
Rod McCullom has been following this story for a while; check out his take.
News Report on case: //www.wral.com/news/local/video/6128549/