Don't miss stories. Follow Raw Story!
Usually I reserve this stuff for the later afternoon, but this was so funny I thought I'd bring it up right away. Of course, I just read it last night, so it's not brand new, but it's still funny. Via Sociological Images, OK Cupid used anonymizing software to collect data on half a million inquiry emails—basically the first email you send someone if you like their dating profile to initiate contact—and analyzed which words were the most likely to be in emails that got responses. Anything that went below 30%, they deemed a negative word that should be avoided, since it clearly turns off 70% or more recipients. Some of data they broke down specifically into men emailing women, but most of it was both genders. That said, their funniest and most insightful piece of advice, while it was ostensibly about both genders, seemed more male-focused, mostly because they found that men were the most likely offenders in the art of giving compliments that annoy and insult on accident.
So here's the breakdown on the kind of compliments that get responses vs. the kind that get you shut down.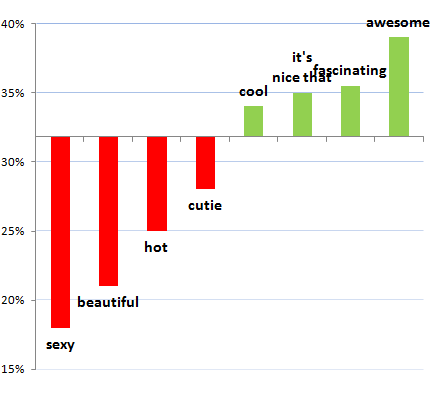 They had to go in and do some extra breakdown, because they found that the word "pretty" has two very distinct uses that create very distinct responses when put in an email from a man to a woman on a dating site. Using the word "pretty" as an adverb to modify an adjective, which is usually done to moderate the adjective (though it can be used for emphasis), turned up pretty good results. Using it as an adjective to describe the recipient of the email was toxic.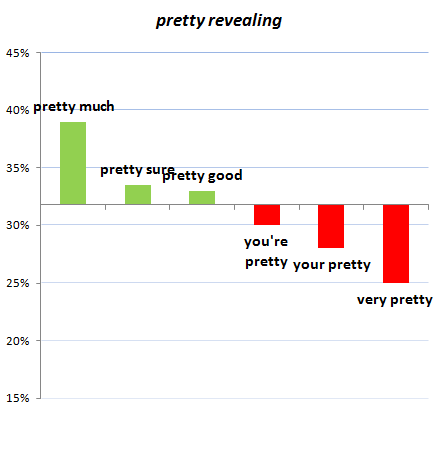 The authors of the study suggested that there were two reasons women recoiled at receiving compliments on their physical appearance: 1) It signals loudly that you aren't even remotely interested in a woman for anything but a pretty object decorating the end of your dick and you should stop bothering actual woman and reconcile yourself to a life of porn plus masturbation until you realize that women have more to offer than just our physiques and 2) that it signals that the sender is probably not attractive himself. Okay, I'm wildly paraphrasing on the first one, but c'mon, you know that's what they're getting at. The second one, I paused over. I thought it was a stretch. But I realized that I'd probably have a knee-jerk assumption that a guy that was so obsessed with looks that he had to mention it first thing is himself unattractive. But I don't know if that's because I'd assume that someone not good-looking would have that obsession so much as I'd assume that the man has no game, no social skills, and that's what makes him less attractive. Mentioning looks right away does seem like it would stink of desperation, like you're saying, "I'm so deprived of sex-ay women in my bed that I can't even chill out, I NEED ONE NOW." Whereas noticing and appreciating a woman's personality goes a long way to sending the message that you are just out to have fun and you want to enjoy the company of an interesting woman.
The next one they broke out by gender, because the results were very gender-specific. And they also fly in the face of every Nice Guy® whine involving armchair evolutionary psychology about how what women really want are assholes who stomp all over their wishes and treat them like shit. They called this "male self-effacement", but I suspect it has a lot more to do with men signaling that they're self-aware and also aware that women get hit on a lot, and therefore they're willing to stand out by being solicitous.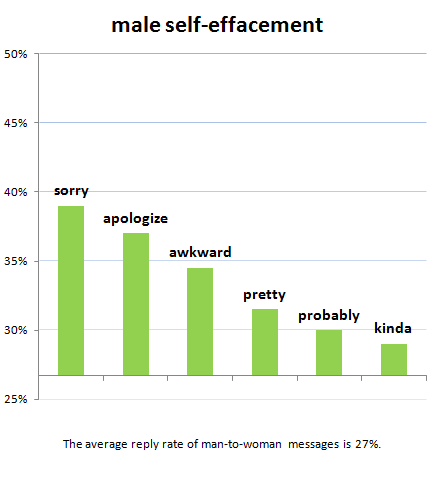 I doubt the presence of these words means the men are groveling. It's probably something more like, "This is awkward, but I found your profile…." or "I'm sorry if I come across as too forward….". It doesn't mean that you're not confident, but it seems that the women of OK Cupid, at least, prefer it when men signal that they aren't going to act entitled and steamroll over your wishes. So much for the "girls like assholes" belief. Interestingly, only "sorry" made much of a difference in female emails to men, probably because the recipients are less likely to be on guard for red flags that the person sending the email is going to act entitled.
One last one, because I thought it was funny and goes without saying, but it's helpful to draw attention to the fact that you paid attention to the careful work someone on a dating website (and presumably any social networking site) put into establishing their personality.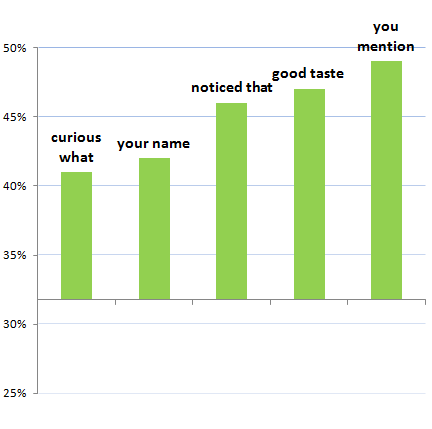 I enjoyed the OK Cupid write-up, because frankly, this sort of thing should be common sense, but it's obviously not. (They indicated that a whole lot of people went straight to trying to get someone not only in chat, but on the phone, which seems like an obviously stupid move.)
So there you have it folks: statistical evidence that the claims of pick-up artists, who suggest that women love being treated like they're all one mass of indistinguishable flesh and that insulting them while acting like an entitled jerk will get them into bed, are not drawn from reality. Indeed, it seems that pick-up artists sell a lot of books because their audience has a lot of misogynist anger, and they enjoy fantasizing about women being stupid and so inhuman that they can't even have basic human desires like being appreciated for themselves and not being treated like shit. The truth is that the average woman is more responsive to considerate men who indicate an interest in her specifically.
Of course, pick-up artists don't ply their trade online. They go to bars for a specific reason, which is that it's much easier in person to keep someone in your clutches by exploiting both her politeness and her female training not to get confrontational when rejecting a man. Approaching someone online takes away the ability to use social norms to coerce someone into paying attention to you, if only for as long as it takes her to find a way out or get rescued by a friend.
But I will say that all this examination of pick-up artists has given me one very valuable tool: the neg. Oh, it doesn't work to get someone to like you more in the slightest. But I've found that insulting someone, especially by using a back-handed compliment, is a really great way to run off a guy that's hitting on you in the most douchebaggy way. I recently told a guy who came up and dropped a really stupid line on me that I was surprised he had the nerve to approach me, because I'd imagine a guy like him would usually be intimidated by someone like me. I think that fit all the neg rules—there was a back-handed compliment buried in there, I established that I had a right to cast judgment, established my social dominance, and implied that he should feel insecure, which pick-up artists promise will make the neg receiver try to prove their worth. Instead, it threw him for a loop, and he didn't like it, and therefore wasn't even remotely interested in stalling me as I made my escape. Pick-up artists, you lie!