Like this article ? Text `Support` to 50123 to donate.
Humans are unique in their ability to develop sophisticated language abilities. Language allows us to communicate with each other and live in complex societies. It is key to our advanced cognitive abilities and technological prowess.
As a developmental psychologist, I have extensively studied the role of language in children's cognitive development, especially their executive functions – the cognitive skills that allow them to control their behaviour, plan for the future, solve difficult problems and resist temptation.
Executive functions
The development of executive functions occurs slowly over the course of childhood. As they get older, children get better at organizing their thoughts and controlling their behaviours and emotions. In fact, humans are the only known species to develop advanced executive functions, although other species like birds, primates and dogs have rudimentary executive functions similar to young children.
In humans, our ability to develop executive functions has been linked to our language development. Language permits us to form and hold representations of our goals and plans in mind, allowing us to govern our behaviour over the long term.
What is not clear is whether language actually causes the emergence of executive functions, and whether the relation between language and executive functions exists only in humans.
Canine behaviour
For humans, studying dogs offers the perfect opportunity to consider these questions. First, dogs possess rudimentary executive functions. These can be measured in a variety of ways, including asking owners about their dogs' ability to control their behaviours, as well as behavioural tests designed to assess dogs' control abilities.
Second, not only do we expose dogs regularly to human language, but research also indicates that dogs can perceive different words and can learn to respond to specific words. For example, three dogs — two border collies named Chaser and Rico, and a Yorkshire terrier named Bailey — learned to respond to over 1,000, 200 and 100 words, respectively.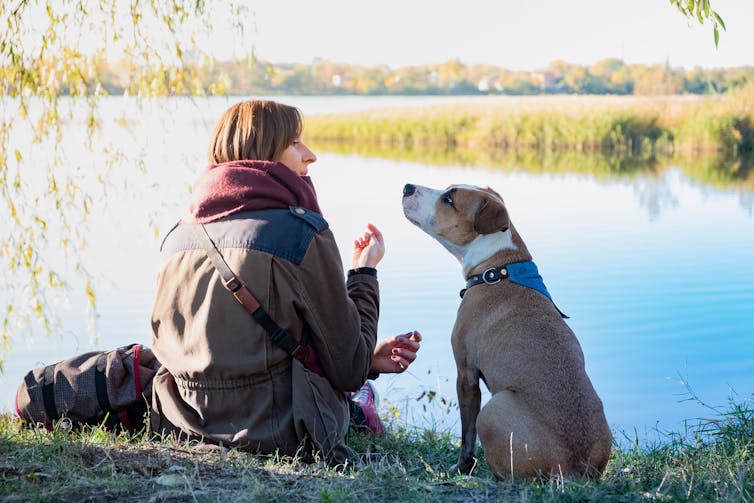 Dogs are regularly exposed to human language.
(Shutterstock)
However, many dog language studies have been limited in scope, either examining the word-based responses of only one or a small sample of dogs, or the responses of multiple dogs but only to select words.
One exception was a study in which 37 dog owners were asked to list words they believed their dogs responded to consistently. Owners reported that their dogs responded to an average of 29 words, although this likely is an underestimation. Indeed, research using a similar free-recall approach with parents shows that they are prone to forget many words when asked to generate lists of words to which their babies respond consistently.
Communicating with dogs
Research with human infants does provide a solution for systematically and reliably assessing word-based responding in large samples of dogs. Arguably the best and most widely used measure of early language abilities of infants is the MacArthur-Bates Communicative Development Inventories, a parent-report checklist of words responded to consistently. Remarkably, the number of words selected on the MacArthur-Bates Communicative Development Inventory predicts children's language development years later.
In 2015, I began a collaboration with psychologist Catherine Reeve, at the time a graduate student working on dogs' scent detection abilities. Our goal was to develop a similar measure of vocabulary for use with dog owners that we could then use to examine links between language and executive functions.
We developed a list of 172 words organized in different categories (for example, toys, food, commands, outdoor places) and gave it to an online sample of 165 owners of family and professional dogs. We asked them to select words that their dogs responded to consistently.
We found that, on average, service dogs respond to about 120 words, whereas family pets respond to about 80 words, ranging between 15 to 215 words across all dogs. We also found that certain breed groups, such as herding dogs like border collies and toy dogs like chihuahuas, respond to more words and phrases than other breed types like terriers, retrievers and mixed breeds.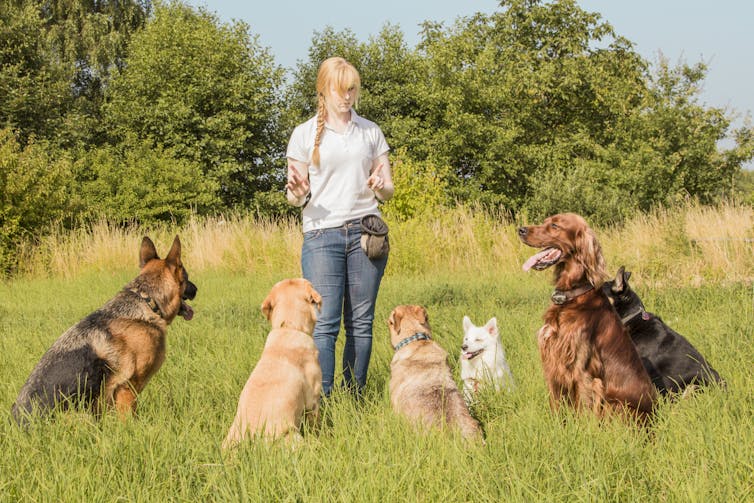 Understanding how dogs process language can help train service dogs.
(Shutterstock)
What we don't yet know is whether dogs who respond to more words also have better executive functions. We recently assessed 100 dogs on a behavioural measure of executive functions and had their owners identify words on our vocabulary checklist. We are now analysing the results.
I first became interested in studying dogs to see what they might tell us about child development. That said, this research might also provide important practical information about dogs. For example, it is very expensive to train puppies for service work and many do not make the final cut. However, if early word-based responding abilities predict later behavioural and cognitive abilities, our measure could become an early and simple tool to help predict which dogs are likely to become good service animals.

Sophie Jacques, Associate Professor, Psychology and Neuroscience, Dalhousie University
This article is republished from The Conversation under a Creative Commons license. Read the original article.
CONTINUE READING
Show less
The land contact between North and South America has long been a fountain of research. The Isthmus of Panama — the narrow strip of land between the two continents — fully emerged about 3.5 million years ago. It allowed contact between terrestrial North and South American mammals, and resulted in wide-scale invasions of placental mammals into South America and the ultimate extinction of most southern marsupials.
In the late Jurassic, 150 million years ago, Earth was emerging from a relatively cool period, the supercontinent Pangea was breaking up, and a spike in extinction intensity rippled across the ecosystems. During the following period, known as the Early Cretaceous, the planet was warming, global sea levels and atmospheric oxygen were rising and the continents continued to fragment.
As a result, two entirely isolated oceans, the Eastern Pacific and the Western Tethys, which would later become the Atlantic Ocean, came together across the Hispanic Corridor. This union of oceans during a time of relatively high temperatures created a perfect storm for ecosystem evolution and drivers for novel biodiversity in the Neotropics — an event that would transform the course of marine ecosystems for the next 60 million years.
Biodiversity hotspot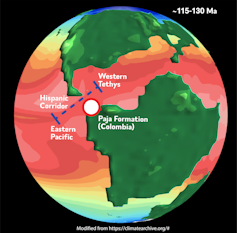 Hispanic Corridor.
(Climate Archive), Author provided
Our research team, consisting of scientists from Colombia, Canada and Germany, explored the Neotropics by using the fossil record from the Paja Formation, a poorly studied shallow marine deposit in central Colombia that was laid down just after the formation of the Hispanic Corridor. Our main goal is to understand the origin and evolution of this marine ecosystem, and if it served as a potential ancient biodiversity hotspot — an epicentre for new species to originate and flourish.
We discovered a new species of ichthyosaur, the giant fish-like marine reptile. While examining a beautifully preserved skull specimen of the species we named Kyhytysuka sachicarum, we recognized this to be the first Cretaceous hypercarnivore ichthyosaur.

The skull of Kyhytysuka sachicarum.
(Cortés, Maxwell, Larsson), Author provided
The new species evolved from Jurassic ichthyosaurs in the Tethys, but differed in that it had unique teeth for an ichthyosaur: there were several different tooth shapes that served different purposes, ranging from piercing to saw-tooth cutting to crushing.
This large ichthyosaur represents a revival of hypercarnivory (eating large prey). Although some early evolving ichthyosaurs did this, they moved to small fishes and invertebrates for the next 70 million years. Kyhytysuka somehow re-evolved the capacity for hypercarnivory during this time and place of intense ecological upheaval.
Large marine animals
Kyhytysuka was also one of the last surviving ichthyosaurs. Most ichthyosaurs went extinct by the end of the Jurassic — only a few made it into the Cretaceous but none survived past 100 million years ago. The fossil record in the Paja Formation preserves hints of the changing marine ecosystem.
3D animation of Kyhytysuka sachicarum.
These rocks preserve some of the largest marine animals ever discovered, including several ichthyosaurs, enormous whale-sized pliosaurs, the first long-necked elasmosaurs and a 10-metre-long crocodile that was the last survivor of a long lineage of Jurassic marine crocodiles.
The fossil record also contains the oldest known marine turtles in the lineage of today's sea turtles as well as the origins of several crustaceans that survive today .
The information in the fossil record helps us reconstruct ancient food web interactions based on what was present in the Eastern Pacific and the Western Tethys prior to their contact and what was present during their contact in the Paja Formation. Changes to these ancient food webs promise to shed light on the environmental and ecological factors involved in the long-term sustainability of ecosystems.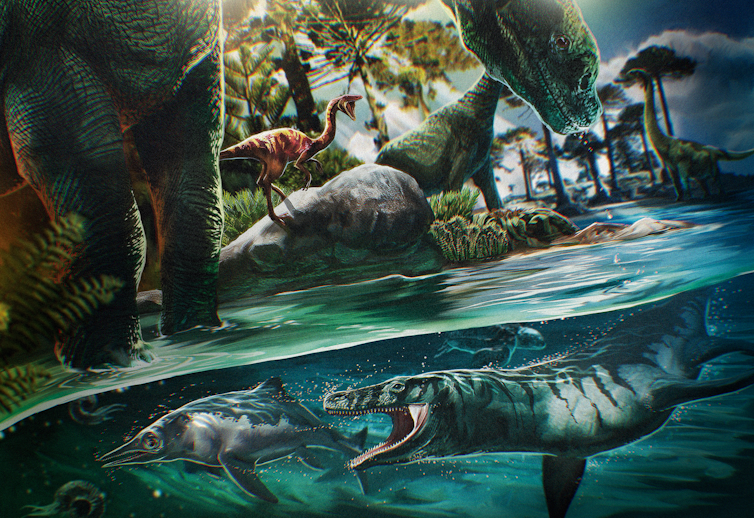 An artist's reconstruction of an Early Cretaceous ecosystem, created for Hace Tiempo, the first illustrated book about Colombia's geological history.
(Hace Tiempo/C. Jaramillo and Guillermo Torres Carreño), Author provided
Careful inspection of fossils from this unique time and place offers a new window into what happens when ecosystems collide. So far, we're finding this facilitates the evolution of enormous top predators and several evolutionary origins of new lineages that would persist for millions of years.
These results provide relevant data for better understanding of the consequences of the Jurassic-Cretaceous extinction on marine animals and, ultimately, of the advent of today's marine ecosystems.

Dirley Cortés, PhD Candidate, Biology, Redpath Museum, Biology Department, McGill University and Hans Larsson, Professor, Vertebrate Palaeontology, and Director, Redpath Museum, McGill University
This article is republished from The Conversation under a Creative Commons license. Read the original article.
CONTINUE READING
Show less
In a few weeks' time, a rocket launched in 2015 is expected to crash into the Moon. The fast-moving piece of space junk is the upper stage of a SpaceX Falcon 9 rocket which hoisted the Deep Space Climate Observatory satellite off our planet. It has been chaotically looping around Earth and the Moon ever since.

Asteroid-hunter Bill Gray has been keeping tabs on the 4-tonne booster since its launch. This month he realised his orbit-tracking software projected the booster will slam into the lunar surface on March 4, moving at more than 9,000 kilometres per hour.
The booster is tumbling wildly as it travels, which adds some uncertainty to the timing and location of the predicted impact. It is likely to occur on the far side of the Moon, so it won't be visible from Earth.
Some astronomers say the collision is "not a big deal", but to a space archaeologist like me it's quite exciting. It will be the Moon's newest archaeological site, joining more than 100 other locations that document human activity on the Moon and in cislunar space.
A history of crash landing on the Moon
The impact will leave a new crater on the dark side of the Moon.
The very first human-made artefact to make contact with the Moon was the Soviet Luna 2 in 1959 - an extraordinary feat, as it was only two years after the launch of Sputnik 1, the first artificial Earth satellite.
The mission consisted of a rocket, a probe, and three "bombs". One released a cloud of sodium gas to enable the crash to be seen from Earth. The USSR didn't want the groundbreaking mission to be called a hoax.
The other two "bombs" were spheres of pentagonal medallions inscribed with the date and Soviet symbols. If they exploded as planned, they would have scattered 144 medallions over the lunar surface.
Other crashes have been missions gone wrong, like the Israeli Beresheet lander in 2019. This was especially controversial as the lander carried a secret cargo of dried tardigrades, tiny creatures that could be revived in the presence of water.
Various spacecraft have naturally decayed and fallen out of orbit, like the Japanese relay satellite Okina in 2009. Others have been intentionally crashed at the end of their mission life.
The NASA Ebb and Flow spacecraft were deliberately crashed into the lunar south pole in 2012, specifically to avoid any risk of damaging the Apollo landing sites. Impacting at a speed of 6,000km per hour, they left craters 6 metres across.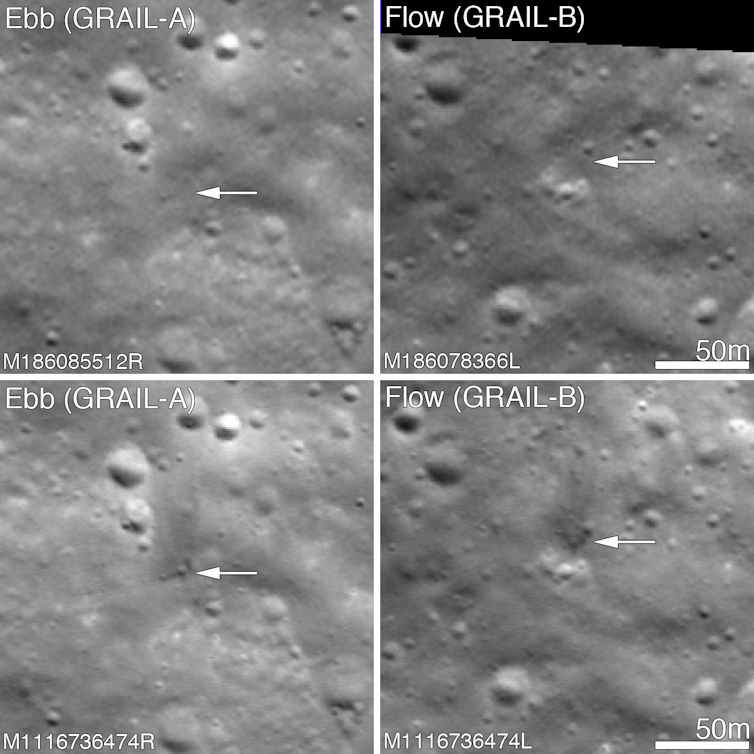 The upper images show the landscape before impact and the lower images show the craters and the dark ejecta.
NASA
Many crashes have been used to collect seismic data. Observations from the controlled impact of Saturn third-stage boosters and ascent modules from the Apollo missions were particularly valuable, as timing, location and impact energy were known.
Environmental impacts
The Falcon 9 rocket stage is significantly larger than the tiny Ebb and Flow spacecraft and is travelling faster. The crash will make a much larger crater, which will kick up chunks of rock and dust. On this airless world, the dust could travel a fair way before settling down.
The only other spacecraft on the Moon's far side are the US Ranger 4 probe, which crashed in 1962, and China's Chang-e 4 lander and Yutu-2 rover. Yutu-2 is still trundling along the lunar surface on its six wheels.
Yutu's latest results show that "soil" on the far side may be stickier than the near side, and there is a higher density of small craters.
The rocket stage could potentially cause damage to these historic spacecraft, if it lands on or near them. However, this is statistically unlikely. Current predictions have it landing in Hertzsprung crater, a long way from the Aitken basin where the Chinese spacecraft are operating.
Although there are no cameras to observe the crash, at some point NASA's Lunar Reconnaissance Orbiter is likely to pass over and image the impact point.
We'll learn something about the geology of the location from the colour differences and distribution of the ejected material. It's an opportunity to learn more about the Moon's mysterious far side.
Changing attitudes to space junk
In the earlier Space Age, little thought was given to leaving what many call "trash" on the lunar surface.
The Moon is sometimes considered a "dead" world because it has no life. The Committee on Space Research (COSPAR) Planetary Protection Policy does not require any special precautions for lunar activities.
But there is a growing awareness the Moon has distinct environmental values of its own. The Declaration of the Rights of the Moon, created by a group of independent researchers, states the Moon has "the right to exist, persist and continue its vital cycles unaltered, unharmed and unpolluted by human beings".
Canadian researchers Eytan Tepper and Christopher Whitehead have suggested the Moon could be protected by giving it legal personhood, much like the Whanganui river in Aotearoa New Zealand.
The Moon is struck by meteors all the time. In many ways, the Falcon 9 impact will be just another one. What makes it interesting is how it acts as a litmus test for changing public opinions about our responsibilities to the space environment.
The public is looking for accountability from space agencies and private corporations. As plans for lunar mining and habitation accelerate, hopefully it's a message that is ready to be heard.

Alice Gorman, Associate Professor in Archaeology and Space Studies, Flinders University
This article is republished from The Conversation under a Creative Commons license. Read the original article.
CONTINUE READING
Show less
{{ post.roar_specific_data.api_data.analytics }}