Less focus on the scale, more on the muscle?
File in the "interesting and useful if proven true" files: Research has come out showing that the health risks associated with obesity may be more a matter of fat-to-muscle ratios than just the number on the scale. The spin on the article is that there's a lot of fat thin people—people who have a BMI in the normal range, but who have very little muscle mass compared to fat, and therefore end up having a lot of the same health problems related to obesity.
This does reinforce the point a lot of fat activists make about how the health to weight thing is more complicated than you'd think. It's definitely true that a lot of thin people eat like shit and don't exercise, and often with predictable results. What is also interesting is that the converse might have some traction, too—that a lot of people whose number on the scale indicates that they're overweight or even obese may not be as bad off as predicted, because their fat-to-muscle ratio is in a healthy range. Fat activists have pointed out exceptions to the BMI obesity rule for a long time, pointing out that well-exercised beefy men like Arnold Schwarzenegger or George Clooney are technically obese by the BMI standard, but they're in good shape by the common sense standard. This research may demonstrate how true that is. That said, most people that tip over into the "obese" range on the BMI scale are probably still carting around more of their body weight in fat, and so I imagine they're just going to be told by the doctor to lose weight, just like usual.
What makes this good news is that it might incline doctors to think about exercise's role in all this more than they currently do. Not that any doctor would deny that exercising is good for you, but in all honesty, most interactions involving these issues involve people stepping on a scale, and if their weight is in the normal range, the doctor says nothing, and if they're overweight or obese, the doctor tells them to lose weight. And in our culture, that gets interpreted as "go on a diet". But diets mostly don't work. By measuring success and failure in this department strictly from the scale, we continue to encourage this ineffective strategy. It's not that Americans don't think exercise is a good idea—we do—but let's face it. It's not really treated as important as dieting by a long shot, even though it's way more effective at reaching the health goals that this is all supposed to be about. Maybe this research will incline doctors to talk to all patients, no matter where they stand scale-wise, on the importance of exercise and specifically of strength-training.
Interestingly, one reason I think that our culture tends to favor crash diets over exercise is that the body type for women (who are, after all, the target for most weight-related attention, even though these health issues matter as much if not more to men) that is most celebrated is the anorexically thin one. We've all heard women write off doing strength-training on the grounds that they don't want to "bulk up". In her marvelous science book Woman: An Intimate Geography, Natalie Angier has a great rant about this, as a feminist and as a science lover. In sum, she argues that the fear is paranoid, because women's hormones usually prevent the kind of bulking up that can happen with men who lift a lot of weights, and that the bulky female weight lifters you see have usually been taking steroids to get that look. Not that there's anything wrong with being bulky muscular, but granting that there's a reason that women might not want to look like body builders or start bulging muscles out of their clothes, it's still a silly fear. And I nodded alongside Angier, thinking that all these women are so afraid of an imaginary threat to their looks that they're putting themselves at risk for osteoporosis and other ailments.
But a few months ago, Austin Cline sent me this link to a (admittedly unscientific) poll that showed that many women, when thinking of women who are "too" muscular, aren't thinking of body builders, but women who simply look like their legs can move their bodies around with relative ease. Jessica Alba and Hilary Swank were amongst the women deemed "bulky". The blogger had a collection of pictures deemed "bulky" women.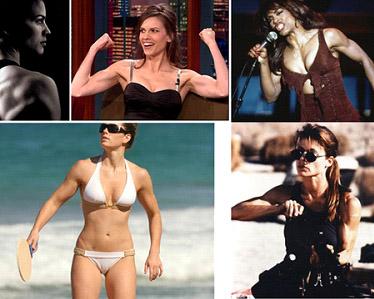 Some of the results are mixed—a lot of women polled still found women like Alba attractive, but 41% said that muscles are never attractive on women. 72% said they don't think men find muscles on women attractive, and 77% said that they don't think women find them attractive. I found this entire survey startling, honestly, because I've never thought much about a woman who is cut beyond, "Awesome", and I really love it when I'm working out enough to start seeing muscle definition. I don't think Hilary Swank looks "bulky" so much as "fucking amazing". But this survey indicates that there may be widespread prejudice against women with defined muscles, and that this may influence women's choices.
Of course, a lot of women realize that being muscular is a healthier, more realistic goal for them than being a waif. But this glamorizing of the mostly fleshless still inclines me to think that Angier's right, and a lot of women—even those who are far from ever being waif-like—are avoiding weight training because they believe it adds bulk and makes them bigger. Because even if you think you'll never be Paris Hilton skinny, you're probably going to get anxious about any kind of exercise that you assume will make you bigger (even though it really won't). That minefield strikes me as a very plausible factor in why diets are emphasized over exercise in our culture, even though diets don't work and even if they shrink your dress size, they may not result in health benefits so much as being hungry and weak.
I will say that this survey's results does explain the cultural horror and fascination with Michelle Obama's arms. Who knew that so many people are wigged out by even the mildest evidence of strength?
New details revealed in the bizarre story of Jerry Falwell Jr, a pool boy and 'compromising photographs'
The New York Times has put together a lengthy report about the utterly bizarre circumstances surrounding Liberty University President Jerry Falwell Jr., former Trump "fixer" Michael Cohen, a former pool boy, and purportedly "compromising photographs."
The story begins in 2012 when Falwell and his wife enjoyed a stay at the Fontainebleau, a Florida luxury resort known for topless sunbathing and a massive underground nightclub described by one travel guide as "30,000 square feet of unadulterated fun."
Revealing gruesome new details of Khashoggi murder, UN report says 'inconceivable' crown prince not involved
In a thorough and damning report on the murder of journalist Jamal Khashoggi released Wednesday, United Nations special rapporteur Agnes Callamard found that Khashoggi was "the victim of a brutal and premeditated killing" that was likely orchestrated by top officials in the Saudi government, including Crown Prince Mohammed bin Salman.
"Evidence points to the 15-person mission to execute Mr. Khashoggi requiring significant government coordination, resources, and finances," Callamard wrote. "Every expert consulted finds it inconceivable that an operation of this scale could be implemented without the crown prince being aware, at a minimum, that some sort of mission of a criminal nature, directed at Mr. Khashoggi, was being launched."
Critics lament as 126 House Democrats join forces with GOP to hand Trump 'terrifying' mass domestic spying powers
Privacy advocates and civil liberties defenders are expressing outrage after the Democratic-controlled U.S. House of Representatives on Tuesday night voted down a bipartisan amendment designed to end, as one group put it, the U.S. government's "most egregious mass surveillance practices" first revealed by National Security Agency whistleblower Edward Snowden.
In a final vote of 253-175, it was 126 Democrats who joined with 127 Republicans to vote against an amendment introduced by Rep Justin Amash (R-Mich.) and Rep. Zoe Lofgren (D-Calif.) that would have closed loopholes in Section 702 of the Foreign Intelligence Surveillance Act that critics charge has allowed the NSA to abuse warrantless surveillance capabilities and target the emails, text messages, and internet activity of U.S. citizens and residents. See the full roll call here.