The Peter calls for KO's removal as NFL commentator, fixates on Dan Savage
Your blogmistress doesn't get the love from The Peter anymore. I didn't even make the cut for "Gay Grinch 2009" – that honor went to the "Hateful Dan Savage". Porno Pete is still smarting over the witticism of Dan related to Little Ricky:
Only a perversion activist as twisted as Savage could stage a contest with his readers to come up with a sickening definition to associate with "santorum" — because he was upset that former Pennsylvania Senator Rick Santorum (R) made comments critical of homosexuality (in 2003).
But it seems that LaBarbera hasn't lost an iota of obsession over Dan. Witness this love note featuring the laughable diatribe of Peter's BFF, Matt "Bam Bam" Barber, "Barber: The Crucifixion of Brit Hume." PP salivates over an interview Dan did with Keith Olbermann, and calls for the NFL and NBC to drop Olbermann for criticizing Brit Hume's pious advice for Tiger Woods to convert to Christianity.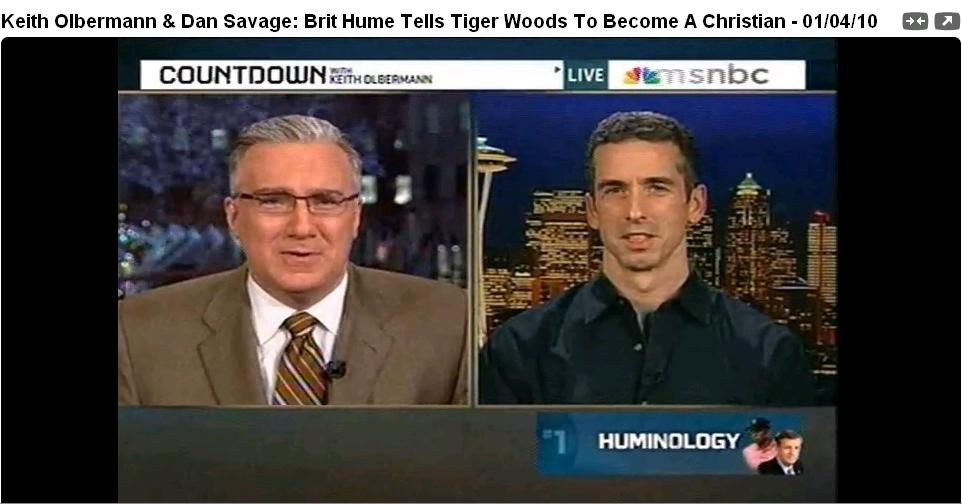 Well, we extolled Brit Hume and his sage advice to Tiger Woods, so now we have to give you some of the hyperventilating comments from America's reactionary secular bigots, headquartered at MSNBC, of course. That includes the left-wing network's chief blowhard, Keith Olbermann, who joined self-described "radical sex-advice columnist faggot," Dan ("Three-Way") Savage, in ridiculing Hume's heartfelt Christian outreach to Woods.

Why on earth is Olbermann still a TV commentator for NFL games (for NBC Sports)? Seems that if the NFL cannot tolerate Rush Limbaugh as an owner, why does it allow a mean-spirited, Christian-bashing, hard-left talker to be connected to the league in any way? Let's see if we can help to change that. — Peter LaBarbera, www.aftah.org
Mueller is signaling he'll be tough witness — and it could play right into the GOP's hands
Former Special Counsel Robert Mueller is sending a very clear message: He doesn't want to testify.
That's the not-so-subtle subtext of the announcement that Mueller plans to submit the 448-page report detailing the findings of the Russia investigation as a statement for the record during his hearing before the House scheduled for Wednesday. Of course, Congress already has the report, so the move isn't necessary. It's Mueller's way of saying, as he has previously, "The report is my testimony."
Maddow details how Stephen Miller's backstory makes his anti-immigrant fantasy even more horrifying
MSNBC anchor Rachel Maddow interviewed the uncle of White House advisor Stephen Miller on Monday to detail the family's fascinating backstory.
"It begins at the turn of the 20th century, in a dirt-floor shack in the village of Antopol, a shtetl of subsistence farmers in what is now Belarus. Beset by violent anti-Jewish pogroms and forced childhood conscription in the Czar's army, the patriarch of the shack, Wolf-Leib Glosser, fled a village where his forebears had lived for centuries and took his chances in America," Dr. David Glosser explained in Politico.
'The people of Montana are no fools': Liberian refugee taking on Trump-loving Senator Steve Daines
First-term Sen. Steve Daines (R-MT) was one of the few members of Congress to praise President Donald Trump's racist "go back" taunts that his supporters turned into a "send her back" chant against a black former refugee.
https://twitter.com/SteveDaines/status/1150859069084905472
In response, the Billings Gazette chastised Daines in an editorial, saying, "Montanans are more sickened by the never-ending torrent of childish, bigoted views that are shoveled from the White House that make the country look like bigots and idiots. And we're nauseous when folks like Daines invoke our state in defending a spoiled New York developer who would get tongue-lashed by most Montanans for the way he takes to Twitter."