Stories Chosen For You
MAYFIELD — Doug Irby, owner of a mold removal and home foundation repair company, sees daily reminders that Kentuckians still need help to recover from the tornadoes of December 2021.
Yet most of the donations that Kentucky has set aside to help victims pay for unmet needs remain untapped, leaving survivors wondering if that help will ever come.
Driving in Mayfield, the Graves County seat and one of the hardest hit communities, Irby points to the blue tarps of damaged roofs dotting residential streets.
"You can ride around and say, 'Hey, they need a roof. Why don't they have the money?'" Irby said. "We're going past year one, going into year two — and these people are living in these (damaged) homes with their families. And it makes me so mad."
Donors from around the country sent $52 million to help tornado victims
After the tornado outbreak, more than $52 million in donations poured into the Team Western Kentucky Tornado Relief Fund from all over the country. The money has been disbursed in several ways, including paying for funeral expenses, new housing and $1,000 checks to survivors.
Last July, pressed by frustrated local recovery leaders, the state provided $12 million from the fund for addressing survivors' unmet needs, from replacing ruined appliances to replacing damaged roofs.
Long-term recovery groups run by volunteers in impacted communities were to handle the applications for aid, which would require final approval by the state Public Protection Cabinet.
As of mid-January, only 10% of the money had reached survivors, while $10.8 million of the $12 million remained unspent.
How has so much generosity still not reached its intended recipients?
Leaders of long-term recovery groups in Western Kentucky say unreasonable and inflexible rules from the state led to money held in Frankfort not reaching survivors.Of particular concern is a $3,500 state-imposed cap on payments to applicants, which the local groups say is too low to meet most needs, such as replacing a vehicle.In some counties, a lack of caseworkers to process applications for funding further strained efforts to use the millions of dollars of donations.
Ryan Drane, the executive director of the Mayfield-Graves County Long-Term Recovery Group, says he does not fault state officials who had to create a system for providing practical, individualized aid after a massive disaster.
"But when it comes to disaster recovery, you can't manage it like you do state funding for it to be effective and efficient and equitable to all survivors," Drane said.
"There certainly should have been more input and direction from those who were here, boots on the ground working with the recovery every day to make determinations as to how and what the money should be spent on."
Struggling to put money into survivors' hands
Emails and other documents received through open records requests, along with interviews with leaders of long-term recovery groups and Kentucky Public Protection Cabinet (PPC) officials overseeing the donation fund, convey the struggle and frustrations surrounding the delays in putting money into survivors' hands.
The Graves County group had spent less than 1% of its more than $5.6 million from the tornado recovery fund by mid-January.
Others are in a similar situation, though not all. Caldwell County has spent about 97% of its $525,000 in funding for unmet needs. The Hopkins County group had spent 46% or $304,000 of its allocation by mid-January.
Irby is one of hundreds in Graves County who has applied for funding and is still waiting. In the meantime, he tries to make a difference by helping dozens of tornado survivors. He's offered his mold treatment and foundation repair services for free or at a steep discount.
Mold treatment is among the eligible uses for the unspent relief funds, but, says Irby, it should not be delayed.
"You start getting the mold issues and stuff in homes and where homes are unrepairable," Irby said. "We need faster response times on everything."
Irby says treatment for mold caused by leaks from tornado damage should not be delayed. Mold cleanup is one of the uses for donations set aside for survivors' unmet needs. (Photo for Kentucky Lantern by Julia Rendleman)
State makes some concessions
The state recently extended the states of emergency for some counties beyond Jan. 14, when they were set to expire, which gave the groups more time to get the money into survivors' hands.
And, in November, in a concession to recovery groups, the state loosened a rule that local leaders had insisted was an obstacle to approving aid.
The state had required "good faith efforts" to first use other funding sources before tapping the tornado relief fund. The state's motive was to protect survivors from running afoul of the Federal Emergency Management Agency. A state official told the Lantern that in previous disasters FEMA demanded refunds from disaster survivors when a duplication of benefits is discovered.
"We like to make darn sure that we're not putting anybody at risk of losing the FEMA money," Jacob Walbourn, general counsel of the state Public Protection Cabinet, told the Lantern in December.
But the local groups were afraid of running afoul of the state, leading to months of delays in getting funds out the door.
The Graves County group had forwarded no applications for approval before the rule change, but is now processing hundreds to send to the PPC.
"I don't think that the individuals and corporations who donated to this fund would have cared if their funds were the last in, or the first in," Drane said.
He said private funders sat on money waiting for the state-held donations to be used. Churches asked why they should spend thousands of their members' dollars when millions of donated dollars held by the state should be available.
In Warren County, rather than try to "prove, really an unknown" — that no other funds were available to help an applicant — the recovery group opted not to use any of its $466,000 and rely on other philanthropic resources instead.
"It was hard for us to say that this is the 'last resort' when we have our donation dollars that have flowed in that we can use," said Brent Childers, chair of the Bowling Green-Warren County Disaster Recovery.
Nearly four months after recovery groups sought a change in the guideline, the PPC agreed, changing what had been a requirement to avoid duplicating aid to an encouragement to do so. "(I)t is our intent that funding from the tornado relief fund can be combined with other funding to provide for the unmet needs in each county," DJ Wasson, the state Public Protection Cabinet's chief of staff, notified them in a November email.
From Drane's perspective, the change lifted the burden of exhausting all other means before touching the donation fund and allowed Drane's recovery group to move forward.
Is $3,500 enough for anything?
But the state has not budged on the $3,500 payment cap per application, despite requests from recovery groups to raise it to $10,000.
Walbourn, the PPC's general counsel, said the cabinet included recovery groups in the decision to set the $3,500 cap, a limit that he said "made a lot of sense" given the rising costs of unmet needs.
"I understand the PPC's approach," said Drane, the higher the limit, the fewer "people you can assist."
But $3,500 falls short of need in many cases, like purchasing a reliable vehicle for a survivor. Only partially assisting someone who has suffered losses delays their recovery, he said.
"We're having to ask that survivors hold the money until we can find other sources of funding that right now aren't available."
Drane said the groups have provided data from past natural disasters to support raising the limit.
"I like the long-term recovery groups. We want to work with them. We want to work through it all. But I certainly think that if you look at a couple of counties, they've shown that you can get these dollars out the door."
Mark Dowdy, chair of the Fulton County Long-Term Recovery Group and senior pastor of Cayce Baptist Church, agreed that the $3,500 cap was too low.
Fulton County had asked for $240,000 total from the tornado relief fund, reporting that eight families needed help. Based on the eight households, the state's formula qualified Fulton County for $14,000, which Dowdy called "really a slap in the face."
The tornadoes killed one person in Fulton County and destroyed more than 60 structures.
"The state, their intentions may have been good, but they were not a help to us at all." Dowdy said.
Fulton County has received other help from the state donation fund, though: Habitat for Humanity has helped rebuild a few homes in Cayce with funding provided from the tornado relief fund.
Dowdy said while that support for housing was appreciated, the lack of support for his community's unmet needs was disappointing. He said the county has instead tried to help survivors through other private and grassroots efforts.
'Some groups were less responsive'
A PPC spokesperson in a statement said there were "necessary restrictions" on the use of unmet needs funds to make sure they reached as many people as possible.
"As counties were spending money, according to the guidelines of the program, we worked with them to get their money spent. Some groups were less responsive," said Kristin Voskuhl, the PPC spokesperson.
The state formula took the number of estimated people with unmet needs — submitted by each county in May — and multiplied that by $1,750.
Christian County's recovery group still has 95% of its $733,250, said the group's chair Wynn Radford, because it discovered too late that the money could not go to survivors of a Jan. 1, 2022 tornado along with those in the Dec. 2021 outbreak. The group had based its request on need created by both tornadoes but could distribute money only to survivors of the first.
Radford said it left their group with a lot more money than they can use. "Here's the question: the unused money. Where does it go?" Radford said.
Voskuhl, the PPC spokesperson, said plans for reallocating unspent funds have not been finalized. All of the $52 million from donations has been committed for various purposes, although more than $24 million of the committed amount remains unspent.
Voskuhl said the recovery groups are now addressing longer-term needs and the PPC did send out more than $9.6 million in short-term relief checks to survivors in February 2022.
The PPC came under fire this week by Republican lawmakers and state Treasurer Allison Ball after the Lexington Herald-Leader reported that an additional round of relief checks sent to survivors in December, totaling more than $10 million, went to people in error.
Beshear defends rules, points to counties that have used most of their funding
At a Thursday news conference, Gov. Andy Beshear defended the rules put in place by the PCC, saying that the unmet needs funding was "promised to go directly to tornado survivors and not to any overhead."
Beshear pointed to counties that have used most of their funding as proof that the rules work.
"It's $52 million of aid, even if it takes a little longer through one part. That's really helping people," Beshear said. "I like the long-term recovery groups. We want to work with them. We want to work through it all. But I certainly think that if you look at a couple of counties, they've shown that you can get these dollars out the door."
Beshear said the regulations were in part to satisfy concerns raised by Ball, the Republican state treasurer, about delegating responsibilities to the new nonprofit recovery groups, rather than the funding coming directly from the state to survivors.
As of Jan. 12, only four of the 11 county recovery groups had spent more than 10% of their funding allocation: Caldwell, Hopkins, Muhlenberg and Taylor counties.
Case worker challenges
Last October, recognizing the need for more case workers to help verify the information on applications, the Community Foundation of Western Kentucky, a nonprofit based in Paducah, created a new organization to hasten the process.
"There was a lack of case managers, and there was a lack of an organized way to track information," said Chris Dockins, the foundation's chief operating officer.
The new organization, the West Kentucky Disaster Recovery and Resiliency Center, has 12 application navigators aiding long-term recovery groups.
But still not every applicant has a case worker or navigator, said Drane.
"We're trying to develop efficiencies as we go along in the process, to get these things going as quickly as possible and get checks out to the survivors who desperately need it."
The Graves County recovery group received about 430 applications in December. Four navigators have been hired to go through applications.
"What we're trying to do is verify what needs to be verified . . . that we're completing the application in the way that the state would like to see it completed."
Meanwhile, the state asked judge-executives in counties that want more time to distribute funds to request an extension of their states of emergency.
Caldwell, Christian, Graves, Hickman, Hopkins and Marshall counties received extensions until July 2023. Warren, Fulton, Muhlenberg, Ohio and Taylor counties did not request extensions.
Waiting for help
Gregg Knight was a case worker in Graves County until leaving the job last year and still gets calls for guidance from former clients who need help with needs the tornado created, whether directly or indirectly.
They have few alternatives, she said, other than moving away from their community or trying to pay for what they need, even if it's a financial burden. "There are people I know that are just flat out paying it out of pocket."
Knight has worked with Irby, the tornado survivor who's helped other survivors through his small business, to connect Irby with survivors who still need help.
For now, Irby waits to hear back about his application. He said he gets a generic email every week or so that reminds him he hasn't been forgotten.
He has something other survivors are still seeking: a permanent roof over his head at his rental home near Wingo, a few miles south of Mayfield.
He had moved himself and his kids to the rental home four months ago from a trailer. They had moved into the trailer because their previous home in Mayfield was unsafe after the tornado. That trailer became unbearable to live in, too, electricity problems making the place feel like "an ice cube."
He bought new appliances and started rebuilding his life with some of his children at their modest home, the memories and trauma of the December 2021 night still fresh in his mind.
"Soldiers go to war and get PTSD from violent actions that happen," Irby said. "Every time there's a tornado or a tornado warning or a siren, it's going to trigger people. It triggers me."
He still wakes up with his heart pounding some nights, remembering being in his truck with his kids racing to get to shelter. He remembers the blackness of the twister covering the sky, only illuminated briefly by flashes of lightning. He remembers the farmhouse doors being blown open and the worries that his kids could be sucked outside by the winds.
Ultimately, it's his kids he thinks about when he helps other survivors in the region, conscious efforts informed by his faith.
"I'm following the path I believe that I'm being led on and by helping people, maybe they can help somebody," he said. "My kids are watching me."
Kentucky Lantern is part of States Newsroom, a network of news bureaus supported by grants and a coalition of donors as a 501c(3) public charity. Kentucky Lantern maintains editorial independence. Contact Editor Jamie Lucke for questions: info@kentuckylantern.com. Follow Kentucky Lantern on Facebook and Twitter.
CONTINUE READING
Show less
Warning: This article contains spoilers.
From the widely panned
Super Mario Bros. movie
(1993) to Netflix's
Resident Evil
(2022) releasing to decidedly mixed reviews, game adaptations have historically been cursed on both big and small screens.
HBO's series based on the hugely successful PlayStation game The Last of Us, is the latest entry into this genre. Early indications from critics and viewers suggest it has broken the dreaded video game curse.
The series occupies a unique position. In 2013, when the game was released, post-apocalypses were incredibly popular science fiction worlds. In 2023, such pandemics, as we've discovered, hue closer to science fact.
The scene in which protagonists Joel and Ellie encounter a mass grave has a distinctly different impact when humanity has so recently had to grapple with such tragedies in the real world.
Trailer for HBO's The Last of Us.
In the series, a child's blanket links this scene to a flashback of mass evacuation in the wake of the Cordyceps (the fungus that evolves to infect humans) outbreak foreshadowing the series' continuing exploration of the values of family, connection and community.
Love in the time of Cordyceps
The Last of Us game released in 2013 among what critics have called the "dadification" of games – a period in which many releases focused on paternal protagonists.
This "dadification" was driven partly by maturing technology that allowed more complex stories to be told. Also, developers who had grown up playing games were maturing and starting families, including The Last of Us creative director Neil Druckmann.
The kinds of stories they wanted to tell matured too, resulting in games addressing parent-child relationships, including The Walking Dead (2012) and God of War (2018).
The theme of parenthood is prevalent in The Last of Us too. While Joel and Ellie's relationship makes this clear, this theme extends to other characters including Joel's brother Tommy, an expectant father. HBO's adaptation takes this a step further by also briefly exploring Ellie's connection to her mother.
Creators of HBO The Last of Us explain the role of fatherhood in the show.
The value of parenthood in the game unfurls into the show's focus on family. Dialogue throughout the series reflects its importance: Joel reminding Tommy of their familial bond, a scientist who just wants to be with their family, the dying teenage bandit pleading to be returned to his mother.
The value of family extends to supporting characters who are exclusive to, or expanded upon in, the series. Brothers Henry and Sam share a bond in the series compared with the game's portrayal of a surrogate parent-child relationship that complements Joel and Ellie's.
The series further extends the game's exploration of family by having Henry and Sam's story intersect with new character Kathleen. The leader of the Kansas Quarantine Zone resistance movement, Kathleen has her own motivations surrounding her brother.
A gamechanging adaptation
While family is a core concern of the show, the theme of connection is also explored. This can be seen in its many "found" families. Joel and smuggling partner Tess' relationship gets more screen time than in the game, as does the short-lived Joel-Tess-and-Ellie family dynamic.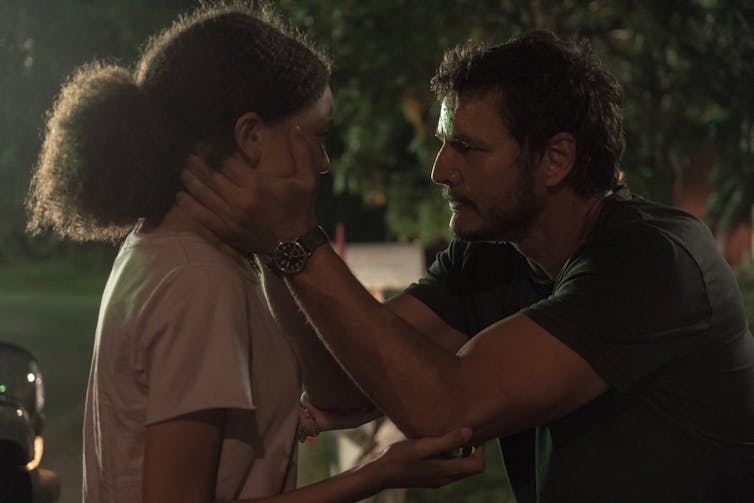 Sarah and Joel, played by Nico Parker and Pedro Pascal.
This extends to the series' other couplings, from episode-length explorations of Joel's friends and existing game characters Bill and Frank, to Ellie's relationship with school friend Riley, to Firefly leader Marlene's connection to Anna – a best friend with a pivotal story role.
Even the Cordyceps is not immune to the rhetoric of connection. The spores by which the fungus spreads in the game have been changed to fungal tendrils in the show. These tendrils connect all the Infected – the series' version of zombies.
Step on a tendril in one place and you'll wake a dozen Infected in another. The fungal spores in the game are an impersonal, environmental hazard. The series' tendrils instead actively seek out new victims and in one unsettling scene, defile a fundamental act of human connection and love to achieve this.
What it means to be human in a world ravaged by a pandemic is also explored. The politics of peaceful communities is examined, from the militaristic Quarantine Zone where Joel first meets Ellie, to Tommy's settlement – jokingly but truthfully derided as "communism" by Joel.
More important, perhaps, is the exploration of hostile communities that game players would typically shoot their way through. Kathleen's control of the Kansas resistance group is given a two-episode arc that ends with Joel and Ellie burying Henry and Sam – a humanising end to their story the game did not afford.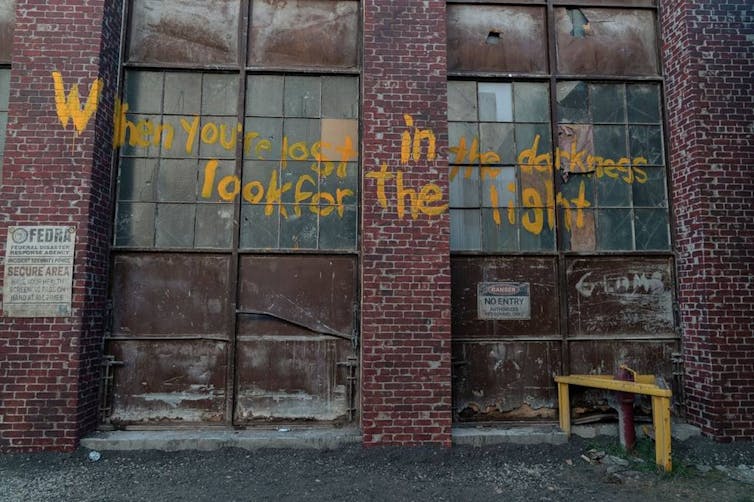 The motto of the resistance group, the Fireflies.
The notion of burial as a human ritual is unearthed again a few episodes later when a girl asks in-game antagonist David, the leader of a group at Silver Lakes Resort, if her father can be buried – a request he denies.
The episode explores David and his group, humanising them more than in the game. This further humanisation then stands in stark contrast to a reveal that poses the ultimate question of where the tipping point is between human and monster.
These values are framed in relation to the show's ultimate theme: love. Joel loved Sarah. Bill loved Frank. Kathleen loved her brother. David's community loved him. This love, derived from the personal relationships found and strengthened amid chaos, breeds hope not only for the world portrayed in the show but also for our own.
A repeated motif in the series is the motto of the resistance group, the Fireflies: "When you're lost in the darkness, look for the light." In a world all too familiar with pandemics in 2023, this masterful adaptation of The Last of Us is something bright indeed.

Adam Jerrett, Lecturer, Faculty of Creative & Cultural Industries, University of Portsmouth and Peter Howell, Senior Lecturer in Game Design, University of Portsmouth
This article is republished from The Conversation under a Creative Commons license. Read the original article.
CONTINUE READING
Show less
Four days after an ice storm left hundreds of thousands of Texans without power, Gov.
Greg Abbott
issued a
disaster declaration
for seven counties impacted by the severe weather.
Subfreezing temperatures combined with rain to produce a nasty storm that coated much of the Texas Hill Country in ice, toppling tree limbs and downing electric lines. As of Saturday evening, more than 60,000 households were still without power.
"The State of Texas has provided all assistance requested throughout the severe weather this week, and we continue to ensure that communities across our state have the resources and support they need to recover from the winter weather event," Abbott said in a statement.
Abbott issued the declaration for Denton, Hays, Henderson, Milam, Smith, Travis and Williamson counties, all of which experienced significant damage over the last week. Abbott said more counties may be added based on damage assessments still in progress.
Abbott said the declaration would enable the state to provide assistance to people and communities with property damage. He encouraged residents to report damage, with details and photos if possible, through the Individual State of Texas Assessment Tool survey.
The declaration came after Austin officials faced criticism for fumbling communication about the storm and falling short on early promises of a quick resolution to the outages.
Austin Mayor Kirk Watson and Austin Energy officials waited more than 24 hours after people began losing power to hold the first press conference. And hours after they spoke Thursday, the electricity provider walked back its estimate that power would be restored by the end of the third day of outages, extending the sense of uncertainty. Eventually, the city-owned utility said it could no longer promise when electricity would be fully restored.
Despite frustration about the initial slow pace, progress has been made. Between Thursday and Saturday, almost 100,000 Austin customers had their power restored.
This article originally appeared in The Texas Tribune at https://www.texastribune.org/2023/02/04/texas-ice-storm-disaster-austin-power-outage/.
The Texas Tribune is a member-supported, nonpartisan newsroom informing and engaging Texans on state politics and policy. Learn more at texastribune.org.
CONTINUE READING
Show less
{{ post.roar_specific_data.api_data.analytics }}