Stories Chosen For You
One of the most common stereotypes about the human past is that men did the hunting while women did the gathering. That gendered division of labor, the story goes, would have provided the meat and plant foods people needed to survive.
That characterization of our time as a species exclusively reliant on wild foods – before people started domesticating plants and animals more than 10,000 years ago – matches the pattern anthropologists observed among hunter-gatherers during the 19th and early 20th centuries. Virtually all of the large-game hunting they documented was performed by men.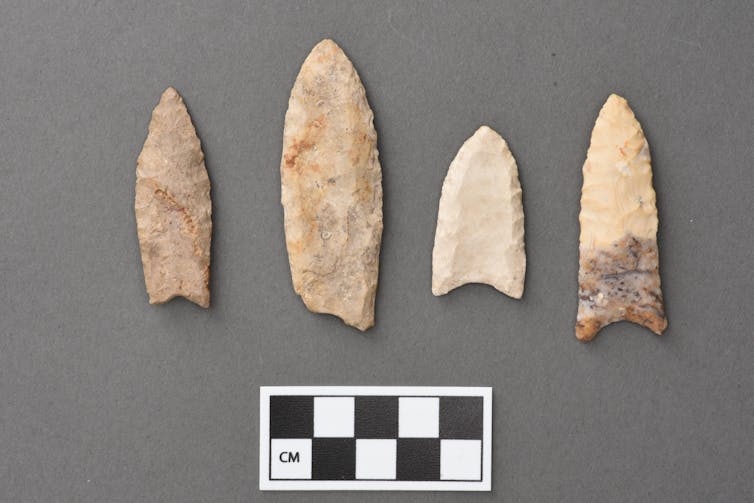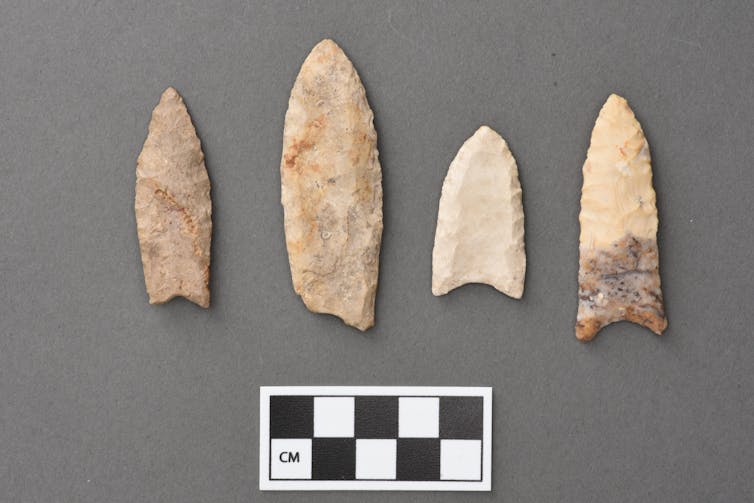 Stone Folsom points, which date to between 11,000 and 10,000 years ago, are associated with the prehistoric hunting of bison. UMMAA 27673, 39802, 30442 and 37737, Courtesy of the University of Michigan Museum of Anthropological Archaeology
It's an open question whether these ethnographic accounts of labor are truly representative of recent hunter-gatherers' subsistence behaviors. Regardless, they definitely fueled assumptions that a gendered division of labor arose early in our species' evolution. Current employment statistics do little to disrupt that thinking; in a recent analysis, just 13% of hunters, fishers and trappers in the U.S. were women.
Still, as an archaeologist, I've spent much of my career studying how people of the past got their food. I can't always square my observations with the "man the hunter" stereotype.
A long-standing anthropological assumption
First, I want to note that this article uses "women" to describe people biologically equipped to experience pregnancy, while recognizing that not all people who identify as women are so equipped, and not all people so equipped identify as women.
I am using this definition here because reproduction is at the heart of many hypotheses about when and why subsistence labor became a gendered activity. As the thinking goes, women gathered because it was a low-risk way to provide dependent children with a reliable stream of nutrients. Men hunted either to round out the household diet or to use difficult-to-acquire meat as a way to attract potential mates.
One of the things that has come to trouble me about attempts to test related hypotheses using archaeological data – some of my own attempts included – is that they assume plants and animals are mutually exclusive food categories. Everything rests on the idea that plants and animals differ completely in how risky they are to obtain, their nutrient profiles and their abundance on a landscape.
It is true that highly mobile large-game species such as bison, caribou and guanaco (a deer-sized South American herbivore) were sometimes concentrated in places or seasons where plants edible to humans were scarce. But what if people could get the plant portion of their diets from the animals themselves?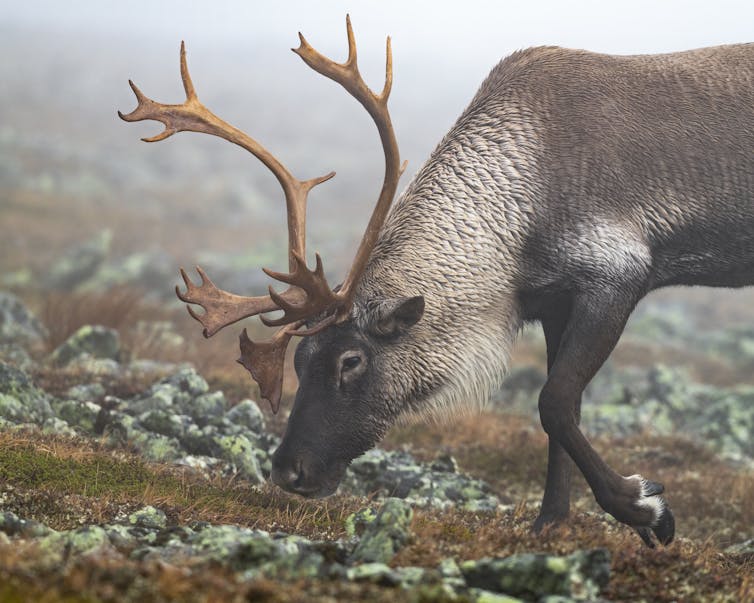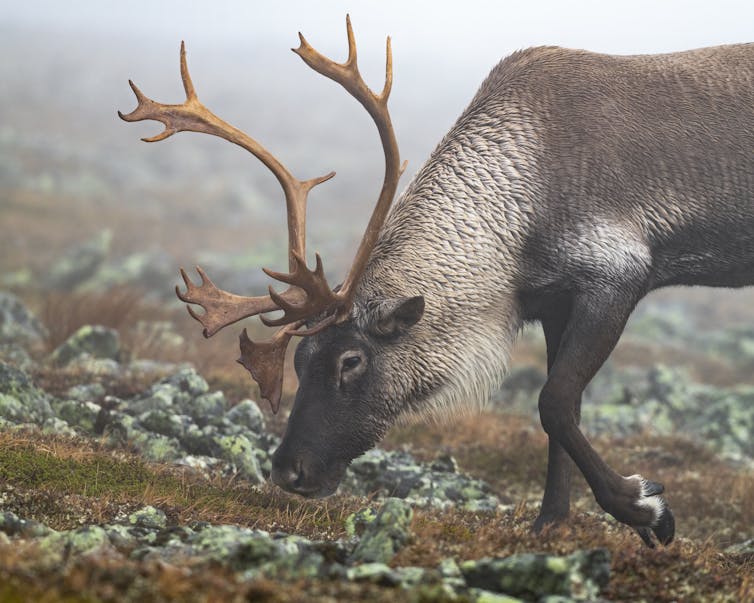 Herbivores can consume and digest some plant material that humans usually can't. pchoui/iStock via Getty Images Plus
Animal prey as a source of plant-based food
The plant material undergoing digestion in the stomachs and intestines of large ruminant herbivores is a not-so-appetizing substance called digesta. This partially digested matter is edible to humans and rich in carbohydrates, which are pretty much absent from animal tissues.
Conversely, animal tissues are rich in protein and, in some seasons, fats – nutrients unavailable in many plants or that occur in such small amounts that a person would need to eat impractically large quantities to meet daily nutritional requirements from plants alone.
If past peoples ate digesta, a big herbivore with a full belly would, in essence, be one-stop shopping for total nutrition.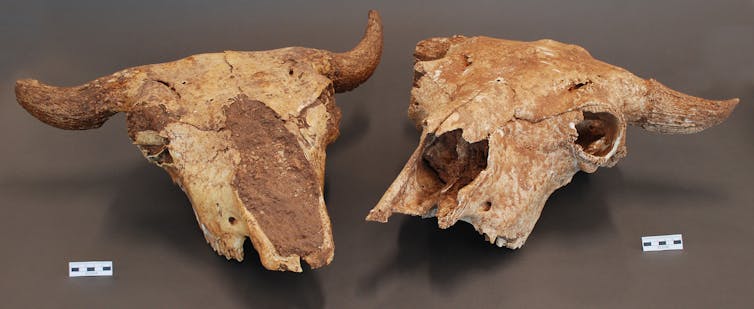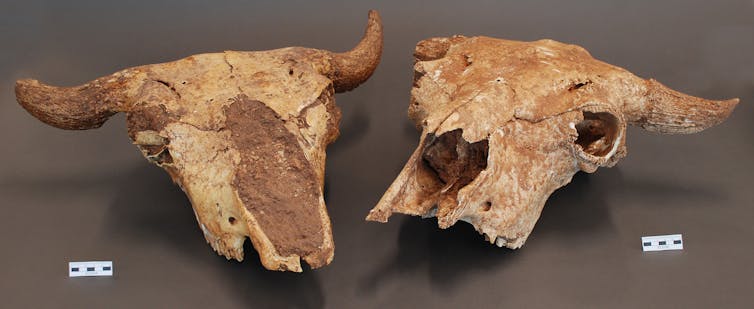 Killing a bison could provide a source of both protein and carbs, if you consider the digesta. UMMAA 83209 a and b, Courtesy of the University of Michigan Museum of Anthropological Archaeology
To explore the potential and implications of digesta as a source of carbohydrates, I recently compared institutional dietary guidelines to person-days of nutrition per animal using a 1,000-pound (450-kilogram) bison as a model. First I compiled available estimates for protein in a bison's own tissues and for carbohydrates in digesta. Using that data, I found that a group of 25 adults could meet the U.S. Department of Agriculture's recommended daily averages for protein and carbohydrates for three full days eating only bison meat and digesta from one animal.
Among past peoples, consuming digesta would have relaxed the demand for fresh plant foods, perhaps changing the dynamics of subsistence labor.
Recalibrating the risk if everyone hunts
One of the risks typically associated with large-game hunting is that of failure. According to the evolutionary hypotheses around gendered division of labor, when risk of hunting failure is high – that is, the likelihood of bagging an animal on any given hunting trip is low – women should choose more reliable resources to provision children, even if it means long hours of gathering. The cost of failure is simply too high to do otherwise.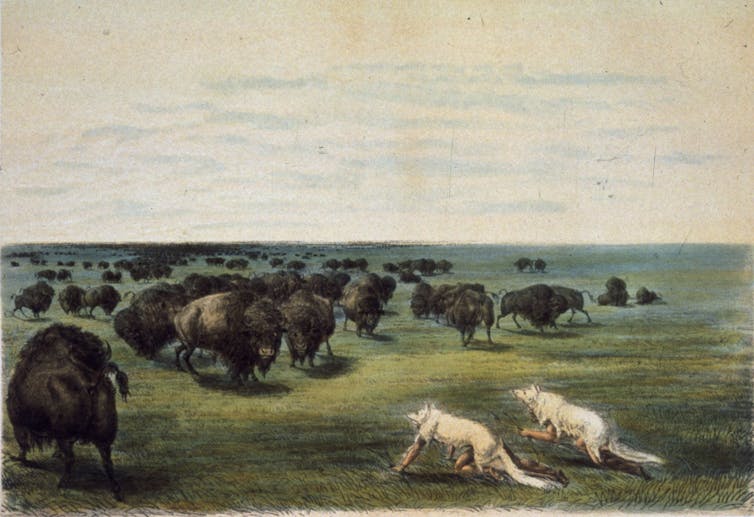 What 19th-century ethnographers recorded might not be a good representation of prehistoric conditions. MPI/Archive Photos via Getty Images
However, there is evidence to suggest that large game was much more abundant in North America, for example, before the 19th- and 20th-century ethnographers observed foraging behaviors. If high-yield resources like bison could have been acquired with low risk, and the animals' digesta was also consumed, women may have been more likely to participate in hunting. Under those circumstances, hunting could have provided total nutrition, eliminating the need to obtain protein and carbohydrates from separate sources that might have been widely spread across a landscape.
And, statistically speaking, women's participation in hunting would also have helped reduce the risk of failure. My models show that, if all 25 of the people in a hypothetical group participated in the hunt, rather than just the men, and all agreed to share when successful, each hunter would have had to be successful only about five times a year for the group to subsist entirely on bison and digesta. Of course, real life is more complicated than the model suggests, but the exercise illustrates potential benefits of both digesta and female hunting.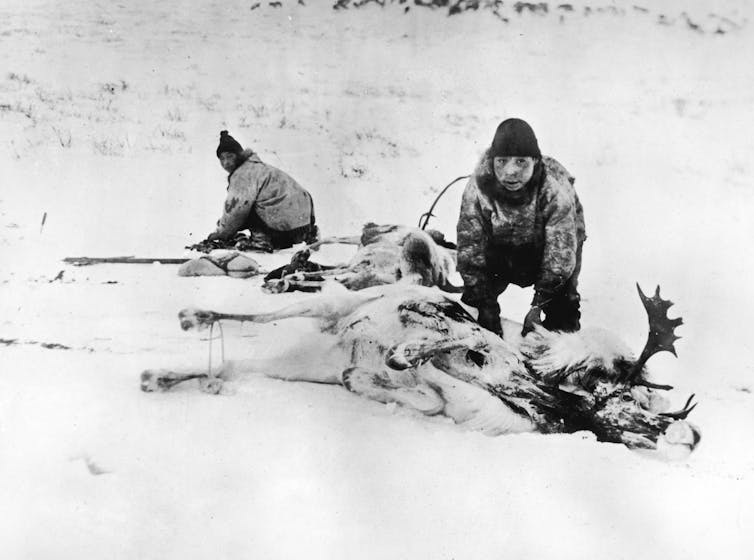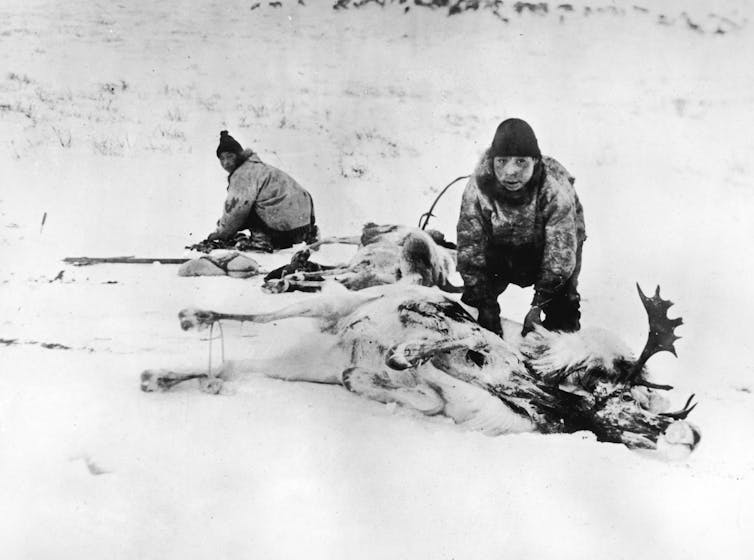 Winter in the Arctic offers Indigenous hunters more chances to kill herbivores than to find edible plants. Topical Press Agency/Hulton Archive via Getty Images
Ethnographically documented foragers did routinely eat digesta, especially where herbivores were plentiful but plants edible to humans were scarce, as in the Arctic, where prey's stomach contents was an important source of carbohydrates.
I believe eating digesta may have been a more common practice in the past, but direct evidence is frustratingly hard to come by. In at least one instance, plant species present in the mineralized plaque of a Neanderthal individual's teeth point to digesta as a source of nutrients. To systematically study past digesta consumption and its knock-on effects, including female hunting, researchers will need to draw on multiple lines of archaeological evidence and insights gained from models like the ones I developed.

Raven Garvey, Associate Professor of Anthropology; Curator of High Latitude and Western North American Archaeology, Museum of Anthropological Archaeology; Faculty Affiliate, Research Center for Group Dynamics, University of Michigan
This article is republished from The Conversation under a Creative Commons license. Read the original article.
CONTINUE READING
Show less
New research on old bones has shed light on pterosaur fossils from the early Cretaceous period of Australia, which took place roughly 107 million years ago.
The bones were discovered in Victoria in the late 1980s at a fossil site called Dinosaur Cove, a few hours' drive west of Melbourne.
Our paper describing the bones is published today in Historical Biology.
The oldest pterosaur bones we have
The Dinosaur Cove fossils are the geologically oldest pterosaur remains we have from the Lower Cretaceous of Australia.
These bones belonged to two separate individuals, because there's a relative size difference between the two.
One specimen is a partial sacrum (the fused vertebrae from between the pelvic bones), a relative rarity in the pterosaur fossil record. The other is a comparatively small fourth metacarpal (part of the wing finger) – it is the first evidence of a juvenile pterosaur found in Australia.
Although we couldn't pinpoint exactly which species in the pterosaur family these bones came from, the partial sacrum belonged to an individual with a wingspan estimated to exceed two meters. By contrast, the juvenile pterosaur had a wingspan just over one meter.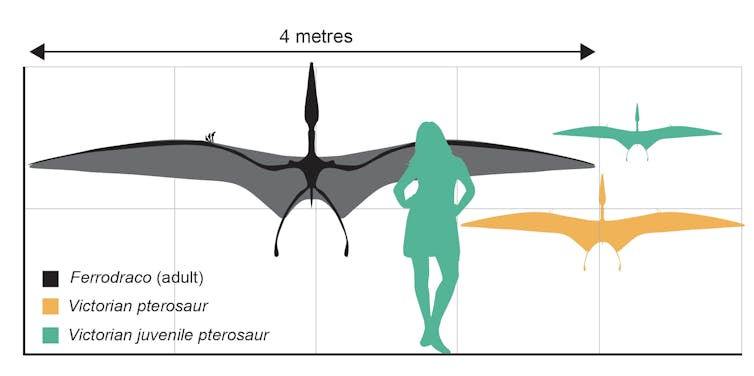 Wingspan estimates of Australian pterosaurs, including Ferrodraco lentoni, an adult from the Upper Cretaceous of Queensland, compared with the newly described Victorian pterosaurs from the Lower Cretaceous. Author provided
In the early Cretaceous, approximately 110–107 million years ago, Victoria was virtually unrecognizable. The Bass Strait was a narrow valley occupied by fast-flowing rivers. Conifers and ginkgoes grew here instead of eucalypts and grasses, and dinosaurs reigned.
On the ground, the dominant herbivore animals were small-bodied, beaked ornithopods, perpetually wary of the rapacious megaraptoran theropods.
For more than 30 years, it has been clear to scientists that flying reptiles called pterosaurs soared through the Victorian Cretaceous skies, above the heads of the dinosaurs. Until recently, however, they have remained a mystery.
Treasure at Dinosaur Cove
Large-scale excavations at Dinosaur Cove began in 1984, and for more than 40 years, a team of volunteers called Dinosaur Dreaming have excavated fossil sites along several other sites scattered across the Victorian coast.
Tom Rich and Pat Vickers-Rich, co-authors of our newly published paper, led the excavations that yielded not just the newly described pterosaurs, but myriad other discoveries as well.
Co-authors Pat Vickers-Rich and Tom Rich holding the pterosaur specimens we described. Tim Ziegler, Author provided
The work at this rich fossil site has resulted in thousands of dinosaur bones and other fossils. These include fossil fish (bony fish and lungfish), skeletal remains from ornithopods, megaraptoran theropods, aquatic plesiosaurs and prehistoric mammals. There was also Australia's only elaphrosaurine theropod: a lightly-built dinosaur with a small head, long neck, relatively short front limbs, long hind limbs and a long tail.
But among the rarest vertebrate fossils from Dinosaur Cove are those from pterosaurs.
Australia's pterosaur record
The majority of Australia's pterosaur fossils have been found in central-western Queensland. Indeed, the first pterosaurs reported from the continent were isolated remains from the Eromanga Basin, described in 1980.
Since then, more pterosaur material has come to light, with four Australian pterosaur species currently recognized: Mythunga camara, Aussiedraco molnari, Ferrodraco lentoni and Thapunngaka shawi.
Ferrodraco is the most complete Australian pterosaur to date, and is represented by an adult individual with a wingspan of approximately four meters, which we named as a new species in 2019.
Other pterosaur fossils from Australia include isolated remains from the Cretaceous of Western Australia, and opalized pterosaur teeth from the mid-Cretaceous of Lightning Ridge in New South Wales.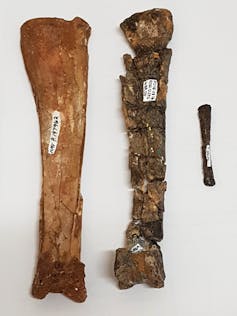 Three pterosaur wing bones from three individuals. Left: right metacarpal from the Toolebuc Formation was discovered at Slashers Creek Station, east of Boulia, Queensland. Middle: Left metacarpal from Ferrodraco lentoni from the Winton Formation, discovered northeast of Winton, Queensland. Right: a left metacarpal from a juvenile pterosaur from Dinosaur Cove, Victoria. Author provided
We don't know which species the Victorian pterosaurs belong to. However, the comparatively small fourth metacarpal – a bone from the wing – is the first unequivocal evidence of a juvenile pterosaur from Australia.
Pterosaurs at high latitudes
Few pterosaur remains have been reported from fossil sites that were at high latitudes during the Age of Reptiles – the Mesozoic Era.
Antarctica, which was at high latitudes throughout, has produced three pterosaur fossils. One of these awaits formal description, and another was recovered from the charred remains of the National Museum of Brazil.
The only reports of high-latitude pterosaurs in the northern hemisphere are of isolated footprints.
During the Cretaceous, Australia was farther south than it is today. In fact, Victoria was within the polar circle during much of the Cretaceous. Southeast Australia was not frozen over at this time, but there were weeks or months of continuous darkness during the winter. Despite these harsh polar conditions, life found a way to survive and thrive.
This prompts a few questions: were pterosaurs permanent residents in southeast Australia? Or did they migrate south during summer and head north for the winter?
From a young age, pterosaurs were adept fliers, their bones already able to withstand the stresses of both launch and flight. However, subtle variations in the shape of the bones imply that hatchlings differed from their adult counterparts in terms of speed and maneuvrability.
Until we discover pterosaur eggs or embryonic individuals at sites that were at high latitudes at the time, we won't be able to confirm if pterosaurs were year-round residents or migratory.
Despite the rarity of pterosaurs in the fossil record, it is only a matter of time before we find more complete pterosaur material from Dinosaur Cove and other Cretaceous sites from coastal Victoria. Then, we can finally uncover the identity of these ancient, enigmatic winged reptiles.

Adele Pentland, PhD candidate, Curtin University and Stephen Poropat, Research associate, Curtin University
This article is republished from The Conversation under a Creative Commons license. Read the original article.
CONTINUE READING
Show less
The founder of the Oath Keepers militia, Stewart Rhodes, was sentenced to 18 years in prison for seditious conspiracy in relation to the Jan. 6 Capitol riot last week. Speaking to Salon, a man who served as the Oath Keepers' national media director and became close friends with Rhodes gave some insight into the militia leader and Jan. 6 insurrectionist's history.
Jason Van Tatenhove has previously talked about his experiences with the Oath Keepers in his book "The Perils of Extremism: How I Left the Oath Keepers and Why We Should be Concerned about a Future Civil War."
According to Tatenhove, Rhodes and others like him going to prison may just be the next step in their evolution as extremists.
"What happens when they are put into a federal prison and are going to do significant time when they were already building their own gang-like organizations, arming up, and taking action?" Tatenhove said. "Prison is a kind of university for them. What influence will Rhodes be able to wield behind bars? Will he continue with his plotting against democracy? DeSantis and Trump have said they would pardon many, if not all, of the Jan. 6 terrorists."
Tatenhove said Rhodes' path to radicalization was typical in the sense like with most extremists, his life didn't turn out the way he expected.
"Stewart wanted to be a hero character in his own mind. ... In the end, Rhodes can be explained as a brilliant guy with charisma studying different propaganda techniques and ways to influence people. Rhodes took that experience and then used it to create the Oath Keepers and engage in other types of social engineering," he said.
"Many of us look for scapegoats and make excuses before we accept that we are primarily responsible for our life choices and circumstances. For Rhodes, the federal government was something he could blame for his troubles," Tatenhove continued. "That resonated with many people from rural America who flocked to him—in that part of the country and subculture, Waco and Ruby Ridge significantly impacted how people think about the federal government."
Read the full interview over at Salon.
CONTINUE READING
Show less
{{ post.roar_specific_data.api_data.analytics }}