Stories Chosen For You
In a tweet posted very early Wednesday morning, well after the identity of the alleged shooter was widely reported, the far-right Arizona Congressman said the 18-year-old who slaughtered 21 people was a "transsexual leftist illegal alien."
Many hours earlier Texas GOP Governor Greg Abbott had specifically said at a news conference the shooter (NCRM will not name him here) was a U.S. citizen. There is no indication he was "transsexual," as Gosar falsely claimed, or "leftist."
Former federal prosecutor Ron Filipkowski posted a screenshot of Gosar's tweet, which has since been deleted after massive outcries.
Reporting on his tweet, Huffpost called Gosar "an anti-immigration hardliner who routinely cozies up to white nationalists, " and "was apparently promoting a false claim circulating on right-wing networks."
The lawmaker was censured and stripped of his committee assignments last year after he posted an anime video depicting him killing Rep. Alexandria Ocasio-Cortez (D-N.Y.) and threatening President Joe Biden. Only two Republicans voted with Democrats on the measure.
Meanwhile, in response to the false tweet an opinion writer for The Arizona Republic, Laurie Roberts, called Gosar "Arizona's reigning king of disinformation," and "a gossip of the worst kind – one who delights in distorting the facts to fit his own warped view of the world."
"The congressman – already censured for his sick anime video in which he shows himself killing a congresswoman and threatening the president – has shown himself, yet again, to be completely unfit for office."
Roberts added: "Not a single Republican leader in this state will denounce him," and "He'll be re-elected in a landslide.
NOW WATCH: Uvalde Massacre Reignites National Gun Control Debate
Uvalade Massacre Reignites National Gun Control Debate www.youtube.com
CONTINUE READING
Show less
Former President Donald Trump is scheduled to speak before the National Rifle Association on Friday, but audience members won't be allowed to exercise their Second Amendment rights to keep and bear arms during his speech.
As NPR reports, the United States Secret Service is "taking control of the hall during Trump's speech and is prohibiting attendees from having firearms, firearms accessories and knives."
In addition to these weapons, attendees will also be barred from having "ammunition, laser pointers, pepper spray, toy guns, backpacks," among other items.
And to ensure that the NRA members won't be carrying heat during the speech, everyone in attendance will be searched with a magnetometer designed to detect hidden firearms.
READ MORE: Florida state GOP lawmaker threatens to show Biden 'why the Second Amendment was written'
Trump's speech at the NRA convention in Houston, Texas, comes in the wake of the mass shooting at the Robb Elementary School in Uvalde, Texas that left 19 children and two adult teachers dead.
NOW WATCH: Uvalade Massacre Reignites National Gun Control Debate
Uvalade Massacre Reignites National Gun Control Debate www.youtube.com
CONTINUE READING
Show less
Voyager 1 is the farthest human-made object from Earth. After sweeping by Jupiter, Saturn, Uranus and Neptune, it is now almost 15 billion miles (24 billion kilometers) from Earth in interstellar space. Both Voyager 1 and its twin, Voyager 2, carry little pieces of humanity in the form of their Golden Records. These messages in a bottle include spoken greetings in 55 languages, sounds and images from nature, an album of recordings and images from numerous cultures, and a written message of welcome from Jimmy Carter, who was U.S. president when the spacecraft left Earth in 1977.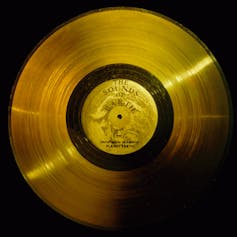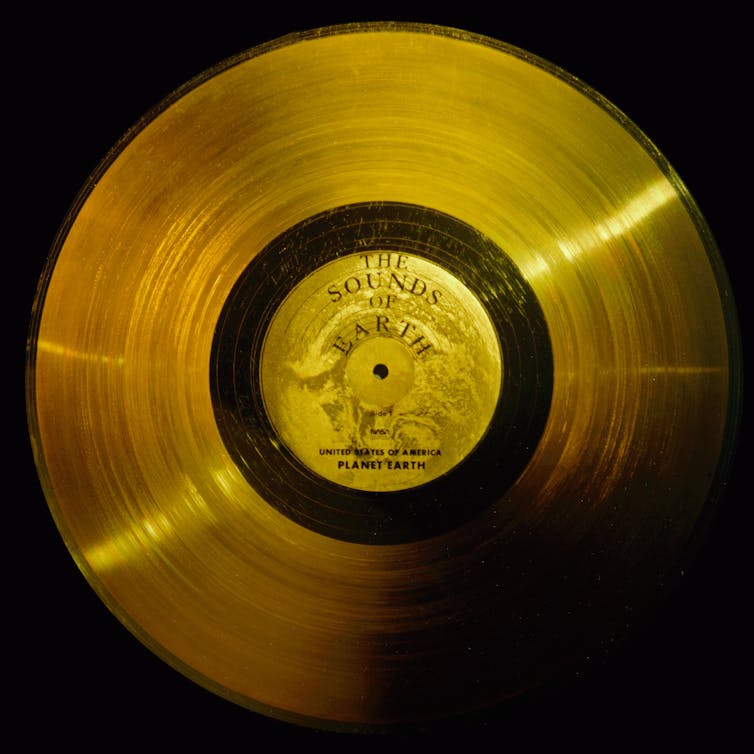 Each Voyager spacecraft carries a Golden Record containing two hours of sounds, music and greetings from around the world. Carl Sagan and other scientists assumed that any civilization advanced enough to detect and capture the record in space could figure out how to play it.
The Golden Records were built to last a billion years in the environment of space, but in a recent analysis of the paths and perils these explorers may face, astronomers calculated that they could exist for trillions of years without coming remotely close to any stars.
Having spent my career in the field of religion and science, I've thought a lot about how spiritual ideas intersect with technological achievements. The incredible longevity of the Voyager spacecraft presents a uniquely tangible entry point into exploring ideas of immortality.
For many people, immortality is the everlasting existence of a soul or spirit that follows death. It can also mean the continuation of one's legacy in memory and records. With its Golden Record, each Voyager provides such a legacy, but only if it is discovered and appreciated by an alien civilization in the distant future.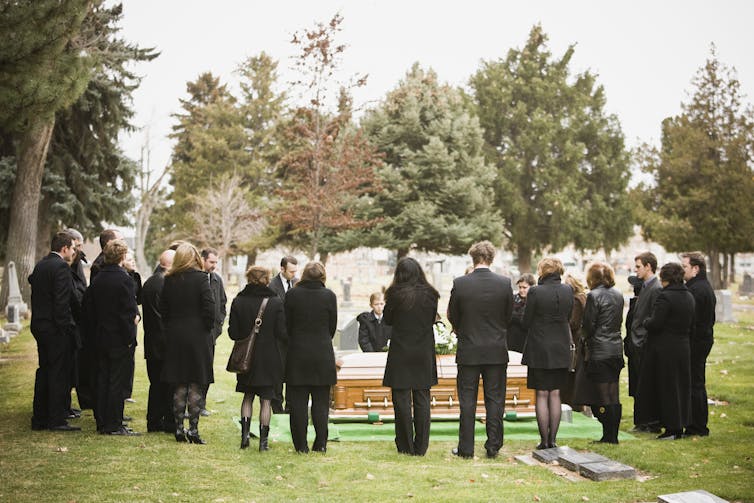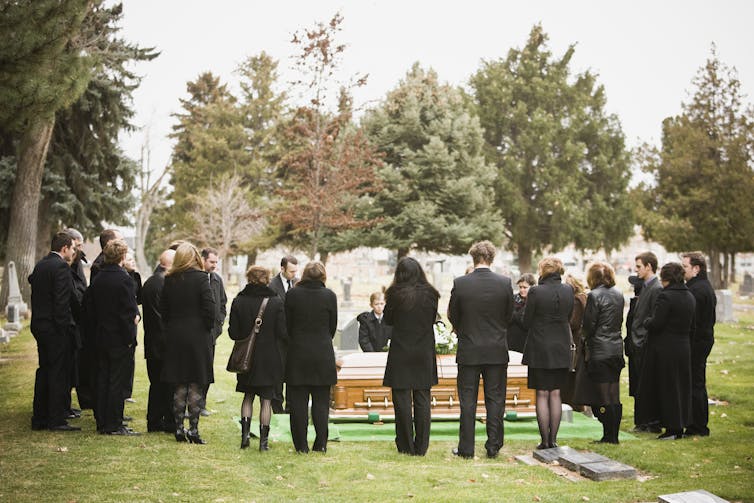 Many religions espouse some form of life after death.
RubberBall Productions/Brand X Pictures via Getty Images
Life after death
Religious beliefs about immortality are numerous and diverse. Most religions foresee a postmortem career for a personal soul or spirit, and these range from everlasting residence among the stars to reincarnation.
The ideal eternal life for many Christians and Muslims is to abide forever in God's presence in heaven or paradise. Judaism's teachings about what happens after death are less clear. In the Hebrew Bible, the dead are mere "shades" in a darkened place called Sheol. Some rabbinical authorities give credence to the resurrection of the righteous and even to the eternal status of souls.
Immortality is not limited to the individual. It can be collective as well. For many Jews, the final destiny of the nation of Israel or its people is of paramount importance. Many Christians anticipate a future general resurrection of all who have died and the coming of the kingdom of God for the faithful.
Jimmy Carter, whose message and autograph are immortalized in the Golden Records, is a progressive Southern Baptist and a living example of religious hope for immortality. Now battling brain cancer and approaching centenarian status, he has thought about dying. Following his diagnosis, Carter concluded in a sermon: "It didn't matter to me whether I died or lived. … My Christian faith includes complete confidence in life after death. So I'm going to live again after I die."
It is plausible to conclude that the potential of an alien witnessing the Golden Record and becoming aware of Carter's identity billions of years in the future would offer only marginal additional consolation for him. Carter's knowledge in his ultimate destiny is a measure of his deep faith in the immortality of his soul. In this sense, he likely represents people of numerous faiths.
Secular immortality
For people who are secular or nonreligious there is little solace to be found in an appeal to the continuing existence of a soul or spirit following one's death. Carl Sagan, who came up with the idea for the Golden Records and led their development, wrote of the afterlife: "I know of nothing to suggest that it is more than just wishful thinking." He was more saddened by thoughts of missing important life experiences – like seeing his children grow up – than fearful about the expected annihilation of his conscious self with the death of his brain.
For those like Sagan there are other possible options for immortality. They include freezing and preserving the body for future physical resurrection or uploading one's consciousness and turning it into a digital form that would long outlast the brain. Neither of these potential paths to physical immortality has proved to be feasible yet.
The Golden Records contain a snapshot of Earth and humanity.
The Voyagers and legacy
Most people, whether secular or religious, want the actions they do while alive to bear continuing meaning into the future as their fruitful legacy. People want to be remembered and appreciated, even cherished. Sagan summed it up nicely: "To live in the hearts we leave behind is to live forever."
With Voyagers 1 and 2 estimated to exist for more than a trillion years, they are about as immortal as it gets for human artifacts. Even before the Sun's expected demise when it runs out of fuel in about 5 billion years, all living species, mountains, seas and forests will have long been obliterated. It will be as if we and all the marvelous and extravagant beauty of planet Earth never existed – a devastating thought to me.


Voyager 1's path, in white, has taken the craft well past the orbits of the outer planets into interstellar space, where aliens may someday come across the relic of humanity.
NASA/JPL via Wikimedia Commons, CC BY-SA
But in the distant future, the two Voyager spacecraft will still be floating in space, awaiting discovery by an advanced alien civilization for whom the messages on the Golden Records were intended. Only those records will likely remain as testimony and legacy of Earth, a kind of objective immortality.
Religious and spiritual people can find solace in the belief that God or an afterlife waits for them after death. For the secular, hoping that someone or something will remember humanity, any wakeful and appreciative aliens will have to do.

James Edward Huchingson, Professor Emeritus and Lecturer in Religion and Science, Florida International University
This article is republished from The Conversation under a Creative Commons license. Read the original article.
CONTINUE READING
Show less
{{ post.roar_specific_data.api_data.analytics }}