Breaking(?!): Still anti-gay CA State Sen. Roy Ashburn comes out of the closet on radio show
Don't miss stories. Follow Raw Story!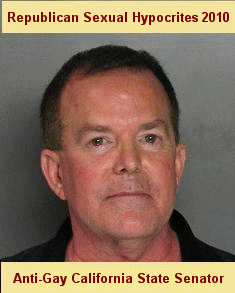 "I am gay. Those are the words that have been so difficult for me for so long. It is something that is personal, and I don't believe I felt with my heart that being gay would affect how I do my job."

— California State Sen. Roy Ashburn (R-Bakersfield)
This is the funniest and most pathetic story of the day. I think Roy forgot that the news broke last week, and a whole lot of people already knew.
That said, his official coming out on a Bakersfield radio show reveals that he's still unapologetically politically homophobic, reassuring his Bakersfield constituents he's not like those radical nasty gays who want civil rights, I presume. (GayPolitics):
Radio talk show host Inga Barks wanted assurances that Ashburn would continue to vote in a conservative manner on LGBT rights issues. Ashburn responded, "I believe firmly that my responsibility is to my constituents. I will take a careful look at each measure and apply that standard. How would they vote on this? How would they want me to vote on this," adding that most people understood what that means.

"I don't know how else to ask this, but are you going to live this lifestyle now in the district?" Barks asked. Ashburn, who announced he is not running for public office again, said, "I pray to God I can find peace. I want to go back to the senate and work hard for the people of my district…Now you know everything about me."
This, my friends, is the definition of a self-loathing man. I suppose if his constituents wanted to round up TEH HOMOSEXUALS, he'd vote for that too. Sick.
Related:
* Republican Sexual Hypocrites, 2010 edition: add anti-gay California State Senator Roy Ashburn
* Delusional Collusion – Roy Ashburn's closet was protected by newspapers, local gays