Don't miss stories. Follow Raw Story!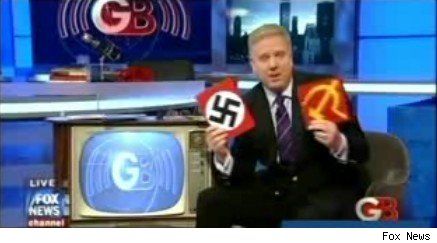 Now this is what I'm talking about when it comes to the crazies on the right — the fire-breathing man of manufactured tears, Glenn Beck, telling people what they need to do about their church-going habits.
On his daily radio and television shows last week, Fox News personality Glenn Beck set out to convince his audience that "social justice," the term many Christian churches use to describe their efforts to address poverty and human rights, is a "code word" for communism and Nazism. Beck urged Christians to discuss the term with their priests and to leave their churches if leaders would not reconsider their emphasis on social justice.

"I'm begging you, your right to religion and freedom to exercise religion and read all of the passages of the Bible as you want to read them and as your church wants to preach them . . . are going to come under the ropes in the next year. If it lasts that long it will be the next year. I beg you, look for the words 'social justice' or 'economic justice' on your church Web site. If you find it, run as fast as you can. Social justice and economic justice, they are code words. Now, am I advising people to leave their church? Yes!"
So all those ministers and priests that marched for equal rights for blacks back in the day were Nazis? WTF? I know Glenn thinks his sheeple are dim, but damn, he's lowering the bar WAY down. Politics Daily has the audio.
***
In a double-dip of insanity from the land of Beck, here is one of his advertisers, Survival Seed Bank, hawking "survival seeds" as a defense against "emerging totalitarianism." (Protect your keyboards) Media Matters:
There's nothing wrong with a business that serves some kind of demand in the marketplace, but it goes without saying that fearmongering about economic collapse followed by food shortages and citing World Net Daily for "strong evidence" is big time black helicopter stuff.