Don't miss stories. Follow Raw Story!
How can the Pope extricate himself from this evil? There's nothing else to call it. The New York Times has extensive coverage and — there's a document trail a mile long.
Top Vatican officials — including the future Pope Benedict XVI — did not defrock a priest who molested as many as 200 deaf boys, even though several American bishops repeatedly warned them that failure to act on the matter could embarrass the church, according to church files newly unearthed as part of a lawsuit.

The internal correspondence from bishops in Wisconsin directly to Cardinal Joseph Ratzinger, the future pope, shows that while church officials tussled over whether the priest should be dismissed, their highest priority was protecting the church from scandal.

… it is only one of thousands of cases forwarded over decades by bishops to the Vatican office called the Congregation for the Doctrine of the Faith, led from 1981 to 2005 by Cardinal Ratzinger. It is still the office that decides whether accused priests should be given full canonical trials and defrocked.
The priest in question was in Wisconsin — the Rev. Lawrence C. Murphy, who worked at a school for the deaf from 1950 to 1974. One of the boys' statements: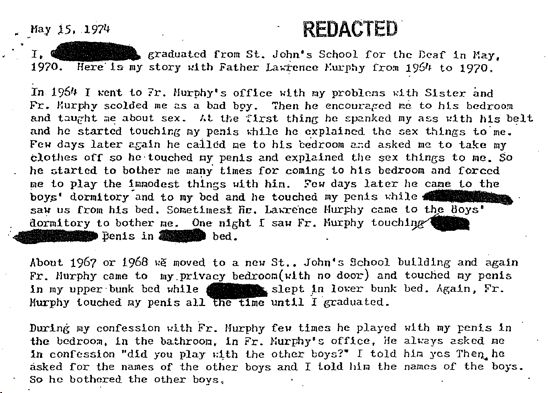 Then-Cardinal Ratzinger showed little interest in the criminal activity and warnings from an Archbishop:
In 1996, Cardinal Ratzinger failed to respond to two letters about the case from Rembert G. Weakland, Milwaukee's archbishop at the time. After eight months, the second in command at the doctrinal office, Cardinal Tarcisio Bertone, now the Vatican's secretary of state, instructed the Wisconsin bishops to begin a secret canonical trial that could lead to Father Murphy's dismissal.

But Cardinal Bertone halted the process after Father Murphy personally wrote to Cardinal Ratzinger protesting that he should not be put on trial because he had already repented and was in poor health and that the case was beyond the church's own statute of limitations.
What makes this story so significant is that in Pope Benedict's letter to the Irish flock last week, he said that the church should cooperate with local law enforcement in abuse cases, something as Cardinal he clearly had no intention of doing in order to protect the church.
Pedophile Father Murphy was not only spared criminal prosecution, the Catholic Church — even after three successive archbishops were made aware of his sexual abuse of childre — he was transferred to spend the rest of his priesthood AROUND CHILDREN.
Instead of being disciplined, Father Murphy was quietly moved by Archbishop William E. Cousins of Milwaukee to the Diocese of Superior in northern Wisconsin in 1974, where he spent his last 24 years working freely with children in parishes, schools and, as one lawsuit charges, a juvenile detention center. He died in 1998 still a priest.
Has the Vatican responded? Well, I guess this is what you could call one, and it's not from Benedict himself:
The Vatican spokesman, the Rev. Federico Lombardi, was shown the documents and was asked to respond to questions about the case. He provided a statement saying that Father Murphy had certainly violated "particularly vulnerable" children and the law, and that it was a "tragic case." But he pointed out that the Vatican was not forwarded the case until 1996, years after civil authorities had investigated the case and dropped it.

Father Lombardi emphasized that neither the Code of Canon Law nor the Vatican norms issued in 1962, which instruct bishops to conduct canonical investigations and trials in secret, prohibited church officials from reporting child abuse to civil authorities. He did not address why that had never happened in this case.
And we've been hearing this excuse akin to "it was different back then" — as if it were ever OK to ignore and cover up allegations of the sexual abuse of children. This investigation has turned up documentation that shows this was the MO of the church as late as 1997.
Disgusting.