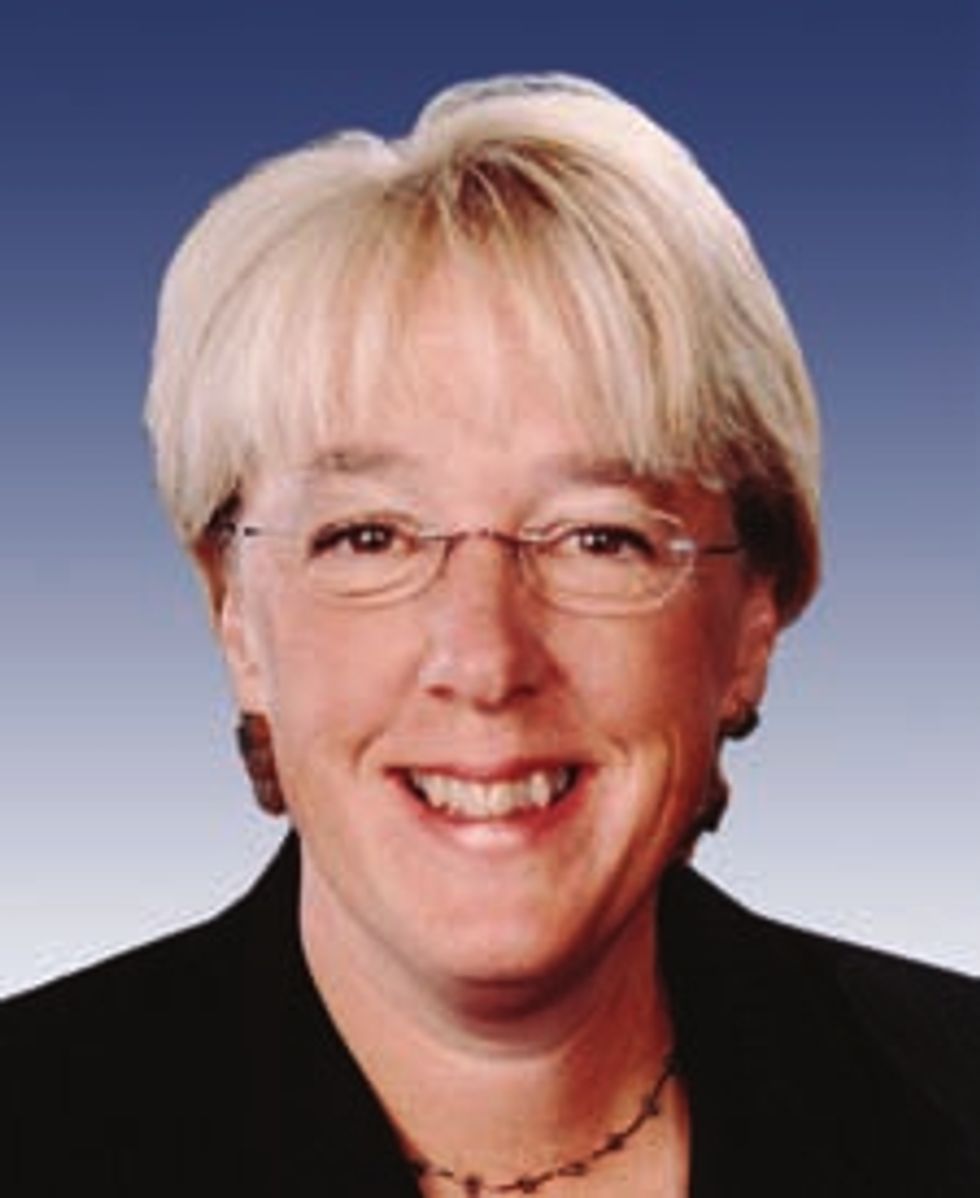 Update at bottom: FBI used anti-reform Astroturf group to catch Murray caller
---
Sarah Palin better hope Charles Alan Wilson isn't one of her Facebook friends.
"A central Washington man was so enraged by the passage of federal health care reform that he threatened to kill U.S. Sen. Patty Murray, prosecutors charged Tuesday," Scott Sunde reports for SeattlePi.com.
"I want to .... kill you," court documents say Charles Alan Wilson of Selah said in one of his foul-mouthed calls to Murray's office.

Wilson, 64, was charged Tuesday morning with threatening a federal official.

....

The criminal complain says Wilson called Murray's office multiple times between March 22 and April 4 and left threatening messages. He said Murray "had a target on her back" and that he would help others in trying to kill Murray, a Washington Democrat.

....

He allegedly told undercover FBI agents that he regularly carries a gun and that he had a concealed-weapons permit. He also said he was mad about the passage of health-care reform.

If convicted of threatening a federal official, he he could be sentenced to up to 10 years in prison and fined as much as $250,000.
An Associated Press article adds,
An FBI agent's probable cause statement says Murray's office in Seattle reported the threats, which were left on voice mail from a blocked telephone number. Agents say they traced the calls to Wilson's home in Selah, near Yakima.

Murray's office told the FBI it had been receiving harassing messages from the caller for months, but they became more threatening as Congress was voting on health care legislation.

Excerpts of the expletive-laced messages transcribed in court documents show the caller saying he wanted to kill the senator, and it would just take one piece of lead.
Politico notes, "Wilson is the second person arrested for threatening a member of Congress. Norman Leboon of Philadelphia was arrested for threatening House Minority Whip Eric Cantor of Virginia.
Last month, former Alaska governor and failed 2008 vice presidential candidate Sarah Palin received criticism for using gun and target imagery to fire up her supporters on her Facebook page, and for Tweeting, "Commonsense Conservatives & lovers of America: 'Don't Retreat, Instead - RELOAD!'"
However, Palin refused to back down, and her 2008 running mate Arizona Senator John McCain agreed that there was nothing wrong with using such imagery, despite the fact that tensions over health care have resulted in a number of violent confrontations and arrests over the last year.
A full copy of the press release from the U.S. attorney on the Wilson arrest can be viewed at Talking Points Memo.
FBI used anti-reform Astroturf group to catch Murray caller
At Alternet, Lindsay Beyerstein notes that the feds used an anti-reform group to snare Wilson.
When the FBI needed to match the threatening voice on the anonymous voice mails left for Sen. Patty Murray, D-Wash. -- calls that promised her murder -- to the phone number they came from, an FBI special agent posed as a representative of a high-profile group opposed to health-care reform, Patients United Now, "a project of the Americans for Prosperity Foundation," according to its Web site.

But neither Patients United nor Americans for Prosperity were asked permission for their use as a cover, according to FBI spokesperson Fred Gutt, who works from the bureau's Seattle office, because when they called the number on Patients' United Web site, they found it was disconnected. According to Gutt, the investigators therefore assumed that Patients United Now was defunct.

"We normally don't do that with a known operating organization," Gutt told AlterNet, referring to the FBI's use of the group as a cover.
Beyerstein notes, "Americans for Prosperity was among a handful of large right-wing lobbying organizations that marshaled opposition to the recently passed health care reform law, organizing rallies featuring racist anti-Obama signs and busing Tea Party enthusiasts to anti-health-care events. Although AFP vehemently disputes charges that it is an astroturf group designed to drum up opposition to various issues, it appears that the plug was pulled on Patients United just as the battle against health care reform legislation wound down."
At The New York Times, David M. Herzenhorn publishes a response by the Americans for Prosperity Foundation, which, while condemning the threats, also contains a boastful note about the group's efforts against health reform.
"As A.F.P. Foundation has said repeatedly, we condemn any threats of violence or acts of violence," Tim Phillips, president of the Americans for Prosperity Foundation, said in an e-mail message. "The F.B.I. did not contact A.F.P. Foundation about this matter. Over the last year, we have been one of the leading grassroots organizations opposing a Washington takeover of our health care. Perhaps that is why they chose to use our name, though they did not notify us."