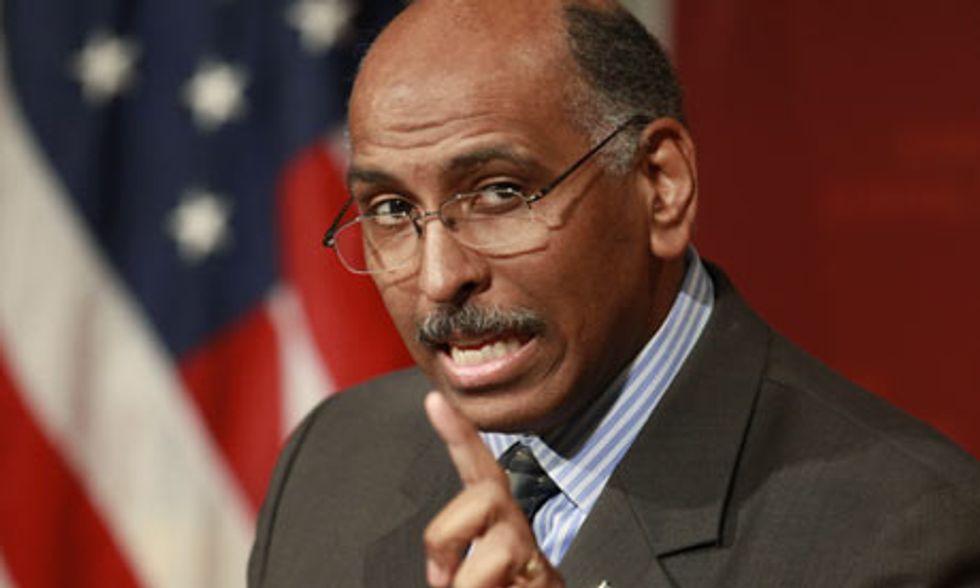 Amid increasing pressure to step down as chairman of the National Republican Committee, Michael Steele told the audience at the Southern Republican Leadership Conference that it was time to "move on" after revelations of his mismanagement of party funds.
---
Steele said it wouldn't serve the Republican Party's interests to dwell on the scandals, which include nearly $2,000 spent at a bondage-themed nightclub, because it plays into a Democratic "trap."
"They love nothing more than for us to keep pointing fingers at me and others, instead of their radical un-American agenda and we shouldn't fall for that trap," Steele said. "I'm the first here to admit that I've made mistakes, and it's incumbent on me to take responsibility, shoulder that burden, make the necessary changes and move on."
"We've all had to do that from time to time," Steele added, drawing applause from the audience.
The Republican Party has struggled to downplay the seriousness of Steele's actions, which include questionable expenditures, poor fundraising, staff dismissals, an aggressive series of paid speeches and speaking appearances and politically incorrect remarks. On Monday, he told ABC's George Stephanopoulos that he and President Obama are held to tougher standards because they are black.
Steele gave no signs that he intends to step down, even as calls for his resignation continue to mount, most prominently from the chairman of the North Carolina Republican Party Tom Fetzer and top GOP strategist Alex Castellanos.
"I think a change in the direction now, at this point, would do the party good," Castellanos said.
Conservative icon Sarah Palin has stated her continued support of the party chairman, telling the media that he's "doing a good job."
Many of the conference's 3,000 delegates had already left the three-day event by the time Steele took the stage of a ballroom that was at least half-empty. But Steele worked hard to convince GOP leaders that the tarnished image of the party's administrative body would not be a liability for this year's elections.
"You can't please everyone," Steele said. "But you can certainly make them all mad at you at the same time. And that is a lesson well learned. The one mistake we cannot make this November is to lose."
According to political analysts, Steele has nothing to worry about. Many Republicans are already mired in primaries for the fall, and the process of firing and replacing Steele would require effort the party needs to put toward gaining more Republican seats in Congress.
Firing Steele would require a two-thirds vote of the 168 voting members of the national committee. Steele was elected fairly recently with 91 votes. At least 21 of those supporters would have to jump ship for Steele to lose his job. And there's no obvious candidate to replace him, and no apparent movement afoot to start trying.
An excerpt from Salon.com:
While Steele's gaffes provide endless fodder for mockery among political operatives in Washington, it's not entirely clear that they matter much to anyone else -- even Republican activists. "I have not had one county chairman -- prominent activist, elected official -- call me up and say, 'Dick, you need to do something about Michael Steele,'" says Dick Wadhams, the Colorado Republican Party chairman. "I've gotten no phone calls about it. I think it underscore that most people are focused on the other much more important parts of this election."
Salon.com